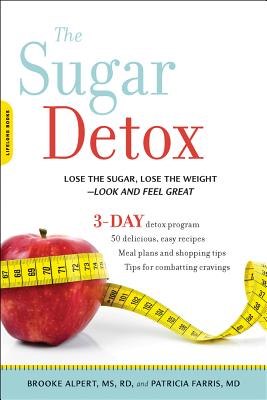 The Sugar Detox (Paperback)
Lose the Sugar, Lose the Weight--Look and Feel Great
Da Capo Lifelong Books, 9780738217420, 288pp.
Publication Date: August 12, 2014
Other Editions of This Title:
Digital Audiobook (8/31/2014)
Hardcover (6/25/2013)
* Individual store prices may vary.
Description
Learn how kicking your sugar habit can help you lose weight and get glowing, younger-looking skin with a proven three-day jumpstart plan and four-week program.


Science shows that sugar can seriously damage our health--and yet we're consuming more of it every year. Not only does excess sugar make us sick, overweight, and tired, it dulls skin and ages us well beyond our years. In
The Sugar Detox
, acclaimed nutritionist Brooke Alpert and skincare guru Patricia Farris have combined their expertise to offer an easy plan to slim your waistline, restore your energy, and rejuvenate your skin.
The Sugar Detox
will put you on the path to feeling--and looking--your absolute best, with:
A proven three-day jumpstart plan to break your sugar addiction
A four-week meal plan incorporating healthy sugars
Shopping lists and satiating recipes
Strategies for combating cravings and dining out
Lists of key health-supporting superfoods
Tips on surprising places where sugar lurks
About the Author
Brooke Alpert, MS, RD, CDN, is the founder of B Nutritious, a private nutrition counseling practice in New York City. Brooke was named as one of the new up and coming stars in the beauty and health field by W magazine. A former advisor for Nivea, she is a member of the American Dietetic Association. She lives with her family in New York. B-Nutritious.com.

Patricia Farris, MD, FAAD, is a clinical associate professor at Tulane University and recognized authority on anti-aging skin care. Dr Farris is a sought after consultant for cosmetic companies and has worked with many including L'Oreal, Revlon and Neutrogena.sanovadermaatology.com


Praise For The Sugar Detox: Lose the Sugar, Lose the Weight--Look and Feel Great…
Publishers Weekly, 4/15/13

"Numerous accolades from the authors' patients and customers speak to the efficacy and life-changing aspects of the program."

Organic Spa, 5/28/13

"Packs in fascinating research on the significant chemical impact of sugar on your skin, along with other systems of your body…The authors offer smart-but-simple food recipes plus practical advice on instigating a slow sugar wean."


Curled Up With A Good Book

"Offers a thorough, clearly explained and organized system to get your body off sugar and clear up your skin…The book motivates through to the end…The Sugar Detoxis a simple but extensive, practical and persuasive plan towards better health and living. Highly recommended."

New York Journal of Books, 6/11/13

"Nutrition is often a controversial topic, and a vast number of dietary fads have come and gone. But The Sugar Detox diet described by nutritionist Brooke Alpert and dermatologist Patricia Farris promises to be successful."




New Orleans, July 2013

"Make[s] the case for the health benefits that come from cutting back on sugar consumption."


Natural Health, September/October 2013

"Offer[s] smart-but-simple recipes plus practical advice on how to wean yourself from some of your favorite sugar-filled foods."


The Cookbook Papers, 8/4/13

"Surprising facts throughout…A recommended read for anyone who is dependent on sugar."


WomanAroundTown.com, 9/7/13

"This book pulls no punches."


Portland Book Review, 11/1/13

"A comprehensive book about how sugar affects our health and looks…Their recipes are easy to follow and use reasonable ingredients and preparation styles. This book would be a great resource for anyone trying to cut down on their sugar consumption and offers great insight on the 'surprise' sugar content of many of our favorite foods."

Entertainment Realm, 9/4/14
"Easy-to-read and comprehend."

New Orleans Magazine, October 2014
"Outlines a comprehensive, one-month plan to kick the sugar habit and improve your health and your complexion."

"Packs in fascinating research on the significant chemical impact of sugar on your skin, along with other systems of your body."—Organic Spa

"A guidebook for people who are serious about breaking off this unhealthy dietary relationship."—Day Spa

"Gives you a month-long comprehensive plan to wean you of your sugar cravings and begin your journey to looking younger and feeling better."—Natural Solutions

"Reveals how reducing our consumption of sugar can make our skin look younger and healthier."—Taste for Life