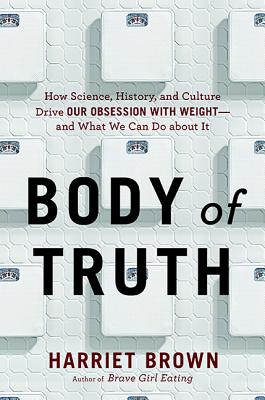 Body of Truth
How Science, History, and Culture Drive Our Obsession with Weight -- and What We Can Do about It
Hardcover

* Individual store prices may vary.
Other Editions of This Title:
Digital Audiobook (5/31/2015)
Paperback (3/22/2016)
Compact Disc (12/8/2015)
MP3 CD (6/1/2015)
Description
Over the past twenty-five years, our quest for thinness has morphed into a relentless obsession with weight and body image. In our culture, "fat" has become a four-letter word. Or, as Lance Armstrong said to the wife of a former teammate, "I called you crazy. I called you a bitch. But I never called you fat." How did we get to this place where the worst insult you can hurl at someone is "fat"? Where women and girls (and increasingly men and boys) will diet, purge, overeat, undereat, and berate themselves and others, all in the name of being thin?

As a science journalist, Harriet Brown has explored this collective longing and fixation from an objective perspective; as a mother, wife, and woman with "weight issues," she has struggled to understand it on a personal level. Now, in Body of Truth, Brown systematically unpacks what's been offered as "truth" about weight and health.

Starting with the four biggest lies, Brown shows how research has been manipulated; how the medical profession is complicit in keeping us in the dark; how big pharma and big, empty promises equal big, big dollars; how much of what we know (or think we know) about health and weight is wrong. And how all of those affect all of us every day, whether we know it or not.

The quest for health and wellness has never been more urgent, yet most of us continue to buy into fad diets and unattainable body ideals, unaware of the damage we're doing to ourselves. Through interviews, research, and her own experience, Brown not only gives us the real story on weight, health, and beauty, but also offers concrete suggestions for how each of us can sort through the lies and misconceptions and make peace with and for ourselves.

Praise For Body of Truth: How Science, History, and Culture Drive Our Obsession with Weight -- and What We Can Do about It…
Creating Serenity, 3/20/15
"Absolutely recommend this book for so many reasons! Healthy, brilliant, and really eye opening!"

W.A. Bogart blog, 4/8/15
"A take no prisoners broadside in an area full of complexities and unanswered questions…Ms. Brown makes lots of good points about our individual and collective obsession with weight and about the insistence of many that thinner means healthier and fatter means sicker. While she does all this she writes candidly of her own struggles with her size…Brown is forceful and eloquent."

Parade magazine, Mother's Day Gift Guide, 4/26/15
"Brown takes on fad diets, unattainable body ideals and the misconceptions that shape how women view themselves."

Supermodel Emme, 5/8/15
"Mothers/fathers, educators/concerned citizens, RT & buy this book."

Energy Times June 2015
"[A] quest to learn how we learned to loathe our bodies."

Library Journal, 3/15/14
"A well-researched and cogent argument for more rational scientific approaches and humane cultural attitudes toward health, eating, and the concept of being overweight. Written in an approachable style and peppered with short first-person interview narratives…A solid general overview of the scientific and cultural issues surrounding fatness and weight loss with an excellent starter bibliography."

Philadelphia Tribune, 3/19/15
"Brown systematically unpacks what's been offered as the 'truth' about weight and health…Brown tackles the myths and realities of the 'obesity epidemic' exposing the biggest lies driving the rhetoric of obesity."

San Francisco Book Review, 3/31/15
"Brown's conclusions…will likely shock most readers and make them rethink much of what they assume, what they think they know about weight and fat…This book may be just what most of us need, so we can be kinder to ourselves and others and truly take care of the bodies we have. It's a revelation."

Hudson Valley News, 4/1/15
"Debunk[s] the dieting craze…Inspiring? Yes, especially the author's concrete suggestions about weight, health and beauty."

Midwest Book Review, June 2015
"Exceptionally well written, organized and presented…Impressively informed and informative…This is critically important reading for anyone and everyone that has ever struggled with the emotional impacts, social stigmas, and health issues related to being overweight."

"[A]n inspired and inspiring book about our cultural obsession with weight, our fetishization of thinness, and out demonization of fat. Body of Truth is a compelling read, one that will make you rethink your attitudes towards your body and your health—and, in the process, enable you to enjoy your life a bit more and count calories a bit less."—Daphne Merkin, novelist, cultural critic, and author of The Fame Lunches

"At turns harrowing and heartbreaking, Body of Truth is ultimately life-affirming and always, always brave and honest. A book every woman—no, everyone—should read."—Ann Hood, author of The Obituary Writer and An Italian Wife

Well + Good, 2/1/15
"A must-read whether you're the most confident woman in the room (or bikini) or can't remember the last time you had a nice thought about your body." (One of the "10 Healthy Books You've Got to Read this Year")

Bookviews blog, April 2015
"[Brown's] book tackles the myths and realities of the 'obesity epidemic' and exposes the biggest lies driving the rhetoric of obesity…[It] offers ways to think about weight and health with more common sense, accuracy, and respect…[An] excellent book…Read it and learn the truth."

Canada Free Press, 3/30; The Moral Liberal, 3/30; Political Truth Serum, 3/30; Theo Spark, 3/30; Ammoland, 3/30; Facts Not Fantasy, 3/30; Renew America, 3/31; Somewhat Reasonable (blog of The Heartland Institute), 3/31
"An excellent book…must-reading for everyone who has spent their life obsessing about every bite of food they eat."

Examiner.com, 4/8/15
"The introduction from Harriet Brown's new book is enough to scare the hell out of you. Finally. And for good."

InfoDad blog, 4/9/15
"Argumentative and determinedly one-sided, Harriet Brown's Body of Truth is a highly useful corrective to the veritable flood of books warning people to watch their weight, change their weight, balance their weight, and pay constant attention to their weight in order to be healthy, fulfilled and happy. It is a book that will surely be read with relief, if not glee, by the legions of people who are weight-focused—including those that are, yes, obsessed—but who are nevertheless unhappy in their own skin and unconvinced that all the dieting, careful food choices, and constant attention to weight have done them any good…Body of Truth is essentially an extended argument that it is OK to be OK with the body you have."

Bustle, 4/17/15
"A must-read for anyone ready to start shaking this fat = bad, thin = good obsession…Brown's book can help you love your body now."

"The Bookworm Sez"
"You'll see that everything you thought you knew about weight may be a big fat lie…Read Body of Truth. You may have nothing to lose."

"Book Notes"
"Brown's argument is an incendiary one: Stop the useless yo-yo dieting and accept yourself as you are."


Psychotherapy Networker, May/June 2015
"[Brown] argues powerfully for the need to push back against weight-shaming. She advocates cogently for a new paradigm to transform how we think about our bodies and our body image. In addition, Brown aptly captures how our thin-at-any-cost culture promotes an obsessive, warped relationship with the daily nourishment we can't live without but whose caloric impact we often come to fear and mistrust."

Midwest Book Review, May 2015
"More than a health guide: it's an important consideration for any social issues shelf and blends science, history and health in an examination of changing precedents for body image."

Santa Fe New Mexican, 7/17/15
"Extensive research, which cumulatively starts to take hold…Brown weaves in history, feminist theory, and studies into the nature vs. nurture argument about beauty ideals to give a well-considered look at why it is that we so often hate the bodies we're in…Brown's writing is rousing…This is not a tepid, guarded book. It makes its arguments and makes them with force…Brown's book demands reconsideration of weight-based beliefs and principles, of how we fundamentally perceive and talk about weight."

"[A] wonderful book...Hard-hitting and a must read for every health conscious individual."—Prabuddha Bharata (or Awakened India)
Da Capo Lifelong Books, 9780738217697, 304pp.
Publication Date: March 24, 2015
About the Author
Harriet Brown is the author of Body of Truth and Brave Girl Eating. She has edited two anthologies and has written for the New York Times Magazine, O Magazine, Psychology Today, Prevention, and many other publications. She is an associate professor of magazine journalism at the S.I. Newhouse School of Public Communications at Syracuse University.
or
Not Currently Available for Direct Purchase