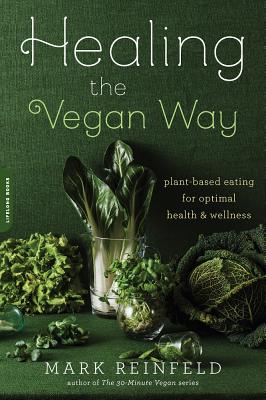 Healing the Vegan Way
Plant-Based Eating for Optimal Health and Wellness
Paperback

* Individual store prices may vary.
Description
According to increasing evidence, plant-based diets are better for the health of both people and the planet, leading to a dietary revolution. But with all the conflicting nutritional theories out there, how do you decide which foods are truly best for you? With contributions from leading medical professionals like Dr. Michael Klaper, Dr. Michael Greger, and Dr. Joel Kahn, Healing the Vegan Way demonstrates a Clear and Simple path through the latest medical research on different approaches. With practical tips for plant-based living, 200 simple whole-food recipes, health-supportive cleanses, menu plans, and more, Healing the Vegan Way helps you maximize benefits for both body and mind.
Praise For Healing the Vegan Way: Plant-Based Eating for Optimal Health and Wellness…
#1 Best Books for Vegans of 2016
—
Philly.com
"Healing the Vegan Way is more than just an amazing cookbook. It's an invaluable guide for anyone in search of the way to optimum health through a plant-based diet. A must-read!!"—Marco Borges, plant-based advocate and New York Times bestselling author, founder of 22 Days Nutrition program

"If you're interested in how eating plants can heal your body and nourish your spirit, look no further. Mark Reinfeld is a superb guide on the journey. His recipes are fabulous and his wisdom reliable."—John Robbins, author of Diet For A New America, President of the Food Revolution Network

"Healing the Vegan Way is a rich document that goes clearly beyond a cookbook. It is a thorough scientific resource with excellent documentations surrounding great recipes."—Hans A. Diehl, DrHSc, MPH, CNS, FACN Clinical Professor of Preventive Medicine, School of Medicine, Loma Linda University
Founder, CHIP and Lifestyle Medicine Institute

"This guy can seriously cook. Went to a conference where Mark made all the meals, and incredible does not begin to describe the culinary experience. If the whole world had Mark as their chef, I would be out of business. His new recipe book is beautiful and practical."—Dr. Garth Davis, author of Proteinaholic—-

"No one I know can make [culinary] magic happen better than Mark Reinfeld. In Healing the Vegan Way, Mark presents principles for creating a delicious menu that will help heal all the tissues and organs of the body—while also bringing delight to the tongue and palate. Bon appétit!"—Michael Klaper, M.D.

"Healing the Vegan Way is a wonderfully written resource for anyone interested in the countless health benefits of a plant-based diet. Mark Reinfeld combines comprehensive expert testimonies with an extensive array of delicious, easy-to-prepare recipes that will impress everyone at the table."—Neal Barnard, MD

"When plant foods are incorporated into healthy recipes and diets, they can play a critical role in treating and even reversing the common diseases we face today. Healing the Vegan Way is a valuable, practical guide that shows us the way to enjoy optimal health." —John Westerdahl, PhD, MPH, RD; Chair, Vegetarian Nutrition Dietetic Practice Group of the Academy of Nutrition and Dietetics

Milwaukee Shepherd Express, 8/30/16
"Healing the Vegan Way underlies the recipes with a message, and in this case, the title says it all. The selling point for [Mark Reinfeld's] whole-food, plant-based dietary agenda is the recipes themselves."
—-
Da Capo Lifelong Books, 9780738217772, 416pp.
Publication Date: July 12, 2016
About the Author
Award-winning vegan chef Mark Reinfeld is the creator of Vegan Fusion, a platform for plant-based, vegetarian, raw, and gluten-free cooking classes and recipes. Reinfeld is the author of seven books, including the bestselling 30-Minute Vegan series, and offers food counseling services for companies like Google, Whole Foods, and Bon Appét Management. He is the 2017 inductee into the Vegetarian Hall of Fame.