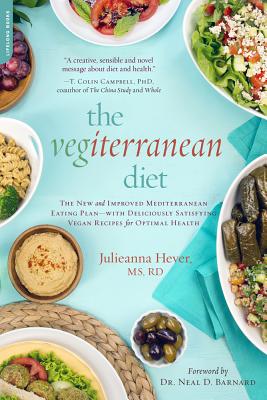 The Vegiterranean Diet (Paperback)
The New and Improved Mediterranean Eating Plan--with Deliciously Satisfying Vegan Recipes for Optimal Health
Da Capo Lifelong Books, 9780738217895, 288pp.
Publication Date: December 23, 2014
* Individual store prices may vary.
Description
The Mediterranean diet has been the gold standard dietary pattern for decades, and with good reason: it has been linked with lowered risks of cardiovascular disease, cancer, diabetes, and Alzheimer's. Now, Julieanna Hever takes the Med to a whole new level! By focusing on whole-plant foods that promote long-term wellness and ideal weight management, you can reap the benefits of the most researched and beloved diet—made even healthier. The Vegiterranean Diet offers:
comprehensive nutrition info
shopping lists with everyday ingredients
more than 40 delicious, budget-friendly recipes
flexible meal plans (great for families, too!)
strategies for overall health

About the Author
Julieanna Hever, M.S., R.D., C.P.T. is a Registered Dietitian and the host of the new talk show series What Would Julieanna Do? on Veria Living Network. Julieanna is the author of The Complete Idiot's Guide to Plant-Based Nutrition, co-author of The Complete Idiot's Guide to Gluten-Free Vegan Cooking, and the nutrition columnist for VegNews Magazine. Julieanna served as a Special Consultant for the documentary Forks Over Knives and contributed recipes to the New York Times bestselling Forks Over Knives books. As the Executive Director of EarthSave, International, Julieanna brings whole food, plant-based nutrition to the forefront of efforts to improve the current global health crisis. Julieanna has been featured on The Dr. Oz Show, The Steve Harvey Show, The Marie Osmond Show, Reluctantly Healthy, and E! News; she co-stars on The Chef and The Dietitian and lectures extensively throughout the United States.

www.PlantBasedDietitian.com
Praise For The Vegiterranean Diet: The New and Improved Mediterranean Eating Plan--with Deliciously Satisfying Vegan Recipes for Optimal Health…
"
The Vegiterranean Diet
is wise, clear, complete, practical, and it celebrates real food that is really delicious. Julieanna Hever is adept at translating science into understandable terms, and with great deal of heart, she's brought my Italian heritage and my vegan proclivities into perfect alignment."—Victoria Moran, author of
Main Street Vegan
and director, Main Street Vegan Academy
"Julieanna Hever has knocked it out of the park with this grand slam of a book, as much a lifestyle plan as a diet alone. The first half is the most comprehensive review of why the Mediterranean basin is so attractive and associated with superior health. If every medical student read this the health of the Western world would leap ahead in a few weeks. The recipes and kitchen skills are thorough and I cannot wait to try them."—Joel Kahn, MD, FACC, Clinical Professor of Medicine, Wayne State University SOM, author of
The Whole Heart Solution
"In
The Vegiterranean Diet
, Julieanna Hever revolutionizes the Mediterranean diet with plant-based prowess. Backed by research, Julieanna's program serves up expert advice, meal plans, and irresistible, authentic recipes. Yet it's her unparalleled passion that truly inspires, through every page. Let Julieanna guide you to abundant health...the Vegiterranean way!"—Dreena Burton, author of
Plant-Powered Families
and host of plantpoweredkitchen.com
"A creative, sensible and novel message about diet and health. Using sound scientific understanding of the perceived 'differences' between the vegetarian and Mediterranean diets, Julieanna Hever presents a very readable and constructive book."—T. Colin Campbell, PhD, coauthor of the bestselling The China Study and Whole

"In an informative and fun book, Julieanna gives you the best of both worlds: all the flavors of great Mediterranean cuisine, without the drawbacks. Who said we can't have great taste and great health married together?"—Joel Fuhrman, MD, New York Times bestselling author of Eat to Live

"You may already know that the Mediterranean diet is heart-healthy and delicious. But in this marvelous book, Julieanna Hever takes it up several notches, showing you how to truly optimize both its healthiness and its deliciousness."—John Robbins, author of Diet for a New America and President of The Food Revolution Network (foodrevolution.org)

"Julieanna Hever has the wonderful gift of taking nutritional facts and information and making it all—ahem—digestible. And fun. This book will set you straight on what to eat and why, and you'll finally know definitively what will make your body (and taste buds) happy!"—Kathy Freston, New York Times bestselling author of The Lean, Veganist, and Quantum Wellness

"We're all looking for sustainable solutions to long-term health. But diet can be complicated and burdensome. Julieanna Hever gets to the delicious heart of why the Mediterranean lifestyle promotes wellness and longevity. An accessible, informing primer on the building blocks of optimal health and robust with mouth- watering plant-based recipes, this is a book you will cherish and rely upon for years to come."—Rich Roll, plant-based athlete and bestselling author of Finding Ultra

"Julieanna takes us on a Mediterranean journey filled with important nutritional information, debunking common food myths and providing us with a road map to a healthy lifestyle using her Vegiterranean food pyramid. This book has both educated and inspired me to to live a plant-based, whole foods Vegiterranean lifestyle."—Mike Zigomanis, plant-based professional hockey player

"A must-read for anyone interested in a sustainable, healthy life! The Vegiterranean Diet brings the history and science of nutrition from antiquity into the future, offering winning arguments for a plant-based diet. Julieanna offers a very clear plan to help us change our health and change the world. I'm in!"—Lisa Bloom, attorney and New York Times bestselling author of Think: Straight Talk for Women to Stay Smart in a Dumbed-Down World


"This book brings a practical and scientific perspective to the famously romantic Mediterranean diet. Julieanna is entertaining and informative as she shares everything you need to get started, from the diet's historical background, nutritional science, and impeccable health outcomes to an abundance of delicious plant-based recipes!"—Derek Tresize, CPT, WNBF Pro Bodybuilder

"A fascinating exploration into both the past and present using food and science as the vehicle, The Vegiterranean Diet infuses nutrition with compassion and wisdom. Julieanna Hever provides a solid and compelling thesis for why the healthiest diet is one that is plant-based and offers an easy, delicious, and practical plan to transform your health. Viva Vegano!"—Colleen Patrick-Goudreau, bestselling author of six books, including The 30-Day Vegan Challenge and host of Food for Thought

"The Vegiterranean Diet is bursting with timely, thoughtful information. Julianna Hever takes the Mediterranean diet to a whole new level. This book is an absolute must read for anyone interested in making truly conscious food choices, and amazingly delicious Vegiterranean food!"—Brenda Davis, RD, coauthor of Becoming Vegan: Comprehensive and Express Editions