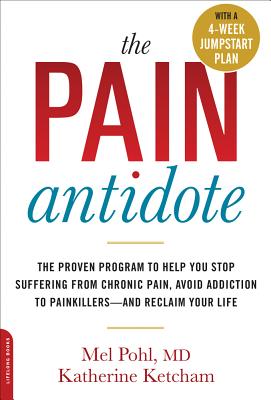 The Pain Antidote (Paperback)
The Proven Program to Help You Stop Suffering from Chronic Pain, Avoid Addiction to Painkillers--and Reclaim Your Life
Da Capo Lifelong Books, 9780738218038, 320pp.
Publication Date: May 26, 2015
Other Editions of This Title:
Digital Audiobook (5/25/2015)
Compact Disc (5/26/2015)
MP3 CD (5/26/2015)
* Individual store prices may vary.
Description
Chronic pain is not a life sentence

If you are one of the 100 million people who suffer from chronic pain, you may be feeling hopeless and helpless, relying on endless medications that don't work, feeling worse and worse. But there is hope—and help. The innovative program at the acclaimed Las Vegas Recovery Center, at which Dr. Mel Pohl is Medical Director, has helped thousands of sufferers to reduce chronic pain without the use of painkillers. The Pain Antidote shares this program's concrete tools and strategies, offering:

Cutting-edge research on how pain affects your brain
How your emotions affect your experience of pain
A comprehensive program, including a four-week Jump Start plan
Pain-reducing gentle exercises and health-supporting foods
And much more.
About the Author
Mel Pohl, M.D., is an internationally respected physician who specializes in treating chronic pain and co-occurring addiction at Las Vegas Recovery Center (LVRC), one of only a few treatment centers in the country that focus on the physical, emotional, and spiritual problems of individuals living with chronic pain. Dr. Pohl is a Board Certified Family Practitioner and addiction medicine specialist with more than twenty-nine years of experience treating addiction and addiction-related conditions.
lasvegasrecovery.com

Katherine Ketcham has been writing nonfiction books for over 30 years and has coauthored sixteen books, ten on the subject of addiction and recovery, including the bestselling Under the Influence and The Spirituality of Imperfection. She pioneered addiction treatment and recovery efforts at the Walla Walla Juvenile Justice Center and founded Trilogy Recovery Community, a grassroots nonprofit recovery community organization.
katherineketchambooks.com

thepainantidote.com
thepainantidotebook.com

Praise For The Pain Antidote: The Proven Program to Help You Stop Suffering from Chronic Pain, Avoid Addiction to Painkillers--and Reclaim Your Life…
Praise for The Pain Antidote

Dr. Claudia Black, addiction specialist, author of It Will Never Happen to Me
"Pain marginalizes, and opioids further marginalize the sufferer. Dr. Mel Pohl and Katherine Ketcham boldly challenge the more common treatments used today and transform the way we think about chronic pain."

Dr. Marv Seppala, CMO, Hazelden Betty Ford Foundation
"Dr. Mel Pohl's program has helped many people with chronic pain experience tremendous recoveries by discontinuing their opioid pain medications and using multiple, holistic means to heal. Now, with passion and expert knowledge, Dr. Pohl and Katherine Ketcham offer a clear plan to gain relief from one of the most common and severe health problems. This book is a guiding light for those in need."

Sharon Wegscheider-Cruse, author and educator, and Joseph R. Cruse, MD, addiction medicine specialist
"An authoritative, caring guide offering concrete suggestions—and hope—for anyone stuck in the tenacious grip of opioid pain medication addiction."

Debra Jay, author of It Takes a Family and No More Letting Go
"Dr. Mel Pohl and Katherine Ketcham are intimately acquainted with chronic pain and know the road to freedom. This is the roadmap for anyone who wants their life back."