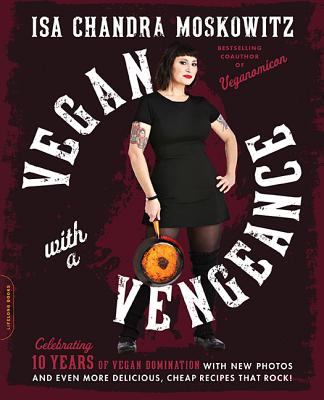 Vegan with a Vengeance (10th Anniversary Edition)
Over 150 Delicious, Cheap, Animal-Free Recipes That Rock
Paperback

* Individual store prices may vary.
Description
The classic first cookbook from the coauthor of Veganomicon is back with even more tasty recipes, chatty anecdotes, and money-saving tips for easy plant-based cooking, featuring tempting full-color photos throughout.

Ten years ago a young Brooklyn chef was making a name for herself by dishing up amazing vegan meals -- no fuss, no b.s., just easy, cheap, delicious food. Several books -- including Veganomicon, Appetite for Reduction, Isa Does It, and Superfun Times Holiday Cookbook -- later, the punk rock priestess of all things tasty and animal-free returns to her roots-and we're not just talking tubers. The book that started it all is back, with new recipes, ways to make those awesome favorites even awesomer, more in-the-kitchen tips with Fizzle--and full-color photos of those amazing dishes throughout.

With tips for taming your tofu, doing away with dairy, and getting rid of the eggs, you'll find recipes for:

"Fronch" Toast; Biscuits and White Bean Sausage Gravy; Chile sin Carne al Mole; Apple Pie-Crumb Cake Muffins; Three Kinds of Knishes (Knish Madness!); Revolutionary Spanish Omelet; Tempeh Reuben; Braised Cauliflower with Three-Seed Sauce; Ethiopian Seitan and Peppers; No-Bake Black Bottom-Peanut Butter Silk Pie; Coconut Heaven Cupcakes . . . and more. So much more.
Praise For Vegan with a Vengeance (10th Anniversary Edition): Over 150 Delicious, Cheap, Animal-Free Recipes That Rock…
Portland Book Review, 9/30/15
"A beautifully produced vegan cookbook. It's a pleasure to leaf through its colorful pages and the striking professional food photographs…Vegan with a Vengeance is filled with a large number of good recipes from Brunch, through Soups and Entrées to Desserts…If you are new to vegan cooking this cookbook is a good starter in your kitchen. The recipes are well written with nice head notes, instructions are not hard to follow and ingredients are readily available."

Omaha Magazine, September/October 2015
"Features…cheap, easy, and delicious vegan food."

The Missoulian, 10/18/15
"This cookbook is not just for vegans. If you have dairy or egg intolerance, or if you have friends that are vegetarian or vegan, Vegan with a Vengeance will be worth a look through for recipes to accommodate them…[Moskowitz's] section on tools and pantry are great resources for all."

Well + Good, 10/25/15
"Prov[es] that plant-based dishes can be bad-ass, too. The second edition maintains Moskowitz's fresh (and cheap) approach and includes 25 new recipes, simplified directions and ingredient lists, and a guide to 'The Post Punk Pantry'—i.e. everything you'll need to make vegan cooking your cool new BFF."

Manhattan Book Review, 7/24/15
"Readers who already have a tattered copy of the original will love the simplified directions and shortened ingredients lists…New readers will fall in love with Moskowitz's accessible and flavorful style of vegan cooking, not to mention the pages and pages of mouthwatering photographs."

Lisa's Project Vegan, 7/31/15
"A memoir meets how-to-be-an-activist meets awesome recipes that are easy to make and not intimidating at all…If you don't have the original, get the new one. You will not be disappointed by the quality of this book. It is easy, delicious vegan cooking."

PETA Prime ("7 Must-Have Vegan Cookbooks"), 8/31/15
"This updated edition of Isa's classic cookbook includes a new foreword, new tips and tricks, and, of course, delicious new recipes—for BLT Mac & Cheese, Creamy Red Chard Linguine, Savory Crêpes, Cranberry White Chocolate Biscotti, and more."

Nashua Telegraph, 9/24/15
"Moskowitz is a wonderfully loquacious blogger and self-taught cook whose kitchen know-how seems to come from manic experimentations, often with fellow vegan mavens. She aptly describes Vegan with a Vengeance as 'cheap recipes that rock.'…The fast-food style might be just the thing for vegans prone to long stretches between meals."


Examiner.com, 6/25/15
"Mouth-watering, creative recipes…With simplified directions, streamlined ingredients and added tips and tricks, this anniversary edition completes the vegan cooking experience."

Sand and Succotash, July 2015
"While it has many new recipes in the new book, the core feel is still the same – that cooking is fun and shouldn't be complicated. Especially if you're vegan…Over 150 recipes, gorgeous food photography, and great tips throughout…Overall, an excellent cookbook, and if you are new to Isa Chandra Moskowitz's take on vegan cuisine, you'll be very satisfied. She practically invented modern and delicious vegan cooking."

Hudson Valley News, 7/10/15
"[Moskowitz] makes even kale look good."

InfoDad blog, 7/9/15
"The actual recipes in Vegan with a Vengeance are generally good ones, and usually simpler than comparable ones in the first edition of the book…Committed vegans will actually find the ideas here simpler than those in many other vegan cookbooks. Muffins, scones, finger foods, pastas, main courses, cookies, cakes and pies—all these and more are here, mostly in reasonably easy to follow recipes…The variety here is extensive and impressive, and even committed vegan cooks are likely to find a few recipes here that they have not tried before."
Da Capo Lifelong Books, 9780738218335, 288pp.
Publication Date: May 26, 2015
About the Author
Isa Chandra Moskowitz is the bestselling author of the hit books Isa Does It, Veganomicon, Vegan With a Vengeance, and many other titles. In 2014, she opened her first restaurant, Modern Love, in Omaha, Nebraska.