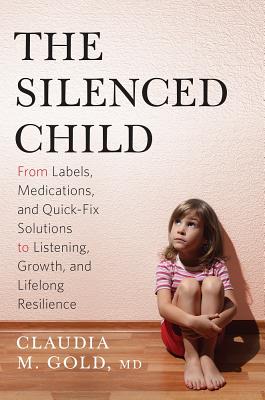 The Silenced Child (Hardcover)
From Labels, Medications, and Quick-Fix Solutions to Listening, Growth, and Lifelong Resilience (A Merloyd Lawrence Book)
Da Capo Lifelong Books, 9780738218397, 272pp.
Publication Date: May 3, 2016
* Individual store prices may vary.
Description
Are children and adolescents being silenced and their growth stunted in the age of quick diagnoses and overmedication? In The Silenced Child, Dr. Claudia Gold shows the tremendous power of listening in parent/child and doctor/patient relationships. Through vivid stories, perceptive insights, and new research, she shows the way children grow from these relationships and how being heard actually changes their brains. She helps both parents and caregivers make the time and space for listening.

Praise for Keeping Your Child in Mind:

"A very useful, thoughtful book. It lays out the best thinking of our time to help parents make decisions about nurturing their child's development."
—T. Berry Brazelton, MD, professor of Pediatrics, Emeritus Harvard Medical School

About the Author
Claudia Gold, MD practices behavioral pediatrics in Great Barrington, MA. The author of Keeping Your Child In Mind, her articles on behavioral and mental health issues, in print and online, are widely followed. She is a graduate of the scholar's program of the Berkshire Psychoanalytic Institute, and of the UMass Boston Infant-Parent Mental Health Fellowship.

Praise For The Silenced Child: From Labels, Medications, and Quick-Fix Solutions to Listening, Growth, and Lifelong Resilience (A Merloyd Lawrence Book)…
Advance Praise for The Silenced Child

"This poignant book is a paean to patience, carefulness, and attentiveness—rare commodities in a digital age. It is an urgent call to action for a medical world dominated by biology and statistics. In arguing that attachment and healing take time, Claudia Gold creates a manifesto for wiser family relations, demonstrating with elegant simplicity how we can realize more productively the love we already feel for our children."
—Andrew Solomon, author of FAR FROM THE TREE

"Brazelton's To Listen to a Child, and later, his "Touchpoints" books, taught millions of parents, pediatricians and teachers that children's behavior has much to tell us, if only we learn to listen to it. In her important new book, Dr. Gold describes the ways in which children and parents have been silenced and shows us how to rescue the irreplaceable and uniquely human capacity to listen from the misguided efforts to categorize children and automate the art of caring for them."
—Joshua D Sparrow MD Director, Brazelton Touchpoints Center, Associate Professor of Psychiatry, Part-time, Harvard Medical School