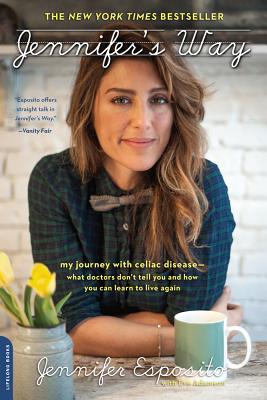 Jennifer's Way
My Journey with Celiac Disease--What Doctors Don't Tell You and How You Can Learn to Live Again
Paperback

* Individual store prices may vary.
Other Editions of This Title:
Hardcover (4/22/2014)
Description
Award-winning actress and health advocate Jennifer Esposito's guide to getting a proper diagnosis for celiac disease and other autoimmune disorders, with practical tips and healing recipes

Celiac disease afflicts as many as one in 133 Americans. Unfortunately, 83 percent of them are undiagnosed or misdiagnosed, suffering through years of pain and misunderstanding. Award-winning actress Jennifer Esposito was one of them, only receiving an official diagnosis after decades of mysterious illnesses and misdiagnoses. In Jennifer's Way, Esposito shares her personal journey, from her childhood in Brooklyn and years as a young actress to her struggle for an accurate diagnosis and quest to take charge of her health. She also offers strategies for managing daily life with a chronic condition.

"[Esposito's] rags-to-riches story will keep readers turning pages...The second section of the book is a helpful guide to living with celiac disease." -- Publishers Weekly
Praise For Jennifer's Way: My Journey with Celiac Disease--What Doctors Don't Tell You and How You Can Learn to Live Again…
"A helpful guide for living with Celiac disease, with tips on eating out and dating, as well as appealing recipes...Her story will no doubt appeal to her fans and others with chronic health issues."
—Publishers Weekly

"This is a story of hope...This book is a page turner. Esposito is an inspiration."—Living Without's Gluten Free & More

"This is award-winning actress Jennifer Esposito's story of decades of ill health and emotional hardships, and her long search to find a reason for them...this is the story of how she took control and became a health advocate for herself and others. Part one shares her journey. In part two, Your Journey, she offers guidance, advice, recipes, and more to help you find your way."
—Taste for Life

"This book is frank, it's raw, compelling, and ultimately uplifting... Jennifer's Way is a page-turner of medical self-discovery that will give many people a new appreciation of Celiac disease."—Allergic Living

"This book was so captivating and kept me interested throughout. As I told her, I was on pins and needles during the chapter titled In the Psych Ward. I couldn't believe that doctors and medical professionals could be so rude to put her through what she went through during that time (and many others throughout her journey). In Jennifer's Way, you get a glimpse of what it is like for so many living with Celiac disease... I was very impressed with Jennifer's willingness to open up and share her story with millions. I would recommend that those with Celiac disease as well as loved ones to those living with Celiac disease read this book. Eyes will be opened and understand built as you tearfully read one woman's Celiac journey."—GlutenFreeFrenzy.com
Da Capo Lifelong Books, 9780738218410, 288pp.
Publication Date: April 28, 2015
About the Author
Jennifer Esposito is an award-winning actress who has appeared in numerous roles in film, TV, and on stage, from Academy Award Best Picture-winning movies to network television hits to acclaimed cable dramas. She is the owner and CEO of Jennifer's Way Bakery in New York City, and the author of the New York Times bestselling memoir Jennifer's Way.