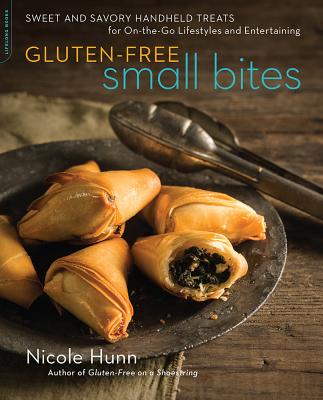 Gluten-Free Small Bites (Paperback)
Sweet and Savory Hand-Held Treats for On-the-Go Lifestyles and Entertaining
Da Capo Lifelong Books, 9780738218588, 240pp.
Publication Date: October 25, 2016
* Individual store prices may vary.
Description

100 irresistible one-bite recipes-for everything from parties to portable meals

You know those days where dinner is grab-and-go, but you're not sure what to grab? The older kids have a soccer game, a ballet lesson, the little one has a kazoo party, and they all need to be fed? Or maybe you've been volunteered to bring the mini quiches to the office potluck. Well you're in luck: with Nicole Hunn at the helm, you can choose from 100 recipes for small bites-from party-pleasers like jalapeño poppers and pigs-in-blankets to easy meals like hand pies and chalupas. Have one of those special occasions when you can sit down for a meal? Nearly every recipe has instructions for how to make a bigger bite.

The voice behind glutenfreeonashoestring.com, Nicole's been making gluten-free goodies that are delicious as they are safe for nearly ten years. Indulge in her new recipes for Crab Rangoon, Cheddar Hush Puppies, Fried Pickle Chips, Mozzarella Sticks, Pizza Pinwheels, Miniature Mac and Cheese Cups, Spanakopita Bites, a range of wraps (Cheesesteak, Greek Salad, and Huevos Rancheros, to name a few), Miniature Spinach Quiches, Chicken Empanadas, Vegetarian Chalupas, Pupusas, Shrimp Pot Stickers, Bear Claws, Apple Hand Pies, Miniature Vanilla Bean Scones...and more!

About the Author
Nicole Hunn is the author of the Gluten-Free on a Shoestring series and blog, which has been featured in the New York Times and MSN Money. Her work has appeared in Better Homes and Gardens, Parents magazine, Parade magazine, and Epicurious.com. She lives in Westchester County, New York.
Visit her at glutenfreeonashoestring.com.

Praise For Gluten-Free Small Bites: Sweet and Savory Hand-Held Treats for On-the-Go Lifestyles and Entertaining…
"Nicole Hunn serves up all the recipes and information found in her cookbook in the friendly and inviting manor that has helped make her blog popular."—National Foundation for Celiac Awareness
"Hunn is clever and optimistic. As you flip through the pages, it's hard to avoid not feeling better about your gluten-free life. Plus, the recipes will inspire you to go into the kitchen with renewed energy and hope for the future. It's well worth spending money to purchase
Gluten-Free on a Shoestring
. It will pay dividends in the future."—
Gluten-Free Living
"I highly recommend [
Gluten-Free on a Shoestring Quick & Easy
]. The recipes are accessible and especially geared for people with busy lifestyles."—
Tucson Citizen
"Hunn has assembled 125 recipes that say 'make me, make me!,' and all the reader need do is pick where to start...It is a user-friendly cookbook with satisfying recipes that are easy to prepare. Saving money is the icing on the (gluten-free) cake."—Technorati.com
"...A user-friendly cookbook with satisfying recipes that are easy to prepare. Saving money is the icing on the (gluten-free) cake."—Technorati
"With plenty of wisdom and easy instructions,
Gluten-Free on a Shoestring
is a must for any gluten intolerant health conscious cook."—
Midwest Book Review

Praise for Nicole Hunn

"This book is beautifully photographed and designed...For libraries that have a high demand for gluten-free cookbooks, this will be a fun and unexpected addition."—Library Journal

"Dozens of mouth-watering full-color photos that will send readers running for the kitchen. This is a winner."—San Francisco Book Review

"Even when she's telling you something you think you already know—like grow your own vegetables—Hunn adds an extra bit of information that takes the wisdom to another level."—Epicurious.com

"Hunn has not only bestowed her readers with a complete cookbook…but she shows us how to save money, and time, on our meals...It's well worth a bite."—San Francisco Book Review

"No childhood favorites are off-limits with Gluten-Free Classic Snacks by author/blogger Nicole Hunn of Gluten-free on a Shoestring. Expect recipe riffs on Twinkies, Thin Mints, Nutter Butters, Pop Tarts and more in her ode to edible Americana."—GFF Magazine

"[Nicole is] a maven of gluten-free economy."—Living Without

"[A] practical, timely and very good gluten-free cookbook."—About.com

"I am totally thrilled to add this practical, timely and very good gluten-free cookbook to my collection."—About.com, Gluten-Free Cooking

"Hunn's approach is delicious, inexpensive and easy: no mystery at all. I'm betting that, for some wheat sensitive households, Gluten-Free on a Shoestring will be life-changing."—January

"This book is written for real people, facing real economic issues, that can't afford to dedicate a whole paycheck to groceries. It is a great resource for preparing whole foods at home and not spending all weekends and evenings in the kitchen."—Portland Book Review

"A great resource for those just jumping in to the gluten-free world as well as well-versed veterans who are looking to slash those unnecessary grocery expenses."—Westchester Family

"It is the 125 recipes that make the book the most enjoyable, and if you are not part of the gluten-free world, then you may become a convert by book's end...Get on the gluten-free bandwagon, finding ways to love these products, while at the same time creating recipes that are very friendly to the wallet."—Shelf Life (Canada)

"The recipes included are easy to prepare, explained in a friendly manner, and reflect a variety of delicious options."—Treasure Valley Family Magazine

"The tone of the book is friendly and supportive, and the recipes are very clear and simple to follow."—ReadJunk.com

"Hunn successfully tackles a chief complaint voiced by special-diet newbies: sticker shock. Her practical tips for shopping and cooking to save time and money are a gift to all of us who are paying too much for too little."—Living Without

"The money you spend on the book will be saved by following Hunn's great tips."—TheSavvyCeliac.com

"Compiles [Hunn's] best recipes and helpful hints on cutting costs, all in best friend blogger-style. Her tips to economizing are good reminders and handy for the working parent."—Marin Independent Journal

"I have never come across a book of such consequence to the gluten-free household as Gluten-Free on a Shoestring."—SimplyFrugalLiving.com

"Opens up a whole new world for people with this particular diet restriction and does so with a writing style that is both assured and accessible. Those of us who don't have a medical diagnosis requiring diet changes can benefit from the book, as well...In addition to offering an excellent resource for those who must go gluten-free, Hunn's book gives everyone a map toward healthier eating without giving up those delicious foods we love."—Curled Up With a Good Book

"From locating best values to meal planning and stocking a gluten-free pantry, this provides a range of foods from 'scratch' that can fit any budget. Highly recommended!"—Midwest Book Review

"Truly a treasure trove of delectable recipes."—Portland Book Review