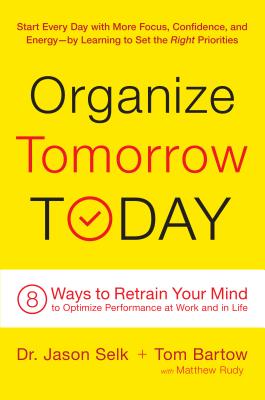 Organize Tomorrow Today
8 Ways to Retrain Your Mind to Optimize Performance at Work and in Life
Hardcover

* Individual store prices may vary.
Other Editions of This Title:
Digital Audiobook (12/26/2016)
Paperback (12/27/2016)
Compact Disc (12/27/2016)
Description
In Organize Tomorrow Today (OTT), two of the top minds in human performance come together to deliver the pathway to extreme success: Doing more is not the answer, and Selk and Bartow walk you through how to achieve more by doing less.
Dr. Jason Selk helps well-known professional and Olympic athletes as well as Fortune 500 executives and organizations develop the mental toughness necessary to thrive in the face of adversity and achieve elite-level results. Tom Bartow, following a career as a winning college basketball coach, became one of the country's top financial advisors and is now one of the premier business coaches nationwide. Together, Selk and Bartow reveal the secrets of how both elite athletes and business leaders climb to the top.
There is a huge difference between knowing something and understanding. There is an even wider gap between understanding and doing. Highly successful people never get it all finished in any given day; however, they always get the most important things completed. Selk and Bartow offer the 8 fundamentals of doing what is most important. OTT will show you the performance gains that athletes, executives, and salespeople spend tens of thousands of dollars to achieve
Praise For Organize Tomorrow Today: 8 Ways to Retrain Your Mind to Optimize Performance at Work and in Life…
"Organize Tomorrow Today helped me increase my business over 30 percent in six months and, most importantly, improved my balance at home. Small disciplines practices every day equal success! It's a must-read for high achievers."—Vickie Wicks, General Partner, Edward Jones

"Dr. Jason Selk and Tom Bartow are experts at peak performance and productivity. In this book they not only teach you what to do, they teach you how to think. And that may be the difference between just knowing and succeeding."—Shep Hyken, New York Times bestselling business author of The Amazement Revolution

"An outstanding read. I only wish it had been around earlier in my career."—Dave Short, former Chairman and CEO of American Funds

"The concepts in Organize Tomorrow Today can be used on the playing field and in the boardroom. Jason and Tom nail it by showing all of us that self-improvement is a process and not an event. I've known both of these individuals for some time now and they both walk the walk."—Tom Erickson, Partner, KPMG

"The Bible says, 'as iron sharpens iron, so one man sharpens another.' Tom Bartow, through his [work] with Jason Selk [in] Organize Tomorrow Today, continues to sharper me."—David L. Steward, Found and Chairman of World Wide Technology and founding director of Biblical Business Training (BBT)

"I thoroughly enjoyed Organize Tomorrow Today. In particular, I embrace the simplicity of the methodology and the focus it brings to one's day."—David Jaeger, CFO, Boeing (Retired)

"Selk and Bartow teach you how to develop the mental toughness needed to thrive on adversity."—Bobby Gassoff, Lieutenant Commander, Navy SEAL

"Whether you are currently in Business or retired from the business world, as I am, the principles in Organize Tomorrow Today apply. If you are just entering business, this is a must-read!"—Pete Smith, CFO, Occidental Petroleum (Retired)
Da Capo Lifelong Books, 9780738218694, 240pp.
Publication Date: December 22, 2015
About the Author
Dr. Jason Selk is one of the premier performance coaches in the United States, with dozens of professional athletes and Fortune 500 executives as his clients. As the Director of Mental Training for Major League Baseball's St. Louis Cardinals, Dr. Selk helped the team win two World Series championships, in 2006 and 2011. He is a regular contributor to Forbes, ABC, CBS, ESPN and NBC, and has been featured in USA Today, Men's Health, Muscle and Fitness, INC., and Self magazines.

Tom Bartow left a successful career as a college basketball coach to become one of the highest-producing financial advisors in Edward Jones's history. He went on to help American Funds's Capital Income Builder fund nearly triple in value. Since then, he has become one of the most creative and sought-after business coaches in the world, specializing in helping companies and individuals excel in times of adversity.

Matthew Rudy has ghostwritten twenty-six sports, business, and travel books since 1997, including titles by golf instructors Dave Stockton, Hank Haney, and Stan Utley; sports psychiatrist Dr. Michael Lardon, and personal development coach Bryan Dodge. His book with personal finance expert Anthony Davenport was published by Houghton Mifflin Harcourt in 2017. He is a senior writer at Golf Digest, where he has ghostwritten twenty-five cover stories since 1999 and earned national awards for his investigative and feature work.