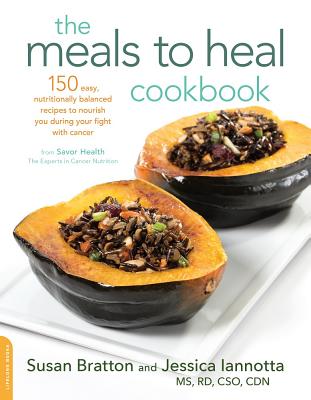 The Meals to Heal Cookbook (Paperback)
150 Easy, Nutritionally Balanced Recipes to Nourish You during Your Fight with Cancer
Da Capo Lifelong Books, 9780738218793, 304pp.
Publication Date: April 12, 2016
* Individual store prices may vary.
Description
Nutrition is a vital component of anyone's fight against cancer, but loss of appetite and side effects of treatment can make even the simple act of eating a challenge. Written to meet the unique needs of cancer patients and caregivers, The Meals to Heal Cookbook offers 150 recipes to make eating less stressful, more convenient, and simply more enjoyable. Created by oncology-credentialed registered dietitians, these delicious, nourishing, easy-to-prepare dishes are full of the nutrients you need to maintain strength during treatment. Loaded with essential nutrition info and recipes coded by common symptoms and side effects (including fatigue, nausea, digestive issues, mouth sores, taste and smell aversion, and others).

About the Author
Susan Bratton is the Founder and CEO of Savor Health (formerly Meals to Heal), a comprehensive patient- and caregiver-focused cancer nutrition service. She also advocates for changes in our healthcare system that would make proper nutrition an integral part of cancer care delivery in the United States, and frequently speaks on this topic around the US. Among the groups she has spoken to include the National Ovarian Cancer Coalition, Lungevity, the Institute for International Research's Conference on Oncology and many others.

Jessica Iannotta, MS, RD, CSO, CDN, is the Chief Operating Officer of Savor Health (formerly Meals to Heal). She is a registered dietitian and certified specialist in oncology nutrition (CSO), and began her career as an oncology dietitian in 2001. She currently manages the oncology nutrition and customer service teams at Savor Health, ensuring that every patient and caregiver speaks to an experienced oncology professional and receives helpful and safe information.

savorhealth.com
Twitter: @savor_health

Praise For The Meals to Heal Cookbook: 150 Easy, Nutritionally Balanced Recipes to Nourish You during Your Fight with Cancer…
Myrtle Beach Sun News, 4/5/16
The organization of the recipes demonstrates the brilliance of the book and the authors' commitment to making it a useful tool. The recipes are set out in a standard way, by breakfast, lunch bowls entrees and the like. However, it is the two recipe indices that make the book really useful, listing the recipes by side effects and by symptoms…This is definitely a book to consider as a gift for anyone who has cancer, is recovering from cancer, or who is caring for someone suffering from this disease.
Gratitude Gourmet, 4/18/16
The Meals to Heal Cookbook
shares healthy, easy to prepare recipes that not only taste delicious but also mitigate the many side effects of cancer treatment…[It] is a go-to resource addressing all of the major food, cooking, and nutrition questions asked by patients and caregivers in a straightforward, accessible, and supportive manner.
Praise for The Meals to Heal Cookbook

"Susan Bratton's wonderful cookbook is what every cancer patient needs—nourishing recipes to help them maintain their nutrition plus valuable information on how to customize those recipes to help cope with the challenging side effects of cancer treatments. And just maybe the benefits of this healthful way of eating can help everyone involved—both the patients and their families!"—Ina Garten, Barefoot Contessa cookbooks & television

"If you, or your loved one, is undergoing treatment for cancer, The Meals to Heal Cookbook is a must. These delicious and nutritious recipes have been developed specifically for people in cancer treatment and take into account taste changes, appetite issues, and other issues that go along with treatment, and the dietitian authors are true experts in this field. I will most definitely be recommending this cookbook to my patients."—Lise Alschuler, ND, FABNO, coauthor, Definitive Guide to Cancer and Definitive Guide to Thriving After Cancer

TheNest.com, 5/9/16
"[The] nutrient-packed recipes [are] perfect for those looking to regain control of their bodies and boost their overall health. Designed for those suffering from chemotherapy or radiation treatments, this cookbook provides easy-to-cook recipes for those experiencing some of cancer's harsh side effects. We were so inspired by the detail put into this cookbook…Whether you or someone you know is fighting the big C, or you just want access to simple, yet super wholesome recipes, The Meals To Heal Cookbook is for you.

Sand and Succotash, 5/23/16
If you are on a cancer treatment path that includes chemo, then this is the perfect book to have in the kitchen…real world, wholesome recipes that provide nutrients making you stronger –and presented in a way that tackles your side effects and manages your symptoms. Highly recommended read.

Atlanta Journal Constitution, 5/25/16
"This book shares healthy, easy to prepare recipes that not only taste delicious but also mitigate the many side effects of cancer treatment. Recipes are organized by meal as well as by side effect, allowing you to easily find meals suited to your particular health needs."