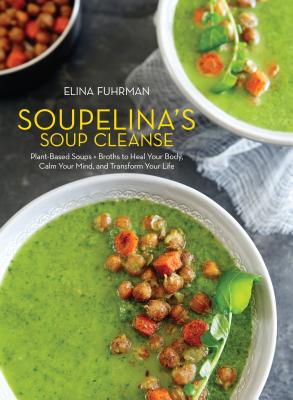 Soupelina's Soup Cleanse (Hardcover)
Plant-Based Soups and Broths to Heal Your Body, Calm Your Mind, and Transform Your Life
Da Capo Lifelong Books, 9780738218885, 288pp.
Publication Date: February 2, 2016
* Individual store prices may vary.
Description
At last, a cleanse that helps you heal and revitalize while eating well! The founder and innovative chef of Soupelina shares her customizable three- and five-day cleanses (with a one-day reset option as well) that will supercharge your health, help reduce inflammation, sharpen your mind, make your skin glow—and help you lose a few pounds in the process. Don't want to cleanse but want to get more whole veggies into your day? These soups are easy, nourishing, and satisfying. Make a batch to sip on all week (or freeze for later)—these soups are perfect for a healthy, filling dinner, lunch—and even breakfast. A celebration of great-tasting plant-based soups, Soupelina's Soup Cleanse will change the way you think about healthy food.

About the Author
Elina Fuhrman is the founder and chef of Soupelina. Formerly an international correspondent for CNN, she has written for the New York Times, InStyle, and many other publications. Fuhrman lives in Southern California with her family.

Praise For Soupelina's Soup Cleanse: Plant-Based Soups and Broths to Heal Your Body, Calm Your Mind, and Transform Your Life…
Myrtle Beach Sun News, 3/22/16
"Educational and informative…The soups are easy to prepare, and offer a wide variety of flavors and textures. There is no need to go hungry on this cleanse…It's not a book that rides on fads in ingredients. There is a great variety. Soupelina soup recipes are loaded with vitamins and nutrients, high in fiber, calcium and protein."
Whisk and Quill, 3/24/16
"Fuhrman uses an artist's palette of vegetables to inform her recipes…It's a book to teach as well as inspire."
Energy Times, 4/22/16
"In addition to being counted among the comfort foods, soup has also had a reputation for being therapeutic. 'Soup guru' Elina Fuhrman takes that notion one step further with
Soupelina's Soup Cleanse
."
San Francisco Book Review, 4/8/16
"
Soupelina's Soup Cleanse
gives readers the information they need to make their own health-boosting soups…These flavorful and cleverly-named recipes will appeal to anyone looking to get more vegetables in their diet…These recipes are simple and easy to follow, and flexible enough that readers are certain to get amazing results."
Genlux, Spring 2016
"A must-buy for every kitchen across America!"
The Nest, 5/9/16
"Forget juice cleanses—the soup cleanse is where it's at."
Praise for Soupelina's Soup Cleanse

Kathy Freston, New York Times bestselling author of Veganist, The Lean, and Quantum Wellness
"Elina is a culinary shaman, and her soups are powerful elixirs. What a gift these delicious potions are; all you have to do is eat, heal and thrive!"

Suzanne Somers, # 1 New York Times bestselling author of Sexy Forever, Knockout; New York Times bestselling author of I'm Too Young For This!; Bombshell; Breakthrough; Keeping Secrets; Suzanne Somers' Eat Great, Lose Weight; Get Skinny on Fabulous Food; Eat, Cheat and Melt the Fat Away
"All research ends up bringing us back to the basics; it's about what we eat. Elina Fuhrman knows firsthand — and it's evident throughout her Soupelina's Soup Cleanse. You give the body what it needs and it will thank you with good health."

Alicia Silverstone, #1 New York Times Bestselling author of The Kind Diet
"Elina is so inspiring. She took responsibility for her health by changing her diet, and now with the help of Soupelina's Soup Cleanse you can, too. Not only are her soups delicious, but the photography is so beautiful you will get lost in this book."

from the Foreword by Anthony J. Bazzan, MD, author of The Great Life Makeover
"This book will empower those who seek help in improving their health, not to menion their taste buds and the enjoyment of food."

Dr. Daniel Amen, ten-time New York Times Bestselling author, physician and double-board certified psychiatrist
"I'm inspired by Elina's story and wish more people would take control of their health as she did."

Dr. Kristi Funk, MD, breast surgeon, founder, Pink Lotus Beast Center
"Full of goodness, energy, and health, Elina and Soupelina have a lot in common!"

Louise Roe, TV personality, fashion journalist, author of Front Roe
"A smart and sassy cookbook, full of delicious recipes and fun facts that would get you into your best bikini shape, not to mention health, in no time."

Peter Facinelli, actor, Twilight
"An easy, delicious way to be healthy. Love it!"

Melina B. Jampolis, MD, PNS, President, National Board of Physician Nutrition Specialists, author of The Doctor On Demand Diet
"The recipes in this book are bursting with flavor and nutrients. As a nutrition MD, I'm a huge fan of soups as a truly nourishing component of a healthy diet rich in plant based foods. I'm definitely going to be sipping the magic turmeric broth on a regular basis!"


Sand & Succotash, 2/21/16
"Fuhrman brings out exotic culinary flavors in her recipes from her travels…Not just an ordinary soup cookbook…This cookbook is an excellent group of recipes. The soups are all vegan, soy and nut free, and all call for organic, GMO- and gluten-free ingredients. So, even when you aren't doing a soup cleanse, any of the recipes would incorporate well in your everyday menus."

Harper's Bazaar, 2/22/16
"The latest cleanse craze that's low in sugar, will keep you full all day and is Gwyneth Paltrow-approved? Souping…[Get] everything you need to know from Soupelina's Soup Cleanse."

Milwaukee Shepherd-Express, 3/1/16
"If 'cleansing' the body still suggests heavy doses of castor oil, read Elina Fuhrman's Soupelina's Soup Cleanse for a new perspective…Even if you're unwilling to follow her into vegandom, she provides page after page of tasty recipes for whipping up a pot of good soup at home."


Julie Piatt, author of The Plantpower Way
"This is a book every family should have in their kitchen. Every one of us can benefit from incorporating Elina's health and wellness guidance into their daily lives."

Angeleno Magazine, January/February 2016
"A collection of plant-based soups and broths that heal, calm, and transform."

Washington Book Review, 2/2/16
"Soupelina's Soup Cleanse soups are flavorful, tasty, and healthy. You will soon feel rejuvenated and energetic after you start eating these soups."

Brit + Co, 2/8/16
"If you've had your fill of the juice cleanse and are ready for something completely different, it may be time for you to check out the soup cleanse…Soupelina's Soup Cleanse [is] totally intestinally intriguing."

Entertainment Realm, 2/21/16
"Packed with data about a plant-based diet to absorb before even diving into the cleanse…Includes fascinating and useful facts about tons of veggies, fungi, legumes, fruits, spices and oils."