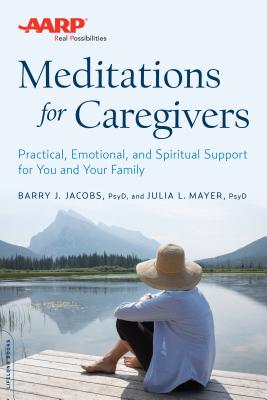 AARP Meditations for Caregivers (Paperback)
Practical, Emotional, and Spiritual Support for You and Your Family
Da Capo Lifelong Books, 9780738219028, 240pp.
Publication Date: July 12, 2016
* Individual store prices may vary.
Description
An AARP book for caregivers combining day-to-day advice and uplifting guidance in a daily meditations format.

Family care giving has its challenges: emotional overload, time constraints, anxiety, burnout, missed work, adult sibling conflicts, and marital issues. AARP Meditations for Caregivers blends emotional and spiritual motivation to minimize the strains while helping caregivers view their work as a mission from the heart. Chapters are organized by theme, including topics such as accepting your feelings, knowing your limits, seeking support, and managing stress. Each reading offers a poignant meditation, an anecdote drawn from the author's personal or clinical experience, and hands-on or psychological advice to foster coping skills and a sense of fulfillment.

The meditations in this dispensable book will provide you with solutions to typical care giving challenges, offer relief and renewal through mindfulness, and inspire you to find meaning and value in the work you do.

About the Author
Barry J. Jacobs, Psy.D., is a clinical psychologist, family therapist, and the author of the book The Emotional Survival Guide for Caregivers: Looking After Yourself and Your Family While Helping an Aging Parent. Dr. Jacobs has given more than 400 local, regional and national presentations on family caregiving for family caregivers and community groups, mental health/social service professionals, and physicians/nurses. Since 2008, Dr. Jacobs has been the national spokesperson on family caregiving for the American Heart Association/American Stroke Association. He is on the expert panel for the Caregiver Crisis Great Challenge for TEDMED.com, an honorary board member of the Well Spouse Association, and a past board member of the Collaborative Family Healthcare Association. He is on the expert panel for the AARP Advisory Panel and writes a monthly caregiving column for AARP.org. As a clinician, Dr. Jacobs specializes in helping individuals and families cope with serious and chronic medical illnesses. As an educator, he works as the Director of Behavioral Sciences for the Crozer-Keystone Family Medicine Residency Program in Springfield, Pennsylvania, and has had adjunct faculty positions with the Temple University School of Medicine, the University of Pennsylvania School of Nursing, and the Department of Psychology of the Philadelphia College of Osteopathic Medicine.

Julie L. Mayer, Psy.D., a clinical psychologist, has been doing individual and couples therapy for almost 25 years. She is the author of the novel A Fleeting State of Mind. Dr. Mayer has a private practice is in Media, Pennsylvania, where she specializes in women's issues, including caregiving and other relationship concerns. She has held adjunct teaching positions at the Institute for Graduate Clinical Psychology of Widener University and in Widener University's undergraduate programs. She was also an Instructor for the Master's Program in Creative Arts Therapy at Hahnemann University for eight years, teaching courses on human development and psychoanalytic theory.

Dr. Jacobs and Dr. Mayer, who are married, previously wrote online columns of psychological advice for WebMD and HealthCentral.com. They live in Swarthmore, Pennsylvania.
Praise For AARP Meditations for Caregivers: Practical, Emotional, and Spiritual Support for You and Your Family…

"This invaluable, wise, and compassionate guide is frank, inspirational, and altogether timelessly human."—John Rolland, MD, Northwestern University Feinberg School of Medicine

"AARP Meditations for Caregivers will help caregivers find their own way to a place of calm and purposefulness."—Carol Levine, director, Families and Health Care Project, United Hospital Fund

"AARP Meditations for Caregivers is filled with stories of hope, perseverance—even transcendence. Drawing from their personal experience as well as others, Drs. Jacobs and Mayer remind us that providing care for a loved one can be a sacred, moral, and enriching endeavor."—Katy Butler, author of Knocking on Heaven's Door

"This collection of lessons and insights assures us that our caregiving experiences are not unique. Stressed caregivers will be able to draw solace from these anecdotes."—Robert L. Kane, MD, School of Public Health, University of Minnesota, and author of The Good Caregiver

"This book is truly a bible for caregivers. Barry Jacobs and Julia Mayer tell more than 100 stories of dilemmas faced by children, siblings, husbands, and wives thrust into a role of caregiver...Reading these all-too-human tales, caregivers won't feel quite as alone—and they'll see that even when they're angry, frustrated, sad, stressed out, they can find ways to express love, empathy, and humor."—Marc Silver, author of Breast Cancer Husband

"AARP Meditations for Caregivers captures the frustrations and determination, sorrows, and joys typically experienced by family caregivers. Drs. Jacobs and Mayer offer concrete suggestions and inspiration for those who provide countless acts of loving care."—Janis Abrahms Spring, PhD, author of Life with Pop: Lessons on Caring for an Aging Parent

"Like many of the AARP resources, this one is high on practical advice."
—Outreach NC