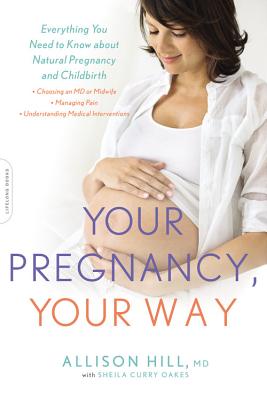 Your Pregnancy, Your Way (Paperback)
Everything You Need to Know about Natural Pregnancy and Childbirth
Da Capo Lifelong Books, 9780738219103, 368pp.
Publication Date: April 11, 2017
* Individual store prices may vary.
Description
As an OB/GYN, Dr. Allison Hill has delivered thousands of babies; as a mom, she's given birth to her own two children. Hill has a unique perspective on the many questions moms have surrounding pregnancy and childbirth-especially when it comes to "going natural." Drawing on her twenty years of expertise as well as current medical data, she weighs the pros and cons of the range of options available-hospital or birthing center; MD or midwife. Covering everything from understanding a doctor's bias to medical interventions (what's necessary-and what's not) to home births, Hill debunks common myths and provides insight into hot-button issues and a keen look into why doctors do what they do. Your Pregnancy, Your Way helps parents-to-be achieve a safe and healthy delivery.

About the Author
Dr. Allison Hill received her MD from Loyola University in Chicago and completed her residency in OB/GYN at Los Angeles County–USC School of Medicine. Dr. Hill is board-certified and a Fellow of the American College of OB/GYN. She is a past Chairman of the Department of OB/GYN and currently serves as the Vice Chief-of-Staff at Good Samaritan Hospital. She was also one of the featured doctors on the acclaimed Discovery Health Network reality show, Deliver Me. Dr. Hill has been in private practice for more than 15 years. The mother of two children, she enjoys spending time with her kids, yoga and running.

Sheila Curry Oakes is a writer who has collaborated on books with numerous experts in the fields of women's health and wellness, parenting, and personal growth. A former publishing professional, she lives with her family outside of New York City.
Praise For Your Pregnancy, Your Way: Everything You Need to Know about Natural Pregnancy and Childbirth…
"Hill covers a great deal of material in the book: eating and exercise, tests during pregnancy, risks and complications, delivery-room interventions, and much more...Filled with useful information...While Hill returns repeatedly to the idea of keeping pregnancy and childbirth as natural as possible...she is commendably open about the usefulness of various interventions...Your Pregnancy, Your Way can be valuable both in helping women search for their own version of a 'natural' approach and in showing the limits of that approach and the areas in which modern medicine, for all its frequent depersonalization, may be important for the health and safety of mother and baby alike."


—InfoDad

"Women aiming for a natural birth will love this new pregnancy guide from obstetrician Allison Hill, an open-minded doctor who offers plenty of information to aid in decision-making...Along with the basic information-exercise and eating, prenatal screening, the stages of labor, pain relief ideas, and more-Hill is able to bring to the table decades of experience in private practice...Readers will enjoy the personal stories and insight, and Hill's down-to-earth, honest perceptions will be welcomed by many. It's so refreshing to see a book that covers natural birth in such a neutral way, packed with valuable information but written so as to appeal to a wide range of expectant parents."—San Francisco Book Review