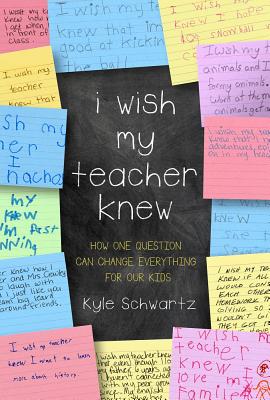 I Wish My Teacher Knew
How One Question Can Change Everything for Our Kids
Hardcover

* Individual store prices may vary.
Other Editions of This Title:
MP3 CD (8/29/2017)
Compact Disc (8/29/2017)
MP3 CD (8/29/2017)
Compact Disc (8/29/2017)
Compact Disc (8/29/2017)
Description
One day, third-grade teacher Kyle Schwartz asked her students to fill-in-the-blank in this sentence: "I wish my teacher
knew _____." The results astounded her. Some answers were humorous, others were heartbreaking-all were profoundly moving and enlightening. The results opened her eyes to the need for educators to understand the unique realities their students face in order to create an open, safe and supportive place in the classroom. When Schwartz shared her experience online, #IWishMyTeacherKnew became an immediate worldwide viral phenomenon. Schwartz's book tells the story of #IWishMyTeacherKnew, including many students' emotional and insightful responses, and ultimately provides an invaluable guide for teachers, parents, and communities.
Praise For I Wish My Teacher Knew: How One Question Can Change Everything for Our Kids…
Praise for I Wish My Teacher Knew:

"I Wish My Teacher Knew is both inspiring and practical. With rich detail, it shows how, by beginning with building trust between a teacher and her students, magic can follow. Teachers will value the helpful to-do's, and all of us will value the account of life in the classroom. At a time when policymakers are obsessed with tests and accountability, I Wish My Teacher Knew delivers a powerful reminder that teaching isn't a matter of drill and kill, that the teacher's job is to develop children's excitement about learning as well as their character. For anyone who cares about teaching and learning—and that should be all of us—this book is indispensable."—David L. Kirp, Berkeley professor and author of Improbable Scholars: The Rebirth of a Great American School System and a Strategy for America's Schools

"Kyle Schwartz truly understands that relationships matter most in the classroom, and she shares tools and stories that every educator will find both powerful and engaging. It is a 'back-to-school' must read!"
—Tony Wagner, author of The Global Achievement Gap and Creating Innovators

Library Journal, 6/1/16, starred review
"Sharing the profound events that shaped her pupils' lives, both online and now in this book, allowed the author to show how easy it is to bring teachers and students together to build a stronger classroom community…A real passion for the kinds of teaching that better the lives of students is evident in Schwartz's every word, and her compassion and caring is contagious."

BookPage, August 2016
"Provide[s] suggestions for transforming any classroom or school into a greater community. After reading Schwartz's book, teachers will be inspired to join the #IWishMyTeacherKnew movement and get to know their students better."

InfoDad blog, 8/4/16
"There is wisdom as well as pain in the fill-in-the-blank responses that Schwartz shares with readers."

"The Bookworm Sez" syndicated column, 8/2/16
"If you're a teacher…this book could change your career. Look for it."

Philadelphia Tribune, 8/6/16
"Enlightening…An invaluable guide for teachers, parents and communities."

New York Times, 8/31/16
"Details how essential it is for teachers and families to be partners."

Us Weekly, 9/1/16
"Full of handwritten student notes as well as research on child poverty."

"Schwartz delves into the hard topics that teachers have to grapple with in the classroom: poverty, family troubles, food insecurity, grief and loss, and the whole gamut of human experience that is represented in an average public school classroom. She has-if you'll pardon the phrase-done her homework...There are no easy solutions to the issues public school students and teachers face, but the compassion and wisdom Schwartz models in both this book and her classroom surely go a long way toward alleviating her kids' struggles. For teachers and parents, I Wish My Teacher Knew could be an invaluable toolkit."—Portland Book Review
Da Capo Lifelong Books, 9780738219141, 272pp.
Publication Date: July 12, 2016
About the Author
Kyle Schwartz is a third-grade teacher and the author of I Wish My Teacher Knew. She lives in Denver, Colorado.