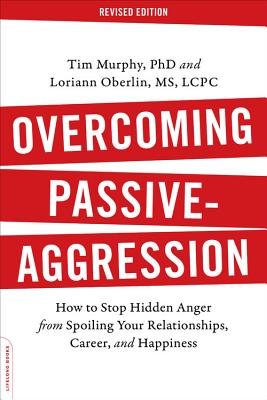 Overcoming Passive-Aggression: How to Stop Hidden Anger from Spoiling Your Relationships, Career, and Happiness (Paperback)
How to Stop Hidden Anger from Spoiling Your Relationships, Career, and Happiness
Da Capo Lifelong Books, 9780738219189, 336pp.
Publication Date: October 25, 2016
Description
Hidden anger that comes out indirectly can undermine relationships between friends, family, and colleagues. When people feel compelled to conceal their true beliefs and emotions, there can be serious physical and psychological results for everyone involved. Dr. Tim Murphy and Loriann Oberlin offer a clear definition of passive aggression and show readers not only how to end the behavior but also how to avoid falling victim to other people's hidden anger. This revised and updated edition offers essential guidance for dealing with problems in the workplace and at school; avoiding the pitfalls of social media, texting, and online communication; and when to seek professional help. Whether you need ways to manage your own passive aggressiveness or ways to cope with the hidden anger of others, Overcoming Passive Aggression shares sage advice, practical exercises, and opportunities for personal growth.
About the Author
Tim Murphy, PhD, is a psychologist and Congressman (one of only a few members of Congress with a background in healthcare); he relies on his three decades as a psychologist to advocate for meaningful reforms in the U.S. healthcare system. He is currently working to pass the Helping Families in Mental Health Crisis Act, landmark mental health reform legislation that has praise and support from the American Psychiatric Association, National Alliance on Mental Illness, and media outlets including "CNN," "The Wall Street Journal," and "The Washington Post." With Loriann Oberlin, he is coauthor of "The Angry Child." He lives in Pittsburgh, Pennsylvania.

Murphy.house.gov

Loriann Hoff Oberlin, MS, LCPC, is a clinical counselor and therapist. She is the author of nine books on psychological issues, health, relationships, parenting, and other topics; titles include "The Angry Child" (with Tim Murphy) and "Surviving Separation and Divorce." She lives in Queenstown, Maryland.

LoriannOberlin.com
Advertisement