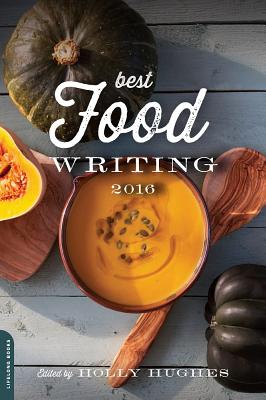 Best Food Writing 2016
Paperback

* Individual store prices may vary.
Other Editions of This Title:
Paperback (10/29/2013)
Description

Like your favorite local grocery store, with its sushi bar, fresh baked goods, and maybe a very obliging butcher, Best Food Writing offers a bounty of everything in one place. For seventeen years, Holly Hughes has delved into piles of magazines and newspapers, scanned endless websites and blogs, and foraged through bookstores to provide a robust mix of what's up in the world of food writing. From the year's hottest trends (this year: meal kits and extreme dining) to the realities of everyday meals and home cooks (with kids, without; special occasions and every day) to highlighting those chefs whose magic is best spun in their own kitchens, these essays once again skillfully, deliciously evoke what's on our minds-and our plates. Pull up a chair.

Contributors include:

Betsy Andrews
Jessica Battilana
John Birdsall
Matt Buchanan
Jennifer Cockrall-King
Tove Danovich
Laura Donohue
Daniel Duane
Victoria Pesce Elliott
Edward Frame
Phyllis Grant
Andrew Sean Greer
Kathy Gunst
L. Kasimu Harris
Steve Hoffman
Dianne Jacob
Rowan Jacobsen
Pableaux Johnson
Howie Kahn
Mikki Kendall
Brian Kevin
Kat Kinsman
Todd Kliman
Julia Kramer
Corby Kummer
Francis Lam
Rachel Levin
Brett Martin
Tim Neville
Chris Newens
James Nolan
Keith Pandolfi
Carol Penn-Romine
Michael Procopio
Kathleen Purvis
Alice Randall
Besha Rodell
Helen Rosner
Michael Ruhlman
Oliver Sacks
Andrea Strong
Jason Tesauro
Toni Tipton-Martin
Wells Tower
Luke Tsai
Max Ufberg
Debbie Weingarten
Pete Wells


Praise For Best Food Writing 2016…

Praise for the Best Food Writing Series

"With this typically delectable and eclectic collection of culinary prose, editor Holly Hughes proves her point made in the intro that the death of 68-year-old Gourmet magazine a year ago didn't lead to the demise of quality food journalism…There's a mess of vital, provocative, funny and tender stuff…in these pages."—USA Today

"Some of these stories can make you burn with a need to taste what they're writing about."—Los Angeles Times

"The essays are thought-provoking and moving…This is an absolutely terrific and engaging book...There is enough variety, like a box of chocolates, that one can poke around the book looking for the one with caramel and find it."—New York Journal of Books

"What is so great about this annual series is that editor Holly Hughes curates articles that likely never crossed your desk, even if you're an avid reader of food content. Nearly every piece selected is worth your time."—The Huffington Post

"Stories for connoisseurs, celebrations of the specialized, the odd, or simply the excellent."—Entertainment Weekly

"This book is a menu of delicious food, colorful characters, and tales of strange and wonderful food adventures that make for memorable meals and stories."—Booklist


"This collection has something for connoisseurs, short story fans, and anyone hungry for a good read."—Library Journal

"Browse, read a bit, browse some more and then head for the kitchen."—Hudson Valley News

"The finest in culinary prose is offered in this new anthology…these pages delight and inform readers with entertaining and provocative essays…This book ultimately opens readers' eyes to honest, real food and the personal stories of the people behind it."—Taste for Life

"Longtime editor Hughes once again compiles a tasty collection of culinary essays for those who love to eat, cook and read about food…A literary trek across the culinary landscape pairing bountiful delights with plenty of substantive tidbits."—Kirkus Reviews

"A top-notch collection, Hughes brings together a wonderful mix that is sure to please the foodie in all of us."—San Francisco Book Review

"An exceptional collection worth revisiting, this will be a surefire hit with epicureans and cooks."—Publishers Weekly, starred review

"If you're looking to find new authors and voices about food, there's an abundance to chew on here."—Tampa Tribune

"There's something for everyone in the compilation, and because the stories are blog or magazine length, there's not much of a time commitment. If you only have 15 minutes to sit outdoors and read, you can finish at least one piece from beginning to end."
—Mother Nature Network
Da Capo Lifelong Books, 9780738219448, 384pp.
Publication Date: November 8, 2016
About the Author
Holly Hughes, former executive editor of Fodor's travel publications, is the author of Frommer's 500 Places for Food and Wine Lovers. She lives with her family in New York City.
or
Not Currently Available for Direct Purchase