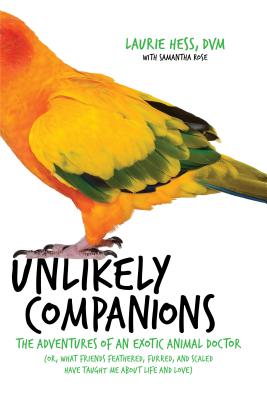 Unlikely Companions (Hardcover)
The Adventures of an Exotic Animal Doctor (or, What Friends Feathered, Furred, and Scaled Have Taught Me about Life and Love)
Da Capo Press, 9780738219578, 256pp.
Publication Date: November 1, 2016
* Individual store prices may vary.
Description
Whether it's an umbrella cockatoo who's not eating, a depressed chinchilla, a pregnant potbellied pig, or a ferret possibly needing surgery, exotic animal vet Laurie Hess is at the front lines with some remarkable pets-and their equally eccentric, dedicated, and sometimes demanding owners. Following a week in Dr. Hess's life as she tries to uncover the source of an unknown ailment killing some of her most vulnerable patients, Unlikely Companions is an
All Creatures Great and Small with a mysterious twist that includes a special message about managing our most important relationships-those with our friends, coworkers, children, spouses, and ourselves.

"Dr. Hess takes everyday as it comes and treats whatever enters her office with compassion, and knowledge, and sometimes even humor."
-Martha Stewart

About the Author
Dr. Laurie Hess is board-certified by the American Board of Veterinary Practitioners in avian (bird) medicine and served as the President of the Association of Avian Veterinarians from 2009-2010. She is also an active member of the Association of Exotic Mammal Veterinarians and the Association of Reptilian and Amphibian Veterinarians.

After graduating summa cum laude, Phi Beta Kappa from Yale University, Dr. Hess received her veterinary medical degree from Tufts. She then completed a one-year internship and a two-year residency in avian and exotic pet medicine and surgery at the world-renowned Animal Medical Center in New York City.

The country s go-to exotic pet doctor, she s appeared on "Inside Edition," "Animal Planet," "The Martha Stewart Show" and "The Doctors." Dr. Hess and her practice have been featured in the "New York Times," "The NY Daily News," "USA Today," "Martha Stewart Living," and "Parade" and "People Magazine." She lives with her family in Westchester County, New York.

www.lauriehessdvm.com

Samantha Rose is an Emmy-award winning television writer and producer, and the co-author and collaborator of many non-fiction projects including the "New York Times" bestsellers "The Suja Juice Solution" and "Control the Crazy" with Vinny Guadagnino. She is also the author of the National Bestseller "The Package Deal: My (not-so) Glamorous Transition from Single Gal to Instant Mom."

"
Praise For Unlikely Companions: The Adventures of an Exotic Animal Doctor (or, What Friends Feathered, Furred, and Scaled Have Taught Me about Life and Love)…
Booklist, 10/15/16
"[Shows] readers 'a week in the life' of an exotic-animal vet…An easy-reading, enjoyable stroll in Hess's shoes."

"[The] story is told in [a] chatty conversational style...[Hess] is obviously smart, well-trained, hard working, and passionate about her exotic charges who are better off for her care."
—
Roanoke Times, 11/6/16

"Perfect for animal lovers of all stripes and scales, fans of dogs to hogs."—
The Bookworm Sez, 11/7/16

"A behind-the-scenes look at a week in the life of an internationally renowned expert in avian and exotic pet medical care."—
Veterinary Week, 11/14/16
"A heartfelt memoir on the power and depth of human-animal bonds."—
Library Journal, 11/1/16
"Gives readers an unprecedented look into the life of a veterinarian who deals with some out-of-the-ordinary pets."
—
PetMD.com, 10/31/16
"Engaging and enlightening...Dr. Hess weaves the stories of animals she has treated-ranging from Judge Judy-loving rabbits to an enormous Central Park snapping turtle to a parrot in police custody-into a candid narrative of her struggles to balance her career, her family and her own health."—
Vetstreet, 10/2/16
"Board-certified in avian medicine, [Hess] also treats all sorts of other animals beyond the traditional dog-and-cat realm. And it is the chance to read about those animals, their human companions, and their health needs-with all the triumph and tragedy that implies-that makes Unlikely Companions so attractive...Anyone who does not get weepy at some point during Unlikely Companions is too hard-hearted to share a life with a companion animal of any sort...It is books like this one, focusing on creatures not of our own species but wholly dependent on us for the basics of life, and providing us in turn with a deep emotional connection, that connect with us in a visceral way...[Unlikely Companions] has plenty of heart."—
InfoDad blog
"The exotic-pet vet takes animal lovers on a dramatic and emotional journey into her practice as she treats pythons, birds, hedgehogs, wallabies and pot-bellied pigs, and compassionately counsels their eccentric owners."—
Sacramento Bee
"A humorous look at exotic animals...The stories about the animals and their people are personal and touching...[Hess] is appropriately self-deprecating and always amusing."—
Huffington Post
"A warm memoir detailing a week in the professional and personal life of an exotic animal vet in [a] bucolic town."—
Good Housekeeping
"Get lost in this jungle of a memoir and let yourself laugh a little."
—
BUST Magazine
"Readers are sure to love Laurie Hess's book, Unlikely Companions, which not only tells about a week in her life when she was desperately trying to figure out what was killing sugar gliders but is also filled with fascinating stories from her work as an exotic animal vet...They'll enjoy tales of lizards grown unexpectedly huge, clever birds, loving rabbits, missing snakes, and also the occasional cat and dog."
—
San Francisco Book Review
"Part memoir, part mystery, and all heart, Dr. Laurie Hess's
Unlikely Companions
is a captivating look at the dedication, frustration, and devotion that veterinarians-and the whole animal healthcare community-pour into their work."—
Internet Review of Books

"Hess has ministered to patients the rest of us couldn't even dream up...[and her] memoir is structured like a detective story."—
Yale Alumni Magazine