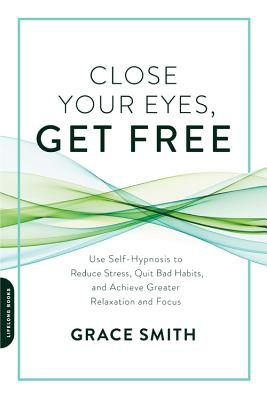 Close Your Eyes, Get Free
Use Self-Hypnosis to Reduce Stress, Quit Bad Habits, and Achieve Greater Relaxation and Focus
Paperback

* Individual store prices may vary.
Other Editions of This Title:
Digital Audiobook (7/16/2018)
Compact Disc (7/17/2018)
Compact Disc (7/17/2018)
Description
"Grace has a gift of helping others harness their own power to achieve what they really want. If you've been hitting a wall in your life, it's time to turn to Grace for a breakthrough."--Jessica Ortner, New York Times bestselling author of The Tapping Solution for Weight Loss & Body Confidence
Forget what you think you know about hypnosis and learn why it is the hottest "new" technique for personal development. More and more studies are showing that hypnosis can help ease everyday stress and anxiety, as well as promote powerful healing, from our worst habits to our deepest fears. Now, Grace Smith shares her groundbreaking self- hypnosis techniques that she uses to great success with her clients to help them practice "meditation with a goal." You'll learn how the deeply relaxed state of hypnosis will allow you to access old patterns of behavior in order to transform them once and for all. You'll discover:
What hypnosis is--and what it's not
The real power of your subconscious mind
Simple practices to help easy anxiety, boost self-confidence, quit procrastinating, overcome emotional eating, and more
Praise For Close Your Eyes, Get Free: Use Self-Hypnosis to Reduce Stress, Quit Bad Habits, and Achieve Greater Relaxation and Focus…
"Grace personally helped me overcome a severe fear-of-flying that left me crying, shaking, and often simply unable to travel for nearly 20 years. In her new book, Grace unlocks the transformative power of hypnosis for people across the planet, debunking myths and giving readers the resources they need to enact real, lasting change in their lives."—Liz Moody, Food Editor at MindBodyGreen, writer, photographer, recipe developer, creator of EatWell Europe

"Grace Smith works miracles. I was completely new to hypnosis before I met her, and the results we experienced together were nothing short of amazing. I trust her--and the work she does--implicitly."—Gala Darling, speaker, author of Radical Self-Love: A Guide to Loving Yourself and Living Your Dreams

"Grace Smith empowers people to rise above their limiting beliefs. Grace's insights on the subconscious mind gives you a soulful invitation to spring clean your past and release the patterns that prevent you from living your best life. You'll emerge from these pages with a fresh perspective on the power you have to create your own reality."—Sarah Prout, bestselling author, creator of The Manifesting Academy, Host of The Journey to Manifesting Podcast

"Grace's energy put me into a calm, relaxed state, and the guided imagery is still salient in my mind. Working with Grace has truly made a positive impression on my daily life."—Prince Ea, filmmaker, speaker, activist

"Forget everything you ever thought about hypnosis, and prepare to be surprised, inspired, and healed by this book. It's unlike anything you've ever read before."—Rebekah Borcuki, Meditation Guide, bestselling author of You Have 4 Minutes to Change Your Life

"Close Your Eyes, Get Free is a treasure-trove of great hypnosis information for both the hypnosis enthusiast and the professional hypnotherapist. Using real world examples, stemming from personal and client experiences, Master Hypnotist Grace Smith has actually written a treatise on how to live a better, more rewarding, productive, and happier life."—George Bien, Principal Trainer, International Association of Counselors andTherapists

"Grace removes any stigma associated with hypnosis by making it relatable, accessible, and meaningful. She channels her energy and passion into helping change people's lives and helping us become our very best selves."—Igor Volsky, political commentator Director, @capaction. Co-host of @ThinkingCAPpod. Director, @gunsdownamerica
Da Capo Lifelong Books, 9780738219714, 288pp.
Publication Date: July 17, 2018
About the Author
Grace Smith is a master hypnotherapist, hypnotherapy certif ication instructor, and the founder of Grace Space Hypnosis (gshypnosis .com). In addition to working with thousands of clients, Grace's work has been featured on The Doctors, Glamour, InStyle, and more. She lives with her husband, son, two dogs, and cat in Vero Beach, Florida. @gracesmithtv