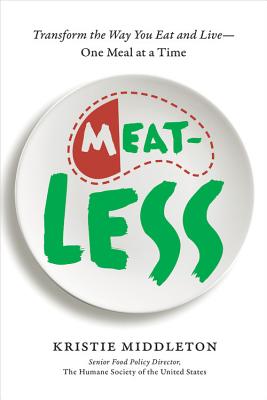 MeatLess
Transform the Way You Eat and Live--One Meal at a Time
Hardcover

* Individual store prices may vary.
Other Editions of This Title:
MP3 CD (6/6/2017)
Description
Countless people are now cutting back on meat by enjoying more plant-based meals-to look and feel better, have a lighter eco-footprint, or to help animals. If you want to eat less meat and dairy without giving them up entirely, MeatLess offers concrete rationale and easy steps for reducing animal products. Kristie Middleton, senior food policy director for The Humane Society of the United States, shares inspirational stories from people who've lost weight, reached their health goals, helped animals, and improved their environmental footprint through plant-based eating. Along with its delicious, satisfying recipes that anyone can make, MeatLess offers tips and tricks for overcoming common barriers to diet change and how to make a better lifestyle stick-such as easy food swaps, where to dine out, and how to set and meet your goals. Whether you're a passionate meat lover or vegan-curious, MeatLess is the roadmap for a healthier life and a better you.
Praise For MeatLess: Transform the Way You Eat and Live--One Meal at a Time…
"MeatLess provides simple tips and exciting recipes for people wanting to reduce meat in their diets - a book to inspire positive change!"—Paul McCartney

"So many of our chronic diseases are preventable by eating fewer animal-based foods and more whole plant-based foods. Kristie Middleton's reduction approach has helped translate millions of meat-based meals served in our nation's cafeterias to meatless. I'm excited that she's now bringing this methodology to the public with inspiring stories and tips, tricks, and recipes to make it easy."—Dr. Michael Greger, bestselling author How Not To Die: Discover the Foods Scientifically Proven to Prevent and Reverse Disease

"In her book MeatLess, Kristie Middleton offers insight into why millions of people are choosing to eat less meat and enjoy more plant-based foods. Middleton shares how easy it can be to make simple changes to our diets that will add up to massive changes in our food system."—John Mackey, co-CEO and founder, Whole Foods Market

"Whether to go vegetarian or vegan, or simply eat more meatless meals, more people are interested in plant-based eating. Kristie Middleton's new book, MeatLess, helps show how simple-and enjoyable-it can be while offering tips to make it easy. I hope it's a massive success."—Tal Ronnen, founder and chef Crossroads, author of New York Times bestseller, The Conscious Cook

"If you are the student waiting for the teacher to appear, Kristie Middleton is it! Take this journey with her and you'll find yourself lifted in every way-body, mind, and soul."
—Kathy Freston, New York Times bestselling author of Quantum Wellness, The Lean, and The Book of Veganish

"If we want to create a more compassionate world, we have to give people the tools to make it easy. While everyone might not be ready to go vegan or vegetarian, Kristie Middleton's book MeatLess provides insight into how individuals can make small changes that add up to making a big difference for their health, the planet, and animals."—Gene Baur, bestselling author of Farm Sanctuary: Changing Hearts and Minds About Animals and Food and Living the Farm Sanctuary Life, and co-founder and president of Farm Sanctuary

"Packed with information and delivered in a friendly, non-judgmental voice, MeatLess is an indispensable guide for anyone seeking a more health-, planet-, or animal-friendly way of living."—Jonathan Balcombe, author of What a Fish Knows

"Meat-free eating is gaining in popularity with more and more people opting to eat less meat for their health, the environment, and animals. This book is not only timely, but I can't think of anyone better positioned to provide this guidance than Kristie Middleton, who has been an HSUS leader successfully promoting meatless options at institutions across America."
—Wayne Pacelle, President and Chief Executive Officer of the Humane Society of the United States and author of New York Times bestsellers The Bond and The Humane Economy

A growing number of Americans are looking to eat healthier, plant-based diets, but often don't know where to start. MeatLess provides the foundation for why it's important to make these changes as well as how to begin making the transition. Kristie Middleton's unique approach not only examines barriers to diet changes, but offers solutions for overcoming them, making this a powerful tool."—Miyoko Schinner, author of Artisan Vegan Cheese, The Homemade Vegan Pantry, and founder of Miyoko's Kitchen

"MeatLess is the perfect incarnation of my maxim, 'Don't do nothing because you can't do everything. Do something. Anything!' Kristie expertly and compassionately guides you in your journey to do something - which happens to be the most significant something you can do for yourself, the animals, and the planet."—Colleen Patrick-Goudreau, bestselling author of The 30-Day Vegan Challenge and The Joy of Vegan Baking

"The level of meat, egg, and dairy we're consuming is devastating our planet, our health, and results in animals being treated in appalling ways. Kristie Middleton is doing great work to help institutions reduce the meat they're purchasing and getting more plant-based options on menus. In this important new book, she's bringing this successful intervention to the public too."—Moby

"The best available science provides evidence that a plant-based diet is optimal for our health. In MeatLess, Kristie Middleton lays out the basis of why eating plant-based is better for our health and provides a solid foundation to help people achieve their eating goals."—Dr. Neal Barnard, founder and president, Physician's Committee for Responsible Medicine, author of New York Times bestselling-books 21-Day Weight Loss Kickstart and Power Foods for the Brain

"Countless critters can thank Kristie for her incisive book and long-time advocacy of the Meatless Monday movement. Kristie combines personal stories, hard science, and practical suggestions that make going meatless easy and delicious on Monday . . . and any other day."—Sid Lerner, chairman and founder, Meatless Monday

"I am convinced the single most powerful thing that any and all of us can do to make the world a better, kinder, and healthier place is incredibly simple and painless. Eat less meat (or none at all!). In her beautiful, thoughtful, and personal book, Kristie Middleton explains the how and why of that process and does so in a way that will surely change every reader's life in wonderfully positive ways. I highly recommend it!"—Suzy Welch, best-selling author and TV commentator

"This work is perfectly timed. Just look at the Journal of American Medical Association from September 1, 2016. There is an analysis of the correlation of animal consumption and dying - relative to vegetable protein, all animal products produce cancer deaths, heart disease deaths, or both. Changing our entire health system from 'sickcare' to 'healthcare' is suddenly more critical than ever. One can imagine down the road that every patient who develops heart disease or cancer after a hospitalization would sue that institution and its staff for ignoring the peer-reviewed literature and bringing a food tray with our usual hospital food menu. Let's change it now. It's time to turn liability into opportunity!"
—Kim Allan Williams, Sr., MD, The James B. Herrick, MD, Professor of Heart Research; Chief, Division of Cardiology, Rush Medical College

"One of the most passionate leaders in animal welfare, Kristie creates an articulate plea for eating meatless-in defense of animals, people, and the planet. She follows this up with practical advice for how to make this happen in your own life, gleaned from her years of experience working with movers and shakers in the plant-based eating world."—Sharon Palmer, RDN, the Plant-Powered Dietitian, author of Plant-Powered for Life

"A knowledgeable and reader-friendly tract on the benefits of befriending grains, greens, beans, and veggies in place of the animal-rich menus that characterize the Western cuisine."—San Francisco Book Review
Da Capo Lifelong Books, 9780738219776, 256pp.
Publication Date: March 7, 2017
About the Author
Kristie Middleton is the senior food policy director for The Humane Society of the United States and a leading figure in the movement to reform our global food system. She's a sought-after speaker, and thought leader on the topic. Middleton and her work have been covered by national media, including the New York Times, Los Angeles Times, Politico, CNN, and countless others.

Middleton directs the HSUS' efforts to increase plant-based eating. She's partnered with some of the nation's biggest school districts -- including Los Angeles Unified, Detroit Public Schools and Boston Public Schools -- to implement Meatless Monday. And she's helped some of America's top universities develop and implement programs to add more plant-based options to their menus and train culinary staff in plant-based food prep.

Middleton holds a certificate in plant-based nutrition from T. Colin Campbell Center for Nutrition Studies. Kristie lives with her husband, dog and four cats in Oakland, California.
or
Not Currently Available for Direct Purchase