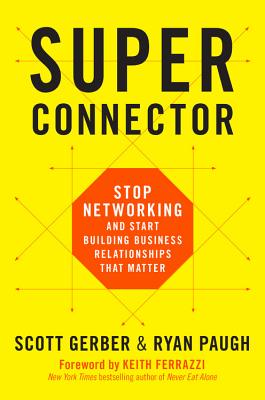 Superconnector
Stop Networking and Start Building Business Relationships that Matter
Hardcover

* Individual store prices may vary.
Other Editions of This Title:
Digital Audiobook (2/26/2018)
Description
Abandon the networking-for-networking's-sake mentality in favor of a more powerful and effective approach to creating and enhancing connections.

STOP NETWORKING. Seriously, stop doing it. Now. It is time to ditch the old networking-for networking's-sake mentality in favor of a more powerful and effective approach to creating and enhancing connections. In Superconnector, Scott Gerber and Ryan Paugh reveal a new category of professionals born out of the social media era: highly valuable community-builders who make things happen through their keen understanding and utilization of social capital. Superconnectors understand the power of relationship-building, problem-solve by connecting the dots at high levels, and purposefully cause different worlds and communities to interact with the intention of creating mutual value.

How can you become a Superconnector? Gerber and Paugh share instructive anecdotes from a who's who roster of high achievers, revealing how to systematically manage a professional community and maximize its value. Of utmost importance is practicing Habitual Generosity, acting on the knowledge that your greatest returns come when you least expect them, and that by putting others' needs first the good karma will flow back to you tenfold. Gerber and Paugh also explore winning strategies such as The Art of Selectivity, a well-honed ability to define which relationships matter most for you and decide how you will maintain them over time. Full of helpful advice on how to communicate with anyone about anything, Google-proof your reputation, and much more, Superconnector is a must-read for those seeking personal and business success.
Praise For Superconnector: Stop Networking and Start Building Business Relationships that Matter…
"If you want to learn firsthand how captains of industry and power brokers build and nurture meaningful relationships, look no further than this book. I've worked with the authors for years and whether you're just starting out as an entrepreneur or in the twilight of your executive career, Scott and Ryan will teach you how to develop top tier social capital."—Mike Perlis, CEO, Forbes Media

"You can't build a successful business without building successful relationships. The authors behind this book are the real deal. They will teach you how to systematically and authentically build a meaningful community around you."—Barbara Corcoran, Shark on ABC's Shark Tank

Achieving greatness starts with knowing that people will always be your most important asset. Whether you're trying to be the next startup sensation, lifestyle entrepreneur, or industry leader, this book will teach you the unconventional rules for cultivating relationships with the right people to achieve your goals. Hint: It's more about giving back, and being in service over getting anything in return. Scott and Ryan are masters at this."—Lewis Howes, New York Times bestselling author of The School of Greatness

"Real wealth is measured by the community of good people you surround yourself with, who can work together and win together for a lifetime. That type of wealth is immeasurable, and Superconnector provides the tools to get you there."—John Paul DeJoria, Cofounder, John Paul Mitchell Systems and Patrón Spirits Co.

"Finally, business networking has been redefined for the social networking age. This book is a must-read for those who want to make a difference in today's world."—Laura Lorber, Executive Editor, Inc.com

"A book to help you improve your business networking and build real relationships."—Forbes

"A business book everyone will be reading in 2018."—Business Insider

"A top business book to get ahead in 2018."

—Entrepreneur
Da Capo Lifelong Books, 9780738219967, 288pp.
Publication Date: February 27, 2018
About the Author
Scott Gerber is the cofounder and CEO of Community.co, an organization that builds and manages professional membership communities for global brands. He is the founder of Young Entrepreneur Council (YEC), an invitation-only organization comprised of the world's most successful young entrepreneurs, and Forbes Councils, a collective of invitation-only organizations for world class executives. He is also a Special Advisor to Forbes Media. Scott is a sought-after public speaker, internationally syndicated business columnist, television commentator, and author of the book Never Get a "Real" Job.

Ryan Paugh is the cofounder and COO of Community.co. He first cofounded Brazen Technologies, which in its early years was recognized by Mashable as one of the top social networks for Gen Y. Ryan then went on to cofound Young Entrepreneur Council (YEC) in 2010. http://ryanpaugh.com/. @ryanpaugh