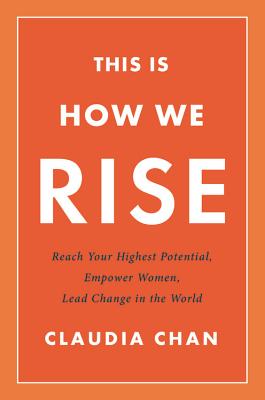 This Is How We Rise
Reach Your Highest Potential, Empower Women, Lead Change in the World
Hardcover

* Individual store prices may vary.
Other Editions of This Title:
Digital Audiobook (10/16/2017)
Description
From an inspiring voice in the movement for gender equality, a practical guide to achieving success through a new kind of leadership--rooted in purpose and activism for social change

We live in a time of unprecedented opportunity for women. Yet despite centuries of progress, true equality remains out of reach. What will it take to bring us to a tipping point?

To leadership expert and social entrepreneur Claudia Chan, the key is shifting to a "me for we" mindset, where individuals root their effort in a mission far bigger than personal success, and getting everyone -- women and men -- to work together for social change. By lifting others, we not only make the world better, but we can also discover our greatest meaning and achieve lasting fulfillment.

In This Is How We Rise, Claudia encourages readers to join a new breed of leaders and become change makers for gender equality. Distilling wisdom and insights from her own personal and professional journey, she shares key lessons learned and offers a toolbox of thirteen foundational habits. Claudia shows how to define and develop your own purpose, vision, and pathway to becoming a thriving agent for good.

Whether you own your own business or are part of the corporate world, whether you're at the top of your field or are just starting out in your career, you have the power to lead change and achieve extraordinary success in all areas of your life. This Is How We Rise will show you how to unleash it.
Praise For This Is How We Rise: Reach Your Highest Potential, Empower Women, Lead Change in the World…
"This Is How We Rise tells women how they can harness their femaleness for success."
—New York Times

"This book is inspirational and aspirational...if you like to dig deep and do the internal self-work that changes you, this is your book."
—800 CEO READS, staff picks

"If you're looking to align your life and career with social impact, this book is one of the best investments you can make. A mix of inspiration, spirituality, and business strategy, Claudia provides a practical plan for how to channel your life purpose and create a more equal world for women and men."

--- Sallie Krawcheck, CEO and cofounder of Ellevest, chair of Ellevate Network, and author of Own It

"Equality is essential to the future success of humanity; it is not something to be feared or threatened by, but rather a standard to empower us all to live life to the fullest. Claudia Chan has been one of the most dedicated and inspiring voices calling on all people to work together for this basic human right."

--- Nigel Barker, photographer, filmmaker, and New York Times bestselling author

"This Is How We Rise challenges the core of the 'me' mentality and proposes a 'we' movement. In football, we say football, family, and faith to promote success by playing for something bigger than the individual. Claudia masterfully crafts this philosophy into a strategy for empowering women and kickstarting movements. Together, we can all rise. For the love of progress, read this book today."

--- Dr. Jen Welter, first female coach in the NFL


"As women move into the leadership realm in every aspect of life and work, it becomes more and more critical that we ask ourselves questions like: Power for what purpose? Leadership for what kind of future? These are the questions that Claudia Chan asks--and answers--in her important book, This Is How We Rise. Her ideas and tools about moving from a 'me over we' mindset to a 'me for we' way of living and leading are critical for our times."

--- Elizabeth Lesser, cofounder of Omega Institute and author of Broken Open and Marrow


"Claudia Chan's book provides a blueprint for addressing one of the most urgent issues of our time--gender equality--on both a personal and societal level. This Is How We Rise is a must-read for any person or organization who wants to start a movement that empowers women."

--- Reshma Saujani, founder of Girls Who Code


"This is the century of women. Few recognize and support the empowerment of and community building between women and men with as much dedication as Claudia Chan through her book This Is How We Rise."

--- Harvey Karp, MD, creator of The Happiest Baby on the Block


"Claudia Chan is a revolutionary who understands how important women's release from diminishing social expectations are to everyone's prosperity. She inspired me to launch my financial services company when she asked me 'Who are the banks that support women?' When I couldn't answer her, I realized I had to do it myself. She's an instigator to many women stepping up into previously unimaginable roles of power and influence. This book will do the same for you."

--- Amanda Steinberg, founder & CEO of DailyWorth.com & WorthFM


"Along with Sheryl Sandberg and Sallie Krawcheck, Claudia Chan has been one of the instrumental leaders fueling the popularity of feminism we are seeing today. Her vision of mainstream empowerment and work to make it more globally accessible through S.H.E. Summit and this book has been impressive and courageous. And she is extremely thoughtful about educating women to recruit men in her work."

--- John Gerzema, New York Times best-selling author of The Athena Doctrine and CEO of The Harris Poll


"This masterful book provides you with a window of clarity into your life, your purpose, and your leadership. After reading it, you will have no choice but to realize your potential as an incredible agent of change."

--- Dayle Haddon, founder and CEO of WomenOne


"Claudia Chan is one of the most inspiring female entrepreneurs I know. This book is critical for mainstreaming and modernizing women's empowerment."

--- Ali Brown, entrepreneur, mentor, and angel investor


"In a masterful and personal way, Claudia Chan has written an enlightening manifesto that shows every person that the only meaning to a truly successful life is to align with our soul's purpose and cultivate our gifts in service to others. As you read this book you'll feel called to rise to action for the better good of all."

--- Agapi Stassinopoulos, author of Wake Up to the Joy of You


"I can't speak highly enough of Claudia Chan's extraordinary ability to inspire women to aim high and act on our passions not just for ourselves alone but to help all women rise. This is an important book that combines Claudia's movement builder's heart with her businesswoman's savvy. It's a book all women need right now."

--- Gloria Feldt, cofounder and president of Take The Lead and author of No Excuses: 9 Ways Women Can Change How We Think About Power


"Claudia Chan is a force of nature for women looking to rise in their careers and lead, while constantly pulling one another ahead to realize their fullest potential. Claudia has galvanized women and started a movement with S.H.E. Summit that empowers, inspires, and connects the dots for women to be powerful and successful in their lives and careers. Her thought-provoking book goes under the soil and pulls back the curtain on topics that women most often feel are off-limits, but that are the fundamental keys to success."

--- Lauren Maillian, entrepreneur, marketer, best-selling author, and television personality


"Claudia continues to inspire everyone with her passion and purpose. Her book challenges each of us to reflect on our personal mission, rise to our fullest potential and provoke others to do the same."

--- Marie Claire Lim Moore, executive director of development at The Women's Foundation Hong Kong


"This book is a creative blueprint for every woman looking to own her leadership power and channel it for good! If you are seeking real advice on how to realize your potential, maximize your talents, and make meaningful change in this world--look no further. This is a must-read for all future and current change makers."

--- Amy Hepburn, adjunct professor at Duke University and George Washington University


"It is time for women to tell our new story. Claudia is a role model herself of a woman who went after her dreams to live her own truth."

--- Zainab Salbi, founder Women for Women International


"From an inspiring voice in the movement for gender equality, a practical guide to achieving success through a new kind of leadership-rooted in purpose and activism for social change."

—800 CEO READS, new releases
Da Capo Lifelong Books, 9780738220024, 288pp.
Publication Date: October 17, 2017
About the Author
Claudia Chan is a recognized expert on leadership and social entrepreneurship and the founder and CEO of S.H.E. Globl Media, a corporate initiative that helps Fortune 1000 companies modernize and accelerate their diversity initiatives with the goal of achieving gender parity by 2030. In 2015, Claudia became an official U.S. State Department Speaker and has visited countries like South Korea for countrywide speaking tours to educate and empower women. Prior to launching S.H.E. Globl Media, Claudia was President and co-owner of the popular women's entertainment company Shecky's for ten years. Claudia is a lifelong New Yorker, proud alumna of Smith College, mom of two, and an equal partner with her husband, John.

@claudiachan

HowWeRise.com
or
Not Currently Available for Direct Purchase