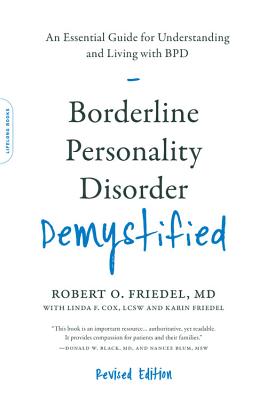 Borderline Personality Disorder Demystified, Revised Edition
An Essential Guide for Understanding and Living with BPD
Paperback

* Individual store prices may vary.
Description
The authoritative guide to understanding and living with borderline personality disorder, now fully revised and updated
Millions of Americans suffer from borderline personality disorder (BPD), a psychiatric condition marked by extreme emotional instability, erratic and self-destructive behavior, and tumultuous relationships. Though it was once thought to be untreatable, today researchers and clinicians know that there is every reason for hope. Dr. Robert Friedel, a leading expert and pioneer in pharmacological treatment for BPD, combines his extensive knowledge and personal experience into this comprehensive guide.
Borderline Personality Disorder Demystified
shares:
The latest findings on the course and causes of the disorder
Up-to-date information on diagnosis
An accessible overview of cutting-edge treatment options
For those who have been diagnosed and those who think they may have the illness, and for the family and friends who love and support them, this book illuminates new information and points the way to an ever more hopeful future.
The revised edition includes new forewords from Donald W. Black, MD, and Nancee S. Blum, MSW, and family educators James and Diane Hall.
Praise For Borderline Personality Disorder Demystified, Revised Edition: An Essential Guide for Understanding and Living with BPD…
"This informative and compassionate book dispels myths and replaces misunderstanding with a wealth of knowledge so patients can get effective help. Clear, concise, and readable, Borderline Personality Disorder Demystified is helpful not only to those with BPD and their loved ones but also mental health professionals who want to know more about this disorder and what it is like to suffer from it."—John Livesley, MD, PhD

"This book is a sensitively written, scientifically informed overview of borderline personality disorder. Both caring and authoritative, Dr. Friedel is a rare academician who combines a touching humanistic perspective on this challenging clinical syndrome with a deep and wide grasp of the rapidly growing relevant scientific literature."—Kenneth S. Kendler, MD

"Wonderful! A doctor's doctor speaks clearly and compassionately about a disorder he's spent his career treating and studying. The stigma of borderline personality disorder is countered by hope and advocacy. Readers will be enlightened and inspired."—John G. Gunderson, MD, Professor in Psychiatry at Harvard Medical School and Senior Advisor, Borderline Services at McLean Hospital

"Dr. Friedel's enthusiasm and life-long experience treating patients with BPD are evident on every page. This book is a well-balanced mixture of necessary information for patients and families and up-to-date overviews of relevant fields, from neurobiology to treatment."—Christian Schmahl, MD, Professor and Director of the Department of Psychosomatic Medicine and Psychotherapy, Central Institute of Mental Health (Mannheim, Germany)
Da Capo Lifelong Books, 9780738220246, 320pp.
Publication Date: February 20, 2018
About the Author
Robert O. Friedel, MD, is Distinguished Clinical Professor of Psychiatry at Virginia Commonwealth University, and Professor Emeritus at the University of Alabama at Birmingham. He serves on the Scientific Advisory Board of the National Education Alliance for Borderline Personality Disorder, and was named a Psychiatrist of the Year in 2007 by the National Alliance on Mental Illness (NAMI). Dr. Friedel has published over 100 scientific articles, book chapters and books. He lives in Virginia.