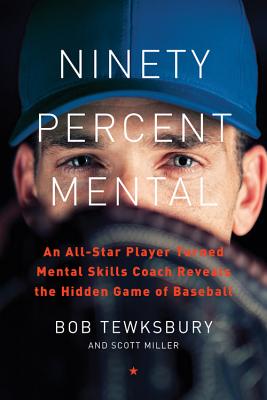 Ninety Percent Mental
An All-Star Player Turned Mental Skills Coach Reveals the Hidden Game of Baseball
Hardcover

* Individual store prices may vary.
Other Editions of This Title:
Digital Audiobook (3/19/2018)
Paperback (3/10/2020)
Compact Disc (3/27/2018)
Compact Disc (3/27/2018)
Description
Former Major League pitcher and mental skills coach for two of baseball's legendary franchises (the Boston Red Sox and San Francisco Giants) Bob Tewksbury takes fans inside the psychology of baseball.

In Ninety Percent Mental, Bob Tewksbury shows readers a side of the game only he can provide, given his singular background as both a longtime MLB pitcher and a mental skills coach for two of the sport's most fabled franchises, the Boston Red Sox and San Francisco Giants. Fans watching the game on television or even at the stadium don't have access to the mind games a pitcher must play in order to get through an at-bat, an inning, a game. Tewksbury explores the fascinating psychology behind baseball, such as how players use techniques of imagery, self-awareness, and strategic thinking to maximize performance, and how a pitcher's strategy changes throughout a game. He also offers an in-depth look into some of baseball's most monumental moments and intimate anecdotes from a "who's who" of the game, including legendary players who Tewksbury played with and against (such as Mark McGwire, Craig Biggio, and Greg Maddux), game-changing managers and executives (Joe Torre, Bruce Bochy, Brian Sabean), and current star players (Jon Lester, Anthony Rizzo, Andrew Miller, Rich Hill).

With Tewksbury's esoteric knowledge as a thinking-fan's player and his expertise as a "baseball whisperer", this entertaining book is perfect for any fan who wants to see the game in a way he or she has never seen it before. Ninety Percent Mental will deliver an unprecedented look at the mound games and mind games of Major League Baseball.

Praise For Ninety Percent Mental: An All-Star Player Turned Mental Skills Coach Reveals the Hidden Game of Baseball…
"Tewks and I were teammates when Tewks was ending his career with the Twins. I saw him use his mind to be successful on the mound. Years later, we were once again on the same team with the 2013 World Series champion Red Sox, and I again saw him use his mind--this time to help others. I know he helped us win, and I know this book can help anyone who reads it."—David Ortiz, 10-time All-Star, 3-time World Series champion, and New York Times bestselling author of Big Papi: My Story of Big Dreams and Big Hits; called "the most important player in Boston Red Sox history."

"Nobody I've come across in my almost 30 years in the game did more with his God-given talent than Tewks. But more than that, he was always different. Not just an athlete, but a deep thinker, a good teammate, and an even better friend. This book is a must-read for anyone who wants an inside look into the mental aspects of baseball."
—Joe Buck, lead play-by-play broadcaster, Fox Sports

"Tewksbury relied on control and guile, a testament to his ability to think and adjust. His intellect and devotion to helping others came with the credibility of knowing what it is like to stand on a major-league mound with three tiers of stands staring down on him. Few better understand that baseball is a human game, and humans are fragile beings."—Peter Gammons, Hall of Fame and J.G. Taylor Spink Award-winning baseball writer and MLB Network on-air analyst

"Cutting edge stuff in the new frontier of baseball readiness. Forget WAR and heartless analytics, former All-Star pitcher Bob Tewksbury and veteran scribe Scott Miller explain that baseball success and failure is 'Ninety Percent Mental.' This book should be required reading for all ballplayers, coaches, and parents."
—Dan Shaughnessy, New York Times bestselling author and 2016 Spink Award recipient at Baseball Hall of Fame

"Bob became an All-Star not through physical gifts, but because he excelled on the mental side of a game that constantly challenges its players and their resilience. A must read for baseball fans."—Joe Torre, Hall of Fame and Four-Time World Series Champion Manager, and Chief Baseball Officer, Major League Baseball

"A highly entertaining, often hilarious peek inside the game from Bob Tewksbury, one of the sport's smartest yet most self-deprecating souls. Whether you're a casual fan, a baseball parent, or a player yourself, Ninety Percent Mental is 100 percent for all."—Ken Rosenthal, MLB on FOX reporter, senior writer, The Athletic, MLB Network insider

"Bob Tewksbury and Scott Miller combined to produce a must-read book for anyone fascinated by the mental side of baseball. This is about so much more than the journey of a veteran pitcher. It's about the journey of one of baseball's most inquisitive minds."—Jayson Stark, former senior columnist, ESPN.com

"What a tremendous behind-the-scenes read into an area of the game that reaches into the crevices of the most underappreciated element of baseball in this era of advanced metrics: the mind. Bob Tewksbury and Scott Miller provide a fascinating look into the mental training of the game in such an entertaining way. They take you to the fear of death on Camelback Mountain in Phoenix to history being ruined by Franklin Freaking Stubbs in St. Louis to the highs and lows of pitching in the 1992 All-Star Game in San Diego to having an instrumental role in the 2016 World Series. If you didn't respect and love Bob Tewksbury before, you sure will after finishing this gem."—Bob Nightengale, USA TODAY Sports Baseball columnist

"Bob Tewksbury was one of the most intuitive ballplayers I ever covered, and his book Ninety Percent Mental only reinforces that. This is a definitive 'inside baseball' book that keeps you captivated from start to finish."—Bill Madden, New York Daily News and 2010 winner of the Hall of Fame's J.G. Taylor Spink Award

"Ninety Percent Mental promises to be one of the best baseball books of the year."—FanGraphs

"Baseball fans will gain insight into the mental side of the game, and they will walk away with an even greater appreciation for what these athletes go through in their drive for success."—Clearing out the Clutter

"An engaging read that should appeal to anyone who has interests beyond the black and white numbers behind the heavy analytics of the current baseball world."—TalkNats

"Readers interested in how professional athletes mentally prepare for big (and little) games will enjoy the stories shared."—Library Journal

"An entertaining and self-deprecating autobiographical work that explores the mental side of the game."—Wall Street Journal

"In the era of Big Data, this is a refreshing look at the human side of the game and an important reminder of the challenges even major leaguers face in staying in the right frame of mind."—Baseball America

"Masterful storytelling that succeeds in merging intriguing stories from his career with useful mental skills that anyone can use in their respective profession."—Spitball
Da Capo Press, 9780738233789, 256pp.
Publication Date: March 20, 2018
About the Author
Bob Tewksbury is the mental skills coach for the Chicago Cubs and was formerly the mental skills coach for the Boston Red Sox and San Francisco Giants. He has a master's degree in sport psychology and counseling from Boston University. Drafted by the Yankees in 1981, he won 110 games over a thirteen-year career (from 1986 through 1998) with the New York Yankees, Chicago Cubs, St. Louis Cardinals, Texas Rangers, San Diego Padres, and Minnesota Twins, and was named to the National League All-Star team. He lives in Concord, New Hampshire.

Scott Miller is an award-winning national MLB columnist at Bleacher Report as well as an analyst for MLB Network Radio on SiriusXM and a contributor to Fox Sports San Diego television. He lives in Carlsbad, California.