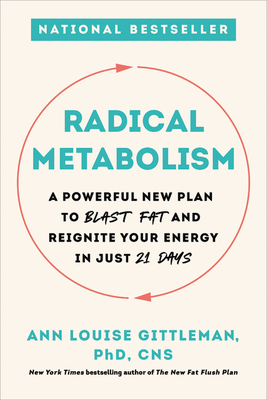 Radical Metabolism
A Powerful New Plan to Blast Fat and Reignite Your Energy in Just 21 Days
Paperback

* Individual store prices may vary.
Other Editions of This Title:
Digital Audiobook (8/27/2018)
Hardcover (8/28/2018)
Paperback, Chinese (1/24/2019)
Compact Disc (8/28/2018)
Compact Disc (8/28/2018)
Pre-Recorded Audio Player (11/1/2018)
Description
The award-winning New York Times bestselling author of the New Fat Flush series is back with a foolproof way to melt fat faster than ever
Go beyond Keto and Paleo with
Radical Metabolism
, which reveals the secrets to reviving a sluggish over-40 metabolism -- secrets that work even faster if you're in your 20s and 30s, or you suffer from thyroid issues. No matter your age, if you're a "slow loser" who wants to speed off stubborn pounds and keep those pounds off for good, then this book is for you.
Inside
Radical Metabolism
you'll discover which "forbidden fats," forgotten flavors, and fat-busting beverages you must eat and drink in order to supercharge your metabolism--making weight loss easier than ever before. But weight loss is just the beginning. With this easy-to-follow program you'll also enjoy greater energy, balanced mood, healthier skin, and protection against autoimmunity, gallbladder issues, type II diabetes, and other devastating health problems.
A breeze to use, the
Radical Metabolism
program consists of:
a 4-day Radical Intensive Cleanse designed to rest your digestive tract and detoxify your body
a 21-Day Radical Reboot where you'll learn exactly what combinations of foods to eat for results you can feel and see
a Maintenance Plan for a radically healthy life
With menu plans, 50 sumptuous recipes, an extensive resource section,
Radical Metabolism
has everything you need to say supercharge your metabolism and transform your body into a fat-burning dynamo in just 21 days.
Praise For Radical Metabolism: A Powerful New Plan to Blast Fat and Reignite Your Energy in Just 21 Days…
"I deeply respect and honor the work of Ann Louise Gittleman, whom I consider as a teacher, as well as what she has done to bring intelligence to the world of nutrition."
—Mark Hyman, MD, Medical Director of Cleveland Clinic's Center for Functional Medicine, and ten-time #1 New York Times Bestselling author

"Ann Louise Gittleman, PhD, CNS is a visionary and pioneer in the world of natural healing. Her best-selling books have revolutionized natural medicine and Ann Louise continues to innovate."—Izabella Wentz, PharmD, FASCP-Functional Pharmacist and #1 New York Times best-selling author of Hashimoto's Protocol and Hashimoto's the Root Cause

"Ann Louise Gittleman is a dynamic pioneer and leading authority in nutrition, health, and wellness. She is a beacon of light and inspiration for millions of people who seek advanced healing information that genuinely transforms their lives."—Anthony William, #1 New York Times bestselling author of Medical Medium Thyroid Healing

"Rather than accepting conventional wisdom, Ann Louise is always lightyears ahead of it. Every time I read her books or attend her talks, I discover something new--whether it's state-of-the-art strategies for dealing with menopause, powerful detox techniques, or the hidden effects of parasites on our health. She never stops researching, never stops learning, and never stops advancing our field. I am continually awed by the depth and scope of her knowledge."—Dr. Kellyann Petrucci, New York Times bestselling author of Dr. Kellyann's Bone Broth Diet

"From Fat Flush to detox, Ann Louise Gittleman is a trailblazer whose impeccable, groundbreaking research and knowledge paved the path for nutritionists today. As she has for the past few decades, Gittleman continues to inspire, motivate, and challenge me today."—JJ Virgin, author of The Sugar Impact Diet

"Ann Louise Gittleman is the real deal. With her wealth of clinical experience and encyclopedic knowledge of nutrition and health she has been one of the great influences on my professional life and one of the first people I turn to when I want a 'second opinion.'"—Jonny Bowden, PhD, CNS, author of The 150 Healthiest Foods on Earth

"Ann Louise Gittleman has demonstrated extraordinary leadership when it comes to reporting on the fundamental causes of illness and disease. Whether it's parasites in Guess What Came to Dinner? or environmental toxins in The Fat Flush Plan or toxic EMF or RF in Zapped, she reaches the hearts of the public by not only demonstrating what causes illness, but she also offers solutions on how to fix them! I'm proud to be one of her colleagues."—Stephen Sinatra, MD, FACC, Integrative Cardiologist and Coauthor of Health Revelations from Heaven and Earth

"I recall interviewing her on the radio when I was just starting out in the field of nutritional medicine... I was terrified because she was so much more knowledgeable then I...So I read all her books and became even more impressed. She was one of the greats even back then. She continues to learn, explore, and best of all, get the message out to millions of adoring fans."—Fred Pescatore, MD, author of The A-List Diet

"A powerful 'Force of Nature' in the healing community, Ann Louise is used to being on the cutting edge. Want to see what the experts will be saying in 25 years? Simply see what she is saying NOW!"—Jacob Teitelbaum, MD, author of The Fatigue and Fibromyalgia Solution

"A long-time guiding light in the world of nutritional medicine, Ann Louise continues to be The First Lady of Nutrition and someone I can always count on for the best information for my patients, my readers, and me. Not only is she knowledgeable and a pioneer in the field, but is a truly caring person who is dedicated to changing the world, one body at a time. I'm proud to call her my friend."—Hyla Cass, MD, author of 8 Weeks to Vibrant Health

"I always admired her passion for healing for all, her desire to look deeper and her healing wisdom."—Raphael Kellman, MD, of the Kellman Center for Functional and Integrative Medicine and author of The Microbiome Diet

"When it comes to wellness through nutrition, Ann Louise Gittleman not only pioneered the field, she continues to be ahead of her time and on top of the game. At First for Women, we rely on Gittleman to alert us to the newest scientific studies with the most urgent relevance for our readers--and she always delivers."—Carol Brooks, Editor-in-Chief of First for Women magazine
Hachette Go, 9780738234717, 320pp.
Publication Date: March 17, 2020
About the Author
Ann Louise Gittleman holds an MS in Nutrition Education from Columbia University, the title of Certified Nutrition Specialist (CNS) from the American College of Nutrition, and a PhD in Holistic Nutrition. The author of more than twenty books (including several New York Times bestsellers), Gittleman has also served as the Chief Nutritionist of Pediatric Clinic at Bellevue Hospital and is the former Director of Nutrition at the Pritikin Longevity Center in Santa Monica, CA. She currently sits on the Advisory Board for the International Institute for Building-Biology & Ecology, the Nutritional Therapy Association, Inc., and Clear Passage, Inc.