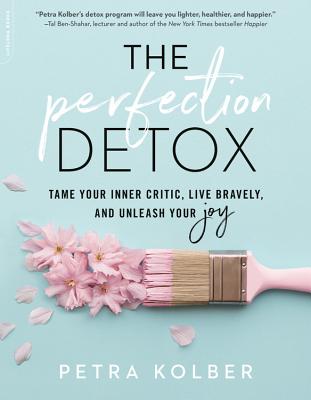 The Perfection Detox
Tame Your Inner Critic, Live Bravely, and Unleash Your Joy
Paperback

* Individual store prices may vary.
Other Editions of This Title:
Digital Audiobook (8/13/2018)
Description
Award-winning fitness professional and consultant shares a practical, accessible program to help women replace destructive perfectionistic mindsets with concrete strategies and life-changing tips.

Tired. Stressed. Overwhelmed. Just one more email, one more meeting with the kid's teacher, oh and lose that last five pounds. Today, women are striving for perfection more than ever -- and feeling like failures for not meeting unattainable goals. Health and wellness expert Petra Kolber knows this intimately; as a dancer and fitness professional, she's experienced the ultimately dissatisfying quest for perfection. Her Perfection Detox program helps women to overcome the unhealthy, unproductive demands we place on ourselves -- and others. Based on her popular workshops, Kolber's strategies help women to recognize and constructively root out the perfectionistic impulse to be critical of self or others and to harness the power of our own internal resources, willpower, and habits.

With simple steps and strategies such as adjusting your internal monologue, cleaning up your vocabulary to include more positive language, becoming a passionist rather than a perfectionist, and more, The Perfection Detox is an essential guide to a healthy, full, authentic life.
Praise For The Perfection Detox: Tame Your Inner Critic, Live Bravely, and Unleash Your Joy…
"Embarking on Petra Kolber's detox program, will leave you lighter, healthier, and happier. The prescriptions in the book add up to a near-perfect antidote to perfectionism."—Tal Ben-Shahar, lecturer and author of New York Times bestseller Happier

"The Perfection Detox is a breath of fresh air for anyone familiar with self-doubt or self-criticism. A compassionate and inspiring guide to recovery from perfectionism, Petra turns the best insights from positive psychology into practical strategies for living your best life, perfection not required."—Kelly McGonigal, author of The Willpower Instinct and The Upside of Stress

"The Perfection Detox will change the way you think about life and success. In a fast-moving, hard-charging world, it's easy to drive ourselves to despair with impossible metrics and a belief that we're never enough. Petra Kolber teaches us how to thrive in a new and better way."—Dorie Clark, author of Reinventing You and adjunct professor, Duke University Fuqua School of Business

"From the moment I met Petra 25 years ago she has always had such a positive, infectious attitude. She helped me realize that perfection is a goal that ultimately holds you back from your full potential, rather than help you achieve it. Her program will empower you to discover the joy and freedom that is waiting for you on the other side of perfectionism."—Dara Torres, 5-Time Olympic swimmer, author of New York Times bestseller Gold Medal Fitness and Age is Just a Number

"Perfection is SO over rated! Thank YOU Petra Kolber for proving it with your trademark courage and strength. This book is a brilliant step by step guide to unleashing potential from someone who's truly done it and inspired so many of us in the process."—Sarah Robb O'Hagan, author of Extreme YOU and CEO Flywheel Sports

"Petra Kolber teaches us recovering people-pleasers beset by anxiety and impossible standards how to embrace our cracks and find out light. I can't think of a more joyful, authentic, perfectly imperfect person to be the messenger for this movement. It's time to transform our inner prisons into freedom and joy by celebrating the very flaws that make us who we are."

—Jenny Blake, author of Pivot: The Only Move That Matters is Your Next One

"This is the book that all women need to read. This is my kind of detox! Petra will help you lift the pressure, the façade and the unrealistic expectations that we put on ourselves. I am filled with hope that women may finally stop striving for perfection and start living their beautiful imperfect lives after reading this book."

—Lisa Druxman, author of The Empowered Mama and The Founder of FIT4MOM®

"Petra is a guiding light to all of us who don't feel like we are enough. Perfectionism is an unnecessary epidemic and this book could not be more relevant or timely. If you give yourself a hard time and want to feel like the worthy, confident, whole person that you truly are at your core, this is a must read."

—Susie Moore, Confidence Coach and author of What If It Does Work Out?

"If the affliction of perfectionism is causing you pain and eroding your relationship with yourself and others, then it is time for the Perfection Detox. Petra's message is simple and yet profound! The 21-step program sets the stage for a future where doubt demons don't control your actions and where you ultimately get to enjoy the life you deserve filled with possibility. Taming your inner critic is a valuable life lesson for us all!"
—Kathy Smith, New York Times best-selling author and fitness icon

"Petra Kolber's new book, The Perfection Detox, is an absolute masterpiece. It needs to be read by any driven, success-oriented person who seeks the most out of life. Her recipe for happiness, joy and health of the mind, body, and soul is extraordinary. Read it and your life will be positively IMPACTED forever."—Todd Durkin, MA, CSCS, Owner, Fitness Quest 10, Under Armour Training Team, Author, The IMPACT Body Plan & WOW BOOK

"WOW! Petra has given not only clarity and validity to an issue I have experienced my whole life, she has also given me the step-by step plan to deal with it, fully and forever, with love and compassion. Every paragraph is packed with the most potent and empowering wisdom, not only from Petra's incredible life experience in the sometimes gruelling fitness and personal development industries, but also from her extensive professional training and the amazing, generous women she has worked with who were willing to share their stories. The world can now let out a sigh of relief thanks to the groundbreaking information and tools in this book, not only for us Perfectionists, but for the people who share our lives and our hearts. Let the detox begin!"—Alice Bracegirdle, CEO of BellyFit Enterprises, Inc.

"Calls on women to recognize the negative effects of perfectionism and offers a step-by-step program to eliminate self-criticism, guilt, and shame."—Publishers Weekly

"Offers tips and tricks to help you fight unrealistic expectations and negative feelings."—Spry Living

"Fantastic... highlight[s] some scary truths about perfection."—Greatist

"Will change the way you look at life by helping you overcome your self-doubt and restoring self-esteem."—Washington Book Review
Da Capo Lifelong Books, 9780738234854, 256pp.
Publication Date: August 14, 2018
About the Author
Petra Kolber is an internationally renowned fitness authority, movement motivator, and positive psychology coach who, over the last twenty-five years, has choreographed and starred in sixty award-winning fitness programs, taught fitness workshops, and appeared as a keynote motivational speaker around the world. She has consulted for magazines such as Health Magazine (who named her Fitness Crusader of the Year) and leading food and fitness product companies such as Reebok, Adidas, Gatorade, and California Walnuts.
or
Not Currently Available for Direct Purchase