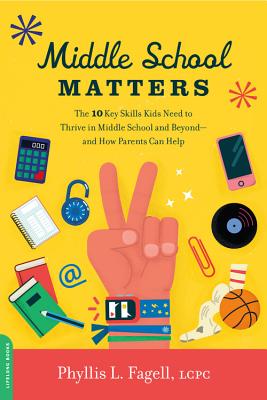 Middle School Matters
The 10 Key Skills Kids Need to Thrive in Middle School and Beyond--and How Parents Can Help
Paperback

* Individual store prices may vary.
Other Editions of This Title:
Digital Audiobook (8/5/2019)
Compact Disc (8/6/2019)
Compact Disc (8/6/2019)
Description
A counselor and popular Washington Post contributor offers a new take on grades 6-8 as a distinct developmental phase--and the perfect time to set up kids to thrive.

Middle school is its own important, distinct territory, and yet it's either written off as an uncomfortable rite of passage or lumped in with other developmental phases. Based on her many years working in schools, professional counselor Phyllis Fagell sees these years instead as a critical stage that parents can't afford to ignore (and though "middle school" includes different grades in various regions, Fagell maintains that the ages make more of a difference than the setting). Though the transition from childhood to adolescence can be tough for kids, this time of rapid physical, intellectual, moral, social, and emotional change is a unique opportunity to proactively build character and confidence.
Fagell helps parents use the middle school years as a low-stakes training ground to teach kids the key skills they'll need to thrive now and in the future, including making good friend choices, negotiating conflict, regulating their own emotions, be their own advocates, and more. To answer parents' most common questions and struggles with middle school-aged children, Fagell combines her professional and personal expertise with stories and advice from prominent psychologists, doctors, parents, educators, school professionals, and middle schoolers themselves.
Praise For Middle School Matters: The 10 Key Skills Kids Need to Thrive in Middle School and Beyond--and How Parents Can Help…
"[Fagell's] advice is fresh and relevant, welcoming and welcomed."
—Chicago Tribune

"No one captures the magic, delight, struggle, and triumphs to be found in middle school like Phyllis Fagell. She knows middle school inside and out, and her advice is some of the best available for students, parents, and teachers."—Jessica Lahey, author of The Gift of Failure

"Middle School Matters shines much-needed light on the fascinating -- and fraught -- middle school years. With the wisdom of a seasoned counselor and the relatability of a close friend, Phyllis Fagell offers an unflinching, reassuring, and indispensable guide to a pivotal time in parenting."—Lisa Damour, PhD, author of Under Pressure and Untangled

"I love, love Middle School Matters! Phyllis Fagell has done a stupendous job! Middle School Matters gives parents of middle school boys and girls an essential guide to walk alongside their children as they go through middle school. The book is filled with just the right combination of research and common sense strategies that only a middle school counselor in the trenches could deliver. With this book, parents don't need to dread the middle school years. Instead they can be prepared and informed so they can do best by their kids. I wish I had had this book when my boys were in middle school!"—Rosalind Wiseman, author of Queen Bees and Wannabes and founder of Cultures of Dignity

"Middle school parents: help is finally here! This is the book parents have been waiting for since...forever. Parents have long been socialized to fear the middle school years as a time of great turmoil and never-ending drama, but Phyllis Fagell opens our eyes to the modern middle school student by sharing a powerful combination of current research, anecdotes from actual middle schoolers, and her own expertise as a middle school counselor. Middle School Matters is packed with helpful tips and actionable strategies to help your middle school student thrive instead of simply survive."—Katie Hurley, LCSW, author of No More Mean Girls and The Happy Kid Handbook

"Middle School does matter! And, parents matter during these years...as much as you ever have, maybe more. As young people strive to answer, 'Who am I?' they need you to stand solidly in their corner reminding them that they are perfect just as they are. Phyllis Fagell has created a masterpiece here -- an actionable guide filled with the skill-sets you'll need to support your child through these critical life-shaping years."—Ken Ginsburg, MD, MS Ed,author of Raising Kids to Thrive and Building Resilience in Children and Teens, Parentandteen.com

"Middle School Matters is a must-read for parents, educators and anyone else seeking guidance through the transitions of this critical developmental period, with all its psychological, physical, social and academic challenges. Fagell writes clearly and concisely, offering practical suggestions and engaging anecdotes to illustrate her points. The conversation starters are excellent!"—Mary K. Alvord, PhD, psychologist and coauthor Conquer Negative Thinking for Teens, and Resilience Builder Program for Children and Adolescence

"As a lifelong educator and the parent of two teens and a tween, I cannot recommend this book enough! I just wish Middle School Matters had been written when I was a superintendent and led a middle school transformation effort, as the ideas, advice and practical guidance are invaluable. Phyllis Fagell has done us all a great service by breaking down the middle school years into easily-understood concepts that parents and educators can use to work with early adolescents in any setting. Phyllis presents simple strategies and approaches to help students -- and adults -- navigate an amazingly complex and exciting time in their lives. I highly encourage teachers, principals, parents, policy makers and anyone interested in using the middle school years to lay the foundation for success in the teenage years and beyond to read and apply the lessons of this book now!"—Joshua P. Starr, EdD, Chief Executive Officer, PDK International

"Phyllis Fagell's Middle School Matters is full of practical ideas and timely wisdom. Grounded in her own deep experience as a school counselor, Fagell guides parents and teachers in the complex choreography of leading--and listening to and following--teens during the often difficult, emotionally uphill and unpredictable years of middle school. With clarity, compassion and honesty, she teaches us how teens can avoid the risks and damage that middle school can bring. But she also reminds us that middle school can be a time of tremendous, exciting growth. With active, thoughtful role models, middle schoolers can develop knowledge and skills that are key to becoming thriving, engaged, kind and justice-minded high school students and adults. Every parent with a middle school child should read this book."—Rick Weissbourd, Senior Lecturer on Education, Faculty Director, Human Development and Psychology and author of The Parents We Mean to Be: How Well-Intentioned Adults Undermine Children's Moral and Emotional Development
Da Capo Lifelong Books, 9780738235080, 288pp.
Publication Date: August 6, 2019
About the Author
Phyllis Fagell is a licensed clinical professional counselor, a certified professional school counselor, and a journalist. She has worked in both public and private schools with students in grades K-12, focusing on middle school for the last several years. She currently works full time as the school counselor for Sheridan School in Washington, D.C. She also provides therapy to children, teens and families in private practice.