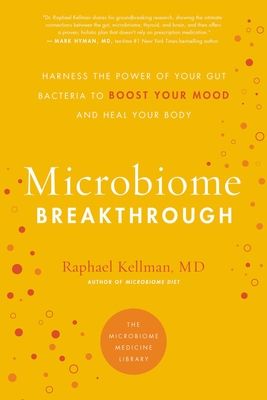 The Microbiome Breakthrough (Paperback)
Harness the Power of Your Gut Bacteria to Boost Your Mood and Heal Your Body
Da Capo Lifelong Books, 9780738284606, 320pp.
Publication Date: October 30, 2018
* Individual store prices may vary.
Description
There is a fundamental connection between your brain, gut, thyroid and microbiome. If any one part of this system is malfunctioning, it will impact the others. Taking care of your microbiome is the basis of Dr. Kellman's revolutionary Microbiome Protocol, which has been proven to significantly alleviate depression, anxiety, gastrointestinal concerns, insomnia and other health issues.

Based on Dr. Kellman's decades of experience as a physician and his ongoing study of the latest science, the book offers a lively, accessible explanation of how the brain works and why, for optimal brain health, you need to heal the microbiome, the gut, and the thyroid. With a proprietary three-week plan (21 days of meal plans, featuring 50 delicious and simple recipes; a complete exercise program; and a program of daily meditations and affirmations). The Microbiome Breakthrough program offers drug-free relief to anyone suffering depression, anxiety, and other mood disorders, as well as those who just want to feel better.



About the Author
Raphael Kellman, MD, graduate of Albert Einstein College of Medicine, is the author of The Microbiome Diet and other books on health and healing. Dr. Kellman manages a thriving medical practice and lectures all over the world. He lives with his wife and two young daughters in New York City.

Praise For The Microbiome Breakthrough: Harness the Power of Your Gut Bacteria to Boost Your Mood and Heal Your Body…
"After decades of treating patients for depression, gastrointestinal problems, low thyroid, and a multitude of other 'mysterious' ailments, pioneer in holistic and functional medicine Dr. Raphael Kellman has connected the dots between the brain, the gut, the microbiome, and the thyroid. The Whole Brain offers his groundbreaking plan to diminish anxiety and depression-and to give you more energy and vitality."—Izabella Wentz, PharmD, FASCP, #1 New York Times bestselling author of Hashimoto's Protocol


"Dr. Kellman is a rare kind of doctor. An innovative functional medicine physician? Indeed, he is that--but he helps his patients heal with the spiritual wisdom of a Rabbi. His latest book, The Whole Brain, connects the dots between your gut, microbiome, thyroid, and brain. Not only does it present actionable lifestyle remedies to help you heal physically and mentally it also offers a deeply spiritual understanding of the will to heal."—Donna Gates, M.Ed., ABAAHP, Author & Founder The Body Ecology Diet


"Dr. Kellman has identified an interconnected system of organs he calls 'The Whole Brain.' He teaches you to control your anxiety, depression, and chronic fatigue starting with the microscopic world and working your way up from there. The Whole Brain offers both a profound message and practical tools to own your mental states without medication. Highly recommended."—Dave Asprey, Founder and CEO of Bulletproof

"Dr. Kellman has long been on the cutting-edge of health and science. Now, he introduces his groundbreaking concept of The Whole Brain: If you want to improve brain function--if you want your mind to be focused, your memory to be sharp, and your mood to be hopeful--start with a healthier microbiome, heal your gut, and balance your thyroid. This book will show you how."—Dr. Terry Wahls, author of The Wahls Protocol: A Radical New Way to Treat All Chronic Autoimmune Conditions


"In The Whole Brain, Dr. Raphael Kellman shares his groundbreaking research, showing the intimate connections between the gut, microbriome, thyroid, and brain, and then offers a proven, holistic plan that doesn't rely on prescription medication."—Mark Hyman, MD, Director of Cleveland Clinic's Center for Functional Medicine, the Founder of The UltraWellness Center, ten-time #1 New York Times bestselling author


"If you're one of the millions of US adults experiencing anxiety or depression, and you're looking for natural solutions, you'll want to read The Whole Brain by Raphael Kellman, MD...[it] helps readers get started with healing from the inside out."—Taste for Life magazine

"In The Whole Brain, Raphael Kellman, MD shares strategies that nourish the gut to lift mood, ease anxiety and end brain fog-for life!"—Closer magazine