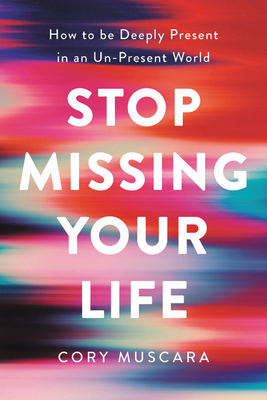 Stop Missing Your Life
How to be Deeply Present in an Un-Present World
Hardcover

* Individual store prices may vary.
Other Editions of This Title:
Digital Audiobook (12/30/2019)
Paperback (3/2/2021)
Description
Many of us live on autopilot, often so guarded that we don't experience the richness that life has to offer–so how can we find real happiness amid the chaos, so we don't reach the end of our life and feel like we missed it?

In Stop Missing Your Life, mindfulness teacher Cory Muscara takes us on a journey into the heart of what is required for real change, growth, and happiness. He exposes how the phrase "be present" has become little more than a platitude, imbued with the misguided message to be present just for the sake of being present, and reveals how to achieve true Presence: a quality of being that is unmistakably attractive about a person, and one that only comes when we've peeled back the layers of guarding that prevent us from being our full, honest, and integrated selves in the world.

Muscara shows how we build internal walls, what he describes as a "Pain Box" inhibiting us from living a deeply connected and meaningful life. He offers a four-part FACE model (Focus, Allow, Curiosity, and Embodiment) that helps chip away at those walls and builds our capacity to experience the richness of our lives Stop Missing Your Life ultimately teaches how we can find peace in the chaos and become better people for our families, our communities, and our world.
Praise For Stop Missing Your Life: How to be Deeply Present in an Un-Present World…
"This
down-to-earth, clear, and compassionate book is one of the best distillations
of the benefits of mindfulness I've ever read.
It will help you savor the good in your life as well as bring out the
immense good that already lies within you.
Stop missing the wonder, beauty, and connection in your life and read
this book right now!"—Scott Barry Kaufman, PhD, professor ofPsychology at Columbia University and host of The Psychology Podcast

"If you ever worry that you've become more of a
'human doing' than a human being -- STOP the madness, put down your screen and
READ THIS BOOK NOW! Cory Muscara is a great new voice bringing effort,
insight, and humility to his wonderful discoveries of how to live a more
satisfying life."—Sarah Robb O'Hagan, executive, activist andauthor of Extreme YOU: Step Up, Stand Out, Kick Ass, Repeat

"If you're going to learn about presence, learn it from someone who spent six months in silence living as a monk! Cory is the real deal, and his book is packed with practical, innovative strategies to help you stop living on autopilot and find real happiness."—Larry King, host of Larry King Now

"Reading this book is like developing a new friendship. Cory's voice is so engaging, so intimate, so real that you'll forget that you haven't actually met him. He is not afraid to say that these practices will thoroughly change your life, so get ready and take the leap."—Mirabai Bush, cofounder, Center for Contemplative Mind in Society, and coauthor of Walking Each Other Home (with Ram Dass)

"Engaging, relatable, and full of wisdom, this book will help you develop the mental fitness (and heart) to step outside your comfort zone and into your best life."—Colin O'Brady, four-time world record holder, first person to cross Antarctica solo, unsupported and unassisted

"Cory Muscara is a gifted teacher who guides readers on a journey of developing deep presence--a way of being that goes beyond the popular notion of 'just be present.' Wise, funny, and full of concrete tips, this book is like going on a retreat with a sure-footed guide."—Emily Esfahani Smith, author of The Power of Meaning
Da Capo Lifelong Books, 9780738285290, 256pp.
Publication Date: December 31, 2019
About the Author
Cory Muscara is an international speaker and teacher on the topics of presence and well-being. He has taught mindfulness-based leadership at Columbia University, and currently serves as an instructor of positive psychology at the University of Pennsylvania. In 2012, Cory spent six months in silence living as a monk in Burma, meditating 14+ hours each day, under the instruction of Sayadaw U Pandita. Cory's meditations have been heard more than 10 million times in over 50 countries. He brings these teachings to people in a practical and usable way, presenting to schools, organizations, and healthcare systems, as well as through workshops and retreats for the general public. Cory is from Long Island, New York.
or
Not Currently Available for Direct Purchase