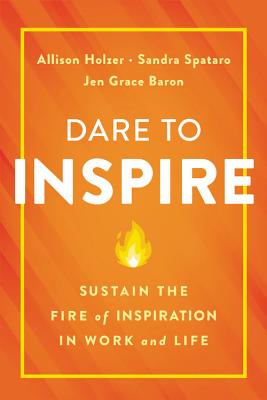 Dare to Inspire
Sustain the Fire of Inspiration in Work and Life
Hardcover

* Individual store prices may vary.
Description
"Dare to Inspire shows how to spark and sustain exponential growth."
--Shawn Achor, New York Times bestselling author of Big Potential and The Happiness Advantage
Inspiration is a most critical resource to be managed in modern work.
The problem is that the power of inspiration often feels fleeting. But what if you could design your own way to be inspired at work on a regular basis? What if you could make your own inspiration last?
Rooted in 18 engines of inspiration that emerged from interviews with leaders across different industries, Dare to Inspire shows how to supercharge inspiration for yourself, your team, and your organization. Each chapter offers tools, strategies, and examples of how to make inspiration happen and last.
Through stories of pioneers in business, health, education, and other industries, readers learn how to effectively use the engines to spark inspiration, along with specific practices to sustain it. Dare to Inspire features Chef Wes Avila, the founder of L.A. sensation Guerrilla Tacos, who was inspired to revolutionize his industry; crowdfunding pioneer Charles Best, who founded DonorsChoose to meet the challenge of connecting teachers in need with donors interested in supporting educational programs; and many others. This will be a vital book for anyone interested in creativity, success, achievement, and happiness.
Praise For Dare to Inspire: Sustain the Fire of Inspiration in Work and Life…
"Smart, well-researched, and timely... Dare to Inspire shows how to spark and sustain exponential growth."—Shawn Achor, NewYork Times bestselling author of Big Potential and The HappinessAdvantage

"In Dare to Inspire, the authors have identified a most critical element of successful teams and organizations of the future...their practical tools and frameworks make inspiration accessible and sustainable for any leader, team, or organization."—AmyC. Edmondson, professor, Harvard Business School, author of The FearlessOrganization

"Dare to Inspire shows us how inspiration need not be a fleeting emotion, but can be intentionally practiced, sustained, and cultivated for maximum positive impact on the world."—ScottBarry Kaufman, psychologist at Columbia University and coauthor of Wired toCreate

"A
must read for entrepreneurs, effective leaders, and CEOs who want to build a
competitive advantage through the power of their people."—Chip Conley, New York Times bestselling author and hospitalityentrepreneur

"A
compelling compilation of examples showing the remarkable results inspired
teams achieve and a leader's roadmap on how to accomplish it."—Gary Garfield, former CEO Bridgestone Americas

"What's
at the intersection of possibility and invincibility? Inspiration. The authors show you how to spot it, grow it,
and sustain it to fuel your own creativity and motivation, and that of your
team or organization."—Margaret H. Greenberg, MAPP, PCC, executive coach and author of Profitfrom the Positive

"People hope for success, but they crave inspiration; the problem has always been in knowing how to find it -- Holzer, Spataro, and Grace Baron show us how. Reading Dare to Inspire, half the time I had a lump in my throat, the other half a fire in my gut."—Brigadier General Thomas A. Kolditz, PhD, founding director, Ann andJohn Doerr Institute for New Leaders Rice University and founding director,West Point Leadership Center, U.S. Military Academy

"This is a useful
workbook for people seeking a positive spin on easily digestible advice."—Publishers Weekly
Da Capo Lifelong Books, 9780738285726, 304pp.
Publication Date: November 12, 2019
About the Author
Allison Holzer is a consultant, entrepreneur, and coach with a passion for challenging leaders to leverage the power of their emotions to achieve success. Prior to her current role as a cofounder of InspireCorps and an executive coach, she was director of coaching for the Yale Center for Emotional Intelligence, founded by Peter Salovey, president of Yale and one of the pioneers who coined the term "Emotional Intelligence (EI)."

Sandra Spataro started her professional career in Silicon Valley, working in various management positions at Oracle Corporation, with executives such as Ray Lane and Larry Ellison. As cofounder and chief excellence officer at InspireCorps, Spataro designs products and services for clients.

Jen Grace Baron is an organization development leader with a 20-year track record of success, leading large-scale talent strategy initiatives in companies such as eBay, Hewlett Packard, and Johnson & Johnson.