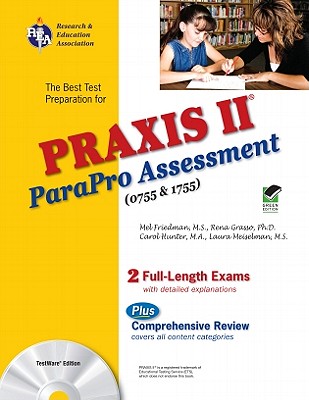 Praxis II Parapro Assessment 0755 and 1755 W/CD-ROM (Best Preparation for Teacher Certification) (Paperback)
Research & Education Association, 9780738604138, 416pp.
Publication Date: September 1, 2009
* Individual store prices may vary.
Description
Practice for the PRAXIS and Become a ParaProfessional with REA's Newest Teacher Certification Test Prep - PRAXIS II: ParaPro Assessment 0755 and 1755.
First edition with CD-ROM TestWare
Are you ready to become a ParaProfessional and boost your teaching career? REA's latest addition to our PRAXIS II series was created specifically for individuals looking to attain the position of ParaProfessional as defined by the federally legislated No Child Left Behind Act (20 U.S.C. 6319). The law requires paraprofessionals serving in an instructional capacity to demonstrate that they are knowledgeable in reading, writing, and math, and capable to assist in classroom instruction. Our comprehensive review chapters cover all the reading, writing, and mathematics topics tested on the exam, including:
Reading Skills and Knowledge
Application of Reading Skills and Knowledge to Classroom Instruction
Writing Skills and Knowledge
Application of Writing Skills and Knowledge of Classroom Instruction
Mathematics Skills and Knowledge
Application of Mathematics Skills and Knowledge to Classroom InstructionTwo full-length practice tests feature every type of question, subject area, and skill tested on the PRAXIS II ParaProfessional exam. This enhanced TestWare edition includes the book's two full-length practice tests on CD-ROM with automatic, instant scoring, and onscreen detailed explanations of answers. Our timed, computerized exam format gives test-takers the closest experience to taking the actual exam. ParaProfessionals can identify their strengths and weaknesses while reinforcing their skills and testing their teaching knowledge. The test prep comes complete with a customized study schedule and REA's test-taking strategies and tips. If you're training to become a ParaProfessional, this test prep will take you to the head of the class REA books and software have proven to be the extra support teacher candidates need to pass their challenging test for licensure. Our comprehensive test preps are teacher-recommended and written by educators who have mastered the test and the related program of study.
About the Author
About the Authors Mel H. Friedman, M.S. has a diversified background in mathematics and has developed test items for Educational Testing Service. His teaching experience is at both the high school and college levels. Rena Grasso, Ph.D. has taught Writing at all levels (first-year to graduate school) at various colleges and universities for more than twenty-five years. In addition, she is currently tutoring students (middle school through high school) as well as adults, including both native speakers and ESL professionals seeking to improve both work related writing and to pass the TOEFL exams. Dr. Grasso's experience includes professional grant writing and a range of technical and business writing formats. She has also written essays and articles on history, the arts, and political topics as well as reports andpolicy studies on educational issues. Rena Grasso holds an M.A. in Language Studies from Boston University and a Ph.D. from SUNY/Buff alo in Literature and Psychoanalytic Psychology. Carol Hunter, M.A. is a former History and English teacher, staff developer, literacy resource teacher, and consultant in Albuquerque and San Diego City Schools. She also taught at The University of New Mexico, Chapman University, The College of Santa Fe, and Santa Fe Community College. She has an undergraduate degree in liberal arts, and an M.A. in History from The University of New Mexico. While working for San Diego City Schools, she received a Peer Coach Certificate from San Diego State University. Laura Meiselman, M.S. has taught math to both regular and special education students in public and independent schools in New York for over 15 years. She has two master's degrees from Bank Street College of Education, one in Special Education and one in Math Leadership. She is the author of two books: Tic Tac Math: Grades 5-8 and What's Your Angle? And 9 More Math Games, published by Scholastic, Inc. She lives in the Hudson Valley with her daughter. When she's not doing curriculum writing or test preparation work, Laura can be found doing yoga, taking cooking classes, or reading.