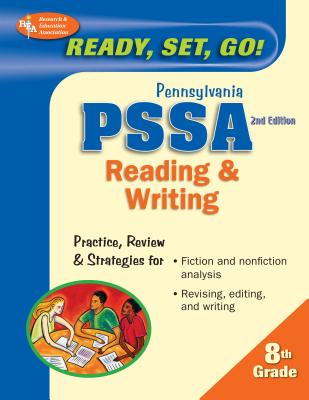 Pennsylvania PSSA 8th Grade Reading and Writing (Ready) (Paperback)
Research & Education Association, 9780738604824, 224pp.
Publication Date: December 1, 2009
* Individual store prices may vary.
Description
Practice with REA and Pass the PSSA REA's second edition of our Ready, Set, Go (R) Reading & Writing test prep for the Pennsylvania System of School Assessment (PSSA) exam gets Pennsylvania students ready for this crucial high-stakes test. Specifically designed to boost essential reading and writing skills, this test prep provides all the instruction and practice eighth grade students need to excel on this important exam. Written in an easy-to-follow, student-friendly style, it's perfect for classroom, family, or individual study. Fully aligned with the Assessment Anchors adopted by the Pennsylvania Department of Education, the review chapters cover every topic tested on the exam, including: word recognition, inferences and conclusions, main ideas, literary analysis, and writing and revising essays. Numerous drills and review lessons throughout the book enhance student vocabulary and literary analysis skills. Key tutorials reinforce writing skills and increase the reading comprehension abilities needed to succeed on the test. Color icons highlight the key concepts, questions, and activities in each chapter. A diagnostic Pretest pinpoints student strengths and weaknesses, and a full-length Posttest allows students to measure their progress and focus on areas in need of further study. Our confidence-building test tips help reduce test anxiety and boost test-day readiness for this important high-stakes exam. Whether used in a classroom, for home or self study, or with a tutor, this test prep gets Pennsylvania students ready for their important high-stakes exam, set to take on new challenges, and helps them go forward in their studies.