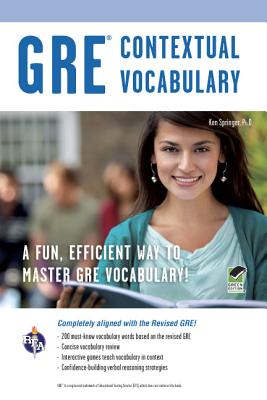 GRE Contextual Vocabulary (GRE Test Preparation) (Paperback)
Research & Education Association, 9780738609034, 320pp.
Publication Date: September 30, 2011
* Individual store prices may vary.
Description
If you're taking the GRE you need REA's GRE Contextual Vocabulary Get Focused Vocabulary Prep REA's GRE Contextual Vocabulary gives GRE test-takers a fun and easy way to improve their vocabulary skills before taking the exam. Designed for anyone who needs help with their GRE vocabulary, this unique study guide combines a traditional GRE vocabulary review with interactive puzzles and games. The word games include inference-to-meaning, fast-facts anecdotes, minimal parts, word scrambles, grammar stretches, and more The chapters alternate between games and puzzles and strategy and high-frequency GRE word lists. Unlike other study guides that only contain a list of vocabulary words, our book lets you test your knowledge of must-know GRE terms in a contextual format. Learning GRE vocabulary from a fun and stress-free book helps you improve your skills, so you can score higher on the verbal section of the GRE.
About the Author
Dr. Ken Springer is a professor of education at Simmons School of Education and Human Development at Southern Methodist University. Dr. Springer is active in both teaching and research, with more than 60 scientific publications and presentations to his credit. Since 2010 he has authored or co-authored the following books: Educational Research: A Contextual Approach and TExES: Generalist EC-6. His recent work in English-language skill instruction includes co-authorship of REA's CLEP College Composition Exams, published in 2011.