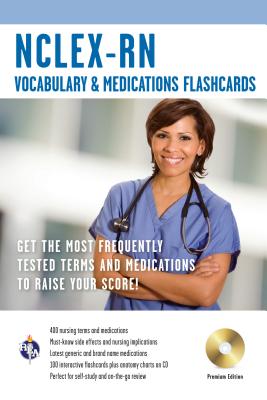 NCLEX-RN Vocabulary and Medications Flashcard Book W/ CD [With CDROM] (Nursing (NCLEX-RN) (Paperback)
Research & Education Association, 9780738609058, 496pp.
Publication Date: January 18, 2011
* Individual store prices may vary.
Description
REA's NCLEX-RN Vocabulary & Medications Flashcard Book Gets You Ready for Your Nursing Exam Premium Edition with Hundreds of Must-Know Nursing Terms The health care industry is booming. With the ever-growing demand for qualified medical professionals, there are numerous career opportunities available in the nursing field. Qualified nurses are needed in hospitals, assisted living facilities, and in the home healthcare industry. REA's NCLEX-RN Vocabulary & Medications Flashcard Book with TestWare CD helps you check your test-readiness before taking your NCLEX exam. This latest addition to our Health Sciences series of flashcards is the perfect refresher and offers a quick and convenient way to study the vocabulary and medications material on the test, so you can score higher on test day Written by a nursing instructor and a seasoned pharmacology textbook author, this on-the-go study supplement is packed with 400 must-know vocabulary and medications flashcards covering definitions, nursing process categories, generic and brand names, classifications, side effects, and nursing implications. Our flashcards are based on the material tested on the actual NCLEX and cover everything you need to know in the four test categories. This Premium Edition with CD contains 100 of the book's flashcards to challenge your test-readiness and four medical reference charts (Cardiorespiratory System, Digestive System, Lymphatic System, and Nervous System) that offer additional review. Unlike most flashcards that come loose in a box, our flashcards are bound in an organized, compact book that makes studying a breeze. Fully indexed, this flashcard book is the perfect study tool for anyone pursuing a nursing career
About the Author
Dr. Michael Adams has an M.S. degree in Pharmacology from Michigan State University and a Ph.D. in Curriculum and Instruction from the University of South Florida. He has authored three textbooks in pharmacology and is currently Professor of Biological Sciences at Pasco-Hernando Community College in New Port Richey, Florida. Jeanine Brice is currently an Associate Professor and Coordinator of Technical Health programs at Pasco-Hernando Community College in New Port Richey, Florida. She has been a registered nurse for over 23 years and has been involved in nursing education for the last 20 years, providing didactic and clinical instruction to nursing students. Her nursing and clinical education experiences include those in medical, surgical, long-term care, pediatrics, and obstetrics units. Ms. Brice has an ADN from Charles County Community College (College of Southern Maryland), a B.S. from the University of Maryland, and an M.S. in Nursing Education/Community Health from Bowie State University.