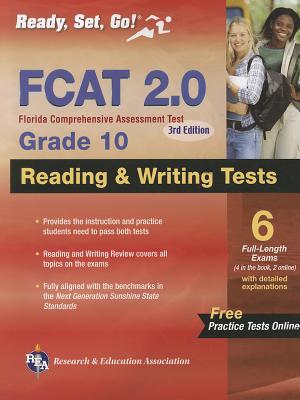 FCAT 2.0 Grade 10 Reading & Writing Tests (Ready) (Paperback)
Research & Education Association, 9780738610214, 303pp.
Publication Date: February 10, 2012
* Individual store prices may vary.
Description
Facing the Florida FCAT 2.0 Reading & Writing exam this year?
Then you need REA's FCAT 2.0 Grade 10 Reading & Writing test prep
If you're taking the Florida FCAT 2.0 Reading & Writing exam this year and are concerned about your score, don't worry. REA's test prep will help you sharpen your skills and pass this high-stakes exam
Fully aligned with the most recent exam, our test prep provides the instruction and practice you need to improve your reading and writing abilities. The comprehensive review features student-friendly examples that emphasize the concepts tested on the FCAT 2.0 (vocabulary, literary analysis, drafting and revising) and skill-building exercises that reinforce key English language lessons.
Our test prep is ideal for classroom, group, or individual study. Tutorials and targeted drills increase comprehension while enhancing reading and writing skills. Color icons and graphics highlight important concepts and tasks. REA's test-taking tips and strategies give you the confidence you need to pass the exam and graduate.
The book includes four practice exams that test your knowledge and reinforce what you've learned. Two additional practice tests are available as downloadable PDFs for additional study. Each practice test comes complete with detailed explanations of answers, so you can focus on areas where you need extra review.
This book is a must have for any Florida student preparing for the FCAT 2.0 Reading and Writing exam
Note: To download your free practice tests, visit www.rea.com/FCAT and click on the test you wish to take.
About the Exam
The Florida Comprehensive Assessment Test 2.0 (FCAT 2.0) measures student achievement of the Next Generation Sunshine State Standards. All public school students are required to pass the FCAT 2.0 Grade 10 Reading & Writing Exam in order to receive a high school diploma.
or
Not Currently Available for Direct Purchase