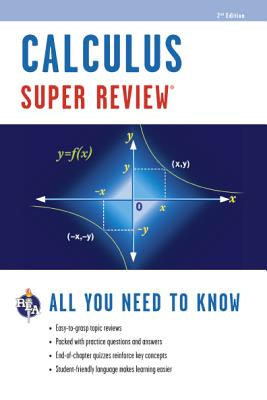 Calculus Super Review (Super Reviews Study Guides) (Paperback)
Research & Education Association, 9780738611068, 480pp.
Publication Date: October 12, 2012
* Individual store prices may vary.
Description
REA's Calculus Super Review
Get all you need to know with Super Reviews
Updated 2nd Edition

REA's Calculus Super Review contains an in-depth review that explains everything high school and college students need to know about the subject. Written in an easy-to-read format, this study guide is an excellent refresher and helps students grasp the important elements quickly and effectively. Our Calculus Super Review can be used as a companion to high school and college textbooks or as a study resource for anyone who wants to improve their math skills and needs a fast review. Presented in a straightforward style, our review covers the material taught in a beginning-level calculus course, including: functions, limits, basic derivatives, the definite integral, combinations, and permutations. The book contains questions and answers to help reinforce what students learned from the review. Quizzes on each topic help students increase their knowledge and understanding and target areas where they need extra review and practice.
About the Author
Founded in 1959, Research & Education Association is dedicated to publishing the finest and most effective educational materials-- including study guides and test preps--for students in middle school, high school, college, graduate school, and beyond.