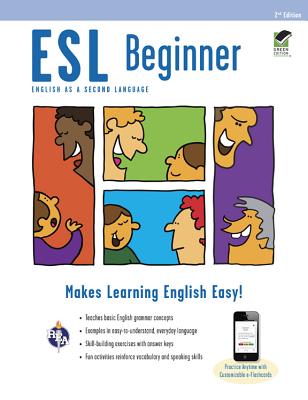 ESL Beginner Premium Edition with E-Flashcards (English as a Second Language) (Paperback)
Research & Education Association, 9780738611280, 408pp.
Publication Date: April 12, 2013
* Individual store prices may vary.
Description
ESL Beginner Premium Edition with e-Flashcards Makes English Easy ESL Beginner introduces you to the basics of English grammar with confidence-building activities that move you to the next level with the right tools and at the right pace. This easy-to-use handbook covers basic English grammar for those just learning the language. It teaches English language concepts and gives examples in simple, everyday language. Written by an ESL expert specifically for ESL learners, topics include nouns and noun phrases, verbs and verb phrases, simple sentences, compound sentences, and modifiers. The book also contains special tables that address five key areas of English grammar: articles, vocabulary, plurals, prepositions, and irregular verbs. You can enhance your speaking abilities through individual exercises, class discussions, and group projects that are fun and effective learning devices. This student-friendly workbook is an ideal supplement to textbooks and language courses, and serves as the perfect ESL workbook, with many skill-building exercises and examples. After reviewing with the book, go online to REA's Study Center and test what you've learned with 450 e-flashcards. These flashcards help you pinpoint your strengths and weaknesses and identify areas in need of further study. You can also create your own flashcards and access them from any computer or smartphone. Whether you're studying English in a class or on your own, this fun and friendly workbook will help you build your skills and communicate with precision - and success
About the Author
Sherry Boguchwal is an ESL skills consultant in Manalapan, N.J. Johanna Pugni is an ESL skills consultant in Flushing, N.Y. Dianne Ramdeholl is an ESL instructor at the College of Staten Island - CUNY, Staten Island, N.Y. Linda C. Robbian is a basic skills instructor at Guilford Technical Community College, Jamestown, N.C.