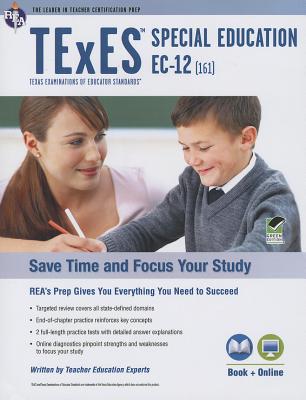 TExES Special Education EC-12 (161) (Texes Teacher Certification Test Prep) (Paperback)
Research & Education Association, 9780738611419, 299pp.
Publication Date: October 10, 2013
* Individual store prices may vary.
Description
REA's TExES Special Education EC-12 (161) Test Prep with Online Practice Tests Gets You Certified and in the Classroom

Our test prep is designed to help teacher candidates master the information on the TExES Special Education EC-12 (161) exam and get certified. It's perfect for college students, out-of-state teachers, and career-changing professionals who are looking to become Texas Early Special Education teachers.
The book is aligned with the TExES Special Education EC-12 exam and targets exactly what teacher candidates need to know to excel on the test. A comprehensive review guides prospective Special Education EC-12 teachers through all the content topics tested, including: understanding individuals with disabilities; promoting student learning and development; promoting student achievement in mathematics, English language arts and reading; and professional roles and responsibilities.
Two full-length practice tests are offered online in a timed format with instant scoring, diagnostic feedback, and detailed explanations of answers. Each test features every type of question, subject area, and skill you need to know for the exam. Our online tests offer the most powerful scoring and diagnostic tools available today. Automatic scoring and instant reports help you zero in on the topics and types of questions that give you trouble now, so you'll succeed when it counts.
The book includes the same two practice tests that are offered online, but without the added benefits of detailed scoring analysis and diagnostic feedback.
This test prep is a must-have for anyone who wants to teach Special Education in Texas
About the Author
Jill L. Haney earned a bachelor of arts degree in English with honors and a master of arts degree in teaching from Trinity University in San Antonio, Texas. A former middle school teacher, national reading consultant, and educational publishing executive, she is now an independent Special Education and reading consultant in San Antonio, Texas. Certified in Texas to teach Special Education EC-12, Elementary EC-6, and reading and language arts 6-12, Haney was the San Antonio ISD Teacher of the Year in 1999 and won the coveted Trinity Prize that same year. James E. Westcott is a former teacher, education content writer, and children's author. He holds a master's degree in Special Education from Nazareth College of Rochester, New York. Westcott is a New York State-certified teacher in grades K-12. He has taught Special Education at both the elementary and secondary levels for 15 years outside of Rochester, New York. Westcott is especially proud of being chosen Who's Who Among Special Education Teachers in 2007. Jamalyn Jaquess is an elementary Specialized Support teacher in the Northeast Independent School District of San Antonio, Texas. She is certified in Special Education EC-12 and General Education EC-6. Her goal is to cultivate and foster the potential in each of her students, helping them to reach the purpose for which they were created.