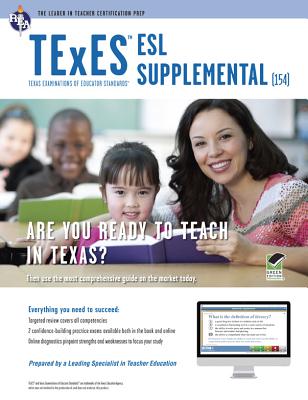 Texas TExES ESL Supplemental (154) (REA Test Preps) (Paperback)
Research & Education Association, 9780738611471, 261pp.
Publication Date: November 28, 2013
* Individual store prices may vary.
Description
REA's TExES ESL Supplemental (154) Test Prep with Online Practice Tests
Gets You Certified and in the Classroom Nationwide, more than 5 million teachers will be needed over the next decade, and all must take appropriate tests to be licensed. REA gets you ready for your teaching career with our outstanding library of Teacher Certification test preps. Our test prep is designed to help teacher candidates master the information on the TExES ESL Supplemental (154) exam and get certified. It's perfect for college students, teachers, and career-changing professionals who are looking to become Texas ESL teachers. The book contains in-depth reviews of all the competencies tested on the TExES ESL Supplemental (154) exam: language concepts and language acquisition, ESL instruction and assessment, and foundations of ESL education. Two full-length practice tests are offered online in a timed format with instant scoring, diagnostic feedback, and detailed explanations of answers. Each test features every type of question, subject area, and skill you need to know for the exam. Our online practice tests replicate the TExES question format, allowing you to assess your skills and gauge your test-readiness. The online tests at REA's Study Center offer the most powerful scoring and diagnostic tools available today. Automatic scoring and instant reports help you zero in on the topics and types of questions that give you trouble now, so you'll succeed when it counts. Every practice exam comes with detailed feedback on every question. We don't just say which answers are right - we explain why the other answer choices are wrong - so you'll be prepared on test day. The book includes the same two practice tests that are offered online, but without the added benefits of detailed scoring analysis and diagnostic feedback. This complete test prep package comes with a customized study schedule and REA's test-taking strategies and tips. This test prep is a must-have for anyone who wants to teach ESL in Texas
About the Author
Jacalyn Mahler is a language teacher, author, and educational resource developer. She holds a master's degree in Translation and Interpretation from the Monterey Institute of International Studies and a B.A. in Spanish from Tufts University. Mahler was instrumental in developing two research-based programs adopted by the Texas State Board of Education for English-language learners. She was also a co-author of the Teaching Reading Sourcebook (Arena Press, 1999), a core text for preservice teachers endorsed by the National Council on Teacher Quality. Mahler has received awards for K-1 Spanish picture books, multimedia intervention for adolescent readers, and National Geographic's classroom magazines. Dr. Beatrice Mendez Newman is a professor in the English Department at The University of Texas-Pan American where she teaches first-year writing courses and writing methods classes. Her Ph.D. is from Texas A&M University where she specialized in rhetoric and composition and linguistics. She has a lifetime Texas teaching certificate in secondary English and Journalism, including ESL certification, and works extensively with local teachers in creating student-centered, engaging writing units. Mendez Newman's book, English Teacher Certification Exams in Texas, published by Allyn and Bacon in 2005, is a study guide for the TExES ELAR exams. Mendez Newman's research has been published in collections on teaching writing at Hispanic serving institutions and writing center pedagogy. Sharon Alverson has been a certified elementary teacher in Texas for over 20 years and has held her ESL and Early Childhood certifications for 14 years. Alverson was an ESL District Coordinator in a North Central Texas district for three years, and as the district grew, she became an elementary ESL campus coordinator. As the Language Proficiency Assessment Committee (LPAC) chairperson, she trained all members and administered current tests to students. As TELPAS coordinator for the school district, she trained teachers to be raters and administered the RPTE. Alverson has mentored other campus ESL coordinators and teachers of Pre-K through high school who received their ESL certification. She has a B.A. in Elementary Education from Olivet Nazarene University. Loree DeLys Evans has been a teacher of English, English as a Second Language, Special Education, and reading intervention in the Dallas, Texas, area for the past eight years. Evans holds a master's degree of Education in Curriculum and Instruction, Triple Literacy Studies from the University of Texas at Arlington, and a B.S. in Marketing Management from Western Governors University. She is certified in the state of Texas as a Master Reading Teacher and as a Reading Specialist in the state of Texas, as well as nationally. In addition, Evans holds certifications in English, Language Arts and Reading (8-12), English as a Second Language Supplemental, Business Education (6-12), Special Education, and Generalist (4-8).