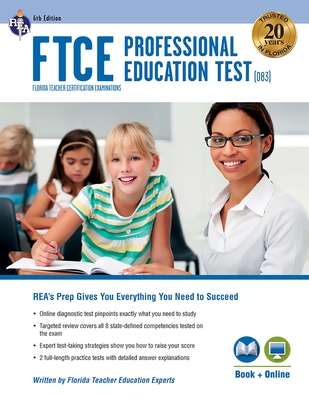 FTCE Professional Ed (083) Book + Online (Ftce Teacher Certification Test Prep)
Paperback

* Individual store prices may vary.
Description
REA's FTCE Professional Education (083) Test Prep with Online Practice Tests
Gets You Certified and in the Classroom Nationwide, more than 4 million teachers will be needed over the next decade, and all must take the appropriate tests to be licensed. REA gets you ready for your teaching career with our outstanding library of Teacher Certification test preps. REA's FTCE Professional Education (083) test prep is designed to help you master the information on this important exam, bringing you one step closer to being certified to teach in Florida. It's perfect for college students, out-of-state teachers, and career-changing professionals who are looking to become Florida teachers. Written by Florida teacher education experts, our complete study package contains an in-depth review of all the competencies and skills tested on the FTCE Professional Education (083) test, including: instructional design and planning, student-centered learning environments, knowledge of the Code of Ethics and Principles of Professional Conduct of the education profession in Florida, and more. Based on actual FTCE exams, our online diagnostic test and two full-length practice tests assess every competency, type of question, and skill you need to know. The online practice tests at the REA Study Center come with automatic scoring, timed testing conditions, and diagnostic feedback to help you zero in on the topics and types of questions that give you trouble now, so you can succeed on test day. The book includes the same two practice tests that are offered online, but without the added benefits of automatic scoring analysis and diagnostic feedback. This test prep is a must-have for anyone who wants to teach in Florida
Research & Education Association, 9780738611662, 294pp.
Publication Date: June 27, 2014
About the Author
Dr. Erin Mander studied curriculum and instruction at Wheaton College (B.A.), Walden University (M.A.), and the University of Central Florida (Ed.D.). She is a certified teacher who has been working in education for 14 years, teaching in the area of middle-level education. Currently, Dr. Mander is a curriculum consultant in Orange County and teaches both the FTCE General Knowledge and Professional Examination classes through the University of Central Florida Continuing Education Program. Tammy Powell is a University of Central Florida graduate and a certified teacher who has been working in education in Orange County for 16 years. Currently a fifth-grade teacher, Mrs. Powell has taught elementary, middle, and high school, specializing in math and science. She is certified by the State of Florida in K-6 Elementary Education, 5-9 Mathematics, and 6-12 Journalism. Mrs. Powell currently teaches both the FTCE General Knowledge Mathematics and the K-6 Elementary Education classes for the UCF Continuing Education Program and works as a math, science, and subject-area exam tutor for Mastermind Educational Consulting. Chris A. Rose is Assistant Division Director and Test Prep Director at the University of Central Florida's School of Continuing Education. With 20 years of higher-education experience, Mr. Rose has been responsible for programmatic and business development initiatives serving the citizens and business community. His experience has been focused on industry and professional development training as well as a specialization in exam preparation and professional certification review. All UCF test-prep review courses, which Mr. Rose manages, follow the Core Success Factors: Confidence-building, Time Management and Concept & Skill Development. Expert Reviewer Timothy R. Blair is Professor in Reading/Literacy Education at the University of Central Florida. His Ph.D. was awarded in Early Childhood/Elementary Education with a major in Reading at the University of Illinois, Urbana-Champaign. He is a former elementary-classroom teacher and reading teacher at the elementary, middle, and secondary levels. Dr. Blair has authored several college textbooks on reading methods and assessment, and textbooks in multicultural teacher education.