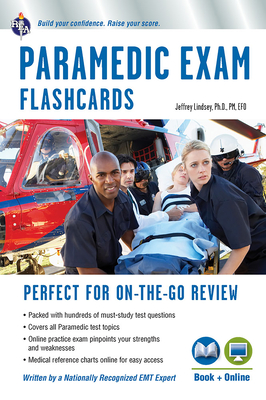 Paramedic Flashcard Book + Online (EMT Test Preparation)
Paperback

* Individual store prices may vary.
Description
REA's Paramedic Flashcard Book with Online Practice Test
Second Edition
Hundreds of must-know questions cover the topics tested on the exam
REA's
Paramedic Flashcard Book
is the perfect companion for anyone studying for the NREMT Paramedic Exam. It contains the information you need to pass the exam and start your EMS career. Written by a nationally recognized EMS instructor with 30 years of experience, our flashcards give you 350 questions based on actual exam content, including: airway and breathing, cardiology, legal, medical, obstetrics and pediatrics, scene size-up, and trauma. Subject icons for each card help you review specific exam topics. After reviewing the flashcards in the book, go online and take a 100-question practice test. This test features automatic scoring, timed testing conditions, and diagnostic feedback to help you assess your knowledge and target the areas where you should spend more time studying. Also included online are seven medical reference charts that you can return to time and again: - Anatomy I
- Anatomy II
- Medical Abbreviations
- Medical Terms: The Basics
- Medical Terms: The Body
- Muscular System
- Skeletal System These charts provide quick, easy access to important facts you need to know and are great for last minute review.
REA's Paramedic Flashcard Book with Online Practice Test helps you pass the Paramedic exam and start your EMS career
Research & Education Association, 9780738611778, 352pp.
Publication Date: July 3, 2014
About the Author
Dr. Jeffrey Lindsey has been involved in the emergency services industry since 1980, as a firefighter, fire chief, paramedic, 911 dispatcher, member of national and local safety advisory councils, and he is currently paying it forward as an educator. He is the Coordinator/Lecturer of the Fire Emergency Science program at the University of Florida, and Chief Learning Officer for the Health & Safety Institute. Dr. Lindsey holds a doctorate and master's degree in Curriculum and Instruction, a bachelor's degree in Fire and Safety Engineering, and an associate's degree in Paramedic. He also achieved the Chief Fire Officer designation and completed the Executive Fire Officer program. He was the 2011 recipient of the James O. Page EMS award, given annually to an individual who has had a positive, national impact on fire-service EMS management and leadership.