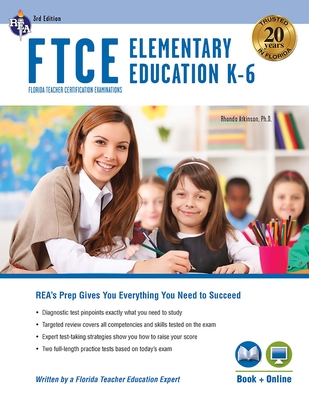 FTCE Elementary Education K-6 Book + Online (Ftce Teacher Certification Test Prep)
Paperback

* Individual store prices may vary.
Description
REA's FTCE Elementary Education K-6 Test Prep with Online Tests Gets You Certified and in the Classroom Updated Third Edition Nationwide, more than 5 million teachers will be needed over the next decade, and all must take appropriate tests to be licensed. REA gets you ready for your teaching career with our outstanding library of teacher certification test preps Scoring well on the FTCE Elementary Education K-6 exam doesn't just help you get certified to teach in Florida, it helps you build your career. This updated edition of our popular FTCE test prep is designed to help you master the information on the Elementary Education K-6 exam. It's perfect for college students, prospective teachers, and career-changing professionals who are seeking certification as elementary education teachers. Written by a Florida education expert, our study package contains an in-depth review of all the competencies tested on the FTCE Elementary Education K-6 exam: language arts, math, social science, and science. Expert test-taking tips and strategies offer advice on how to raise point scores. An online diagnostic test helps you assess your skills and gauge your test-readiness. The diagnostic exam replicates the FTCE question format and comes complete with detailed answer explanations, so you can see where you need extra study and review. A full-length multiple-choice practice test in the book simulates actual FTCE exam questions. This practice test is balanced to include every type of question, subject area, and skill tested on the FTCE Elementary Education K-6 exam. An additional practice test is available online at the REA Study Center. This test is offered in a timed format with automatic scoring, timed testing conditions, and diagnostic feedback. Detailed answer explanations and instant reports help you zero in on the topics and types of questions that give you trouble now, so you can succeed on test day. This test prep is a must-have for teacher certification candidates in Florida
Research & Education Association, 9780738612089, 492pp.
Publication Date: June 28, 2016
About the Author
Rhonda Atkinson, Ph.D., is program chair of the Educator Preparation Institute at Valencia College. She has an extensive background in reading and psychology, and a deep understanding of how people learn. She has applied this knowledge to a variety of content areas and learner needs, and is an expert in instructional design. After earning her doctorate in curriculum and instruction from Louisiana State University, Dr. Atkinson went on to become a faculty member and administrator in post-secondary education programs in Louisiana, Missouri, and Florida. Along the way, she has created courses and workshops to meet different content and learner needs in online, face-to-face, and hybrid formats. She has also developed educational materials for Northrop Grumman, the Institute for Healthcare Advancement, Novartis, the Public Broadcasting Corporation, the Louisiana Office of Elder Affairs, the Louisiana Office of Nutrition Education, and the Louisiana Department of Education. Dr. Atkinson is the co-author of seven college textbooks in reading and learning strategies. She currently serves as a professor of education at Valencia College, Orlando, Florida, where she teaches undergraduate education courses in student success and technology as well as post-graduate certification courses in education