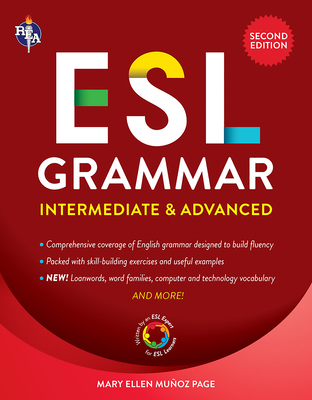 ESL Grammar
Intermediate & Advanced (English as a Second Language)
Paperback

* Individual store prices may vary.
Description
Get REA's newly updated grammar guide and workbook for intermediate and advanced ESL learners. This second edition is ideal for self-guided study or as a supplement to your ESL coursebook. If you're an ESL student who would like to make English a part of your everyday life, ESL Grammar: Intermediate and Advanced is for you.The book is for anyone with a basic command of English grammar and vocabulary who wants to build their fluency and confidence. You will find this study guide and workbook to be an excellent resource that you can use as a supplement to your coursebook or on its own, whether you're at home, in school, or on the job. This new second edition expands the book's thorough coverage of the important intermediate and advanced grammar topics, with handy usage tips and easy-to-follow practice exercises in every section. The book has been enriched with current topics and examples designed to help you increase your fluency on your journey to mastering English as it's spoken by native speakers. We've included the most commonly confused words (including sound-alikes) to help you avoid the top mistakes English learners make. We show you how word families--groups of words formed from the same base or root word--will help you grow your vocabulary and understand what words mean even before you look them up in a dictionary. Many English words are borrowed from other world languages. This book will show you how to have fun with useful "loanwords" while you improve your vocabulary. We've added a new chapter on "Technology in Our Life Today." Here you will find clear definitions of frequently used computer and technology terms to help you communicate effectively in today's digital world. Whether you're in school, managing a household, or looking for a job to advance your career, this book will help you take command of English and express yourself with precision. Be sure to look for the companion volume, ESL Writing: Intermediate and Advanced, also by Mary Ellen Mu oz Page.
Research & Education Association, 9780738612805, 432pp.
Publication Date: December 9, 2021