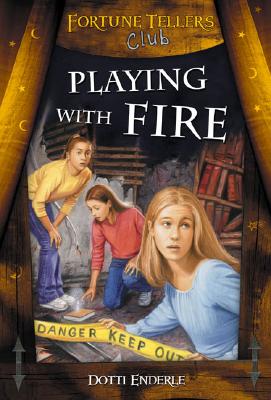 Playing with Fire (Paperback)
Llewellyn Publications, 9780738703404, 152pp.
Publication Date: March 1, 2003
* Individual store prices may vary.
Description
Can divination and magic help the girls solve this latest burning mystery?
The second installment of the Fortune Tellers Club series crackles with suspense Anne Donovan has a crush on Eric, the new boy at school. No one knows much about him except that he transferred schools after his house went up in flames.
Anne and her two friends, who call themselves The Fortune Tellers Club, spread the tarot cards to predict Anne's future as Eric's girlfriend. When a series of fires breaks out, including one that destroys the school library, their attention turns to a more burning question. Does Eric possesses a special power-pyrokinesis? They set to work searching for answers before everything around them turns to cinders.
Selling Features
•A middle-grade novel (ages 8-12) about a trio of twelve-year-old girls who must solve the mystery of who or what is starting fires around town
•Centers on practical fortune telling to
solve a mystery
•Introduces new forms of divination to an age group particularly interested in fortune telling


About the Author
Dotti Enderle is the author of the childrens mystery series, Fortune Tellers Club, and the educational series, Storytime Discoveries. She began her publishing career in 1995, writing for popular childrens magazines. Her work has been included in Babybug, Ladybug, Childrens Playmate, Nature Friend, Turtle and many more.

As a professional storyteller, Dotti has entertained at numerous schools, libraries, museums and festivals since 1993. She takes pride in her vast collection of original stories and folktales, and specializes in participation stories, allowing the audience to join in the fun.

Dotti is a member of The Society of Childrens Book Writers & Illustrator and the Texas Reading Association.

A native Texan, Dotti lived throughout Texas as a small child, but Houston has been her home since the age of eight. She lives with her husband, two teenage daughters, and a lazy cat named Oliver.
or
Not Currently Available for Direct Purchase