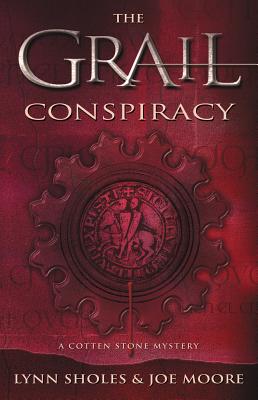 The Grail Conspiracy (Cotten Stone Mysteries #1) (Paperback)
Midnight Ink, 9780738707877, 343pp.
Publication Date: September 8, 2005
* Individual store prices may vary.
Description
Winner of Foreword Magazine's Book of the Year Award for Best Mystery

On assignment in the Middle East, television journalist Cotten Stone stumbles upon an archeological dig that uncovers the world's most-sought-after religious relic: the Holy Grail. With his last dying breath, Dr. Gabriel Archer gives it to Cotten, uttering "You are the only one" in a language she's heard from only one other person--her deceased twin sister.

What begins as a hot news story for the ambitious young reporter soon turns into a nightmare when the Holy Grail is stolen and strange "accidents" befall her dearest friends. Running for her life, she turns to John Tyler, a priest with firsthand knowledge of religious artifacts, for help. An anonymous source leads them to New Orleans during Mardi Gras, where an abominable experiment is underway that--unless destroyed--promises to unleash an ancient evil upon the Earth.


Praise:
"This page-turner is bound to show up on Da Vinci Code read-alike lists at public libraries across the country."--Library Journal
"Religion and science battle through a spectacular hold-your-breath conclusion when the Holy Grail supplies the blood of Christ to the forces of evil."--M. Diane Vogt, author of Six Bills and other Willa Carson Novels
"
The Grail Conspiracy
is an auspicious debut from a dig in the deserts of Iraq to the inner sanctum of the Knights Templar, this multi-layered tale is a gripping blend of modern science, ancient ritual, and page-turning suspense. Next time you face the dark side, you'll want Cotten Stone, this gutsy, intelligent and engaging heroine at your side."--Christine Kling, author of
Cross Current
and
Surface Tension
"If you liked
The Da Vinci Code
, run out and buy this book Modern technology mixed with mythology make for a fast read. This globe-trotting adventure story with biblical undertones will keep you hooked "--Nancy J. Cohen, author of the Bad Hair Day mystery series
About the Author
Lynn Sholes has worked as a writing trainer for Broward County Schools and Citrus County Schools in Florida. Before writing thrillers her interest in archaeology led her to write historical fiction under the name Lynn Armistead McKee. Lynn is a member of the International Thriller Writers, Mystery Writers of America, and The Authors Guild.Joe Moore is a former marketing & communications executive and two-time EMMY(R) winner with 25 years experience in the television postproduction industry. Joe serves on the International Thriller Writers board of directors as Co-President. He writes full time from his home in South Florida.
or
Not Currently Available for Direct Purchase