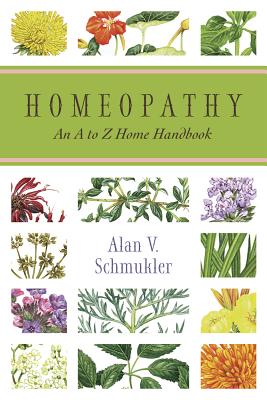 Homeopathy
An A to Z Home Handbook
Paperback

* Individual store prices may vary.
Description
Effective, safe, affordable, and free of chemical side effects-the benefits of homeopathy are endless Already established in the national health care systems of England, France, and the Netherlands, homeopathic treatments are used by over five hundred million people worldwide. Alan Schmukler's Homeopathy discusses the history and science of this alternative medicine and provides a comprehensive list of proven remedies-safe for people and animals.
Packed with homeopathic treatments for arthritis, colds, food poisoning, insomnia, Lyme disease, morning sickness, wounds, and a host of other ailments and injuries, this handy reference guide also includes information on homeopathic immunization and first aid. Schmukler gives helpful instructions for matching remedies with symptoms, ingesting them correctly, making remedies at home, and stretching your supply.
Praise:
This book is a joy to read, easy to understand, comfortable to use. Whether you are a neophyte or an old-hand in your knowledge of homeopathy, you will benefit from having this book in your library. It is one of the most comprehensive acute care books on the market.--Lilipoh Magazine
Schmuckler's handbook is a comprehensive modern look at the 200 most commonly used remedies that should help satisfy everyone's health questions through homeopathy.--Alive Magazine
Heaven forbid we should find ourselves responding to a life-threatening or cataclysmic event, but if we did, this book would be a godsend Alan believes homeopathy is 'magical, exciting, and empowering.' Having his book, already dog-eared and visibly well-loved, certainly makes me feel empowered --Homeopathy Today
Llewellyn Publications, 9780738708737, 351pp.
Publication Date: July 8, 2006
About the Author
Alan V. Schmukler (Philadelphia, PA) taught homeopathy at Temple University and has been lecturing and consulting on the subject for over a decade. He founded the Homeopathic Study Group of Metropolitan Philadelphia and was Editor of the newsletter, Homeopathy News and Views.