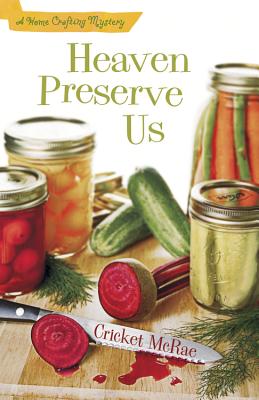 Heaven Preserve Us (Home Crafting Mysteries #2) (Paperback)
Midnight Ink, 9780738711225, 299pp.
Publication Date: August 8, 2008
* Individual store prices may vary.
Description
Wine jelly. Watermelon pickles. And a suicidal stalker? Great.
Thirty-something crafter extraordinaire Sophie Mae Reynolds makes preserves by day and answers a crisis center help referral line by night. What better way to help people while still keeping a low profile? But on her very first night, she gets a call from a man who is threatening suicide . . . and her. Angrily deeming the caller a crank, her boss, Philip Heaven, disconnects the line. Days later, Philip dies from a nasty case of botulism. Now, as a stalker singles out Sophie Mae, Philip's eerie last words keep coming back to haunt her: Threat. Meant it.
Stirring up the town with talk of murder by preserves, can Sophie Mae and her handsome boyfriend Detective Barr Ambrose spoil a mad murderer's poisonous plans?

This dangerously delicious second book in the Home Crafting Mystery series also includes recipes for preserves and beauty products
Praise:
"McRae writes about characters that we really care about, and her plot is thoroughly credible. Sophie Mae and her friends deserve many more adventures."--Booklist
"There's something special about Ms. McRae as her strong characters and unique plot are definitely spellbinding."--Sydney Star Observer
"Murder by preserves promises your enjoyment of McRae's humor."--The Coloradoan
"Sophie Mae is a confident woman with an appetite for mystery and Heaven Preserve Us is a good one. The characters are engaging, the story intriguing, and the book a pleasure to read."--Mysterious Reviews
"McRae delivers another satisfying and clever novel with an intriguing plot--murder by botulism."--Fresh Fiction
"Nicely paced without any time wasted, Heaven Preserve Us does a fine job of leading the readers through the investigation with no false starts or cheap side trips...solid and entertaining."--Reviewing the Evidence
"McRae ably navigates the waters of small-town crime, establishing believable characters and capturing the charm and camaraderie of the denizens of Cadyville. This town might well be worth visiting frequently."--Gumshoe Review
"Sophie Mae is a top-notch cozy heroine."--Cozy Library
About the Author
Cricket McRae's contemporary Home Crafting Mysteries reflect her interest in traditional colonial skills. Set in the Pacific Northwest, they feature activities like soap making, food preservation, spinning, cheese making, and mead making. For two years Cricket managed her own soap making business, including all product design, manufacturing and marketing. The author resides in Fort Collins, Colorado. She also writes the Magical Bakery Mysteries under the pen name Bailey Cates. For more information and recipes, visit CricketMcRae.com and HearthCricket.com.