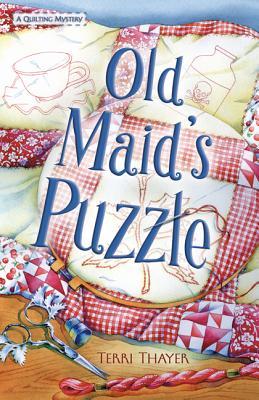 Old Maid's Puzzle (Paperback)
Midnight Ink, 9780738712185, 279pp.
Publication Date: September 8, 2008
Description
Thirty-year-old techie Dewey Pellicano is trying to make a go of Quilter Paradiso, the quilt shop she inherited from her mother. But she's facing a patchwork of problems—fierce competition, an uncooperative employee (who also happens to be Dewey's sister-in-law) and, oh yes, a dead body in the alley. Dewey pins her hopes on the store's huge 20th anniversary sale and appearance on national television. With the help of her smolderingly hot detective boyfriend Buster Healy, can Dewey save her shop and find the killer?
Praise for Terri Thayer's Wild Goose Chase"Cutting-edge drama deftly sliced to reveal the sass beneath the surface of the quilting business." —Margaret Miller, author of AnglePlay Blocks"Put down your piecework, brew yourself a cup o'Joe, fill up a snack bowl, and laze around the yard this spring with this amusing quilt-themed mystery." —Mark Lipinski's Quilter's Home Magazine.
About the Author
Terri Thayer is the author of the Quilting Mysteries (Midnight Ink) and the Stamping Sisters Mysteries (Penguin). She belongs to the Sisters in Crime and Mystery Writers of America organizations, and has been an active member in several quilting associations in the Santa Clara Valley. Originally from the East Coast, she now lives in San Jose and travels to quilt shows and conventions year round. Visit her online at www.TerriThayer.com.
Advertisement