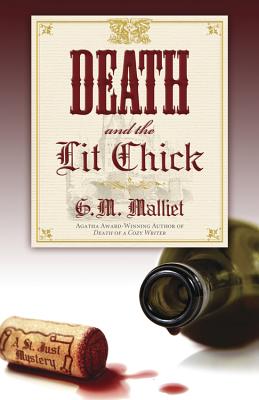 Death and the Lit Chick (Paperback)
Midnight Ink, 9780738712475, 307pp.
Publication Date: April 8, 2009
Description
BOOK 2 IN THE AGATHA AWARD-WINNING SERIES Cold-blooded murder is, like, totally un-cool As the wildly successful darling of the publishing industry, chick lit mystery writer Kimberlee Kalder is the guest of honor at an exclusive writers' conference at Dalmorton Castle in Scotland. But jealousy and resentment are soon replaced with shock when Kimberlee is found dead at the bottom of the castle's bottle dungeon. Who didn't want to see prima donna Kimberlee brutally extinguished like one of her ill-fated characters? It's up to Detective Chief Inspector St. Just to track down the true killer in a castle full of cagey mystery connoisseurs who live and breathe malicious murder and artful alibis . . . Praise: Named a BEST BOOK of 2009 by Deadly Pleasures. " In] her superior second cozy, Malliet's satirical take on the mystery scene is spot-on."—Publishers Weekly (starred review) "Malliet excels at stylish writing very reminiscent of the golden age of British mysteries.  A real find for old-school mystery fans."—Booklist (starred review) "An absolutely delicious skewering of the world of mystery publishing and its none-too-savory denizens, Death and the Lit Chick is even wittier and more skillfully constructed than her Agatha Award-winning Death of a Cozy Writer."—Denver Post "Delicious.  Malliet is laugh-out-loud funny in describing the cadre of crime writers encountered by the sometimes-flustered St. Just." —Mystery Scene "an entertaining diversion"—Kirkus Reviews "A good choice for readers who enjoy intelligent cozies and traditional mysteries."—Library Journal "Readers who enjoy all things British, as well as a good whodunit, will find these novels just the ticket." —Free Lance-Star  "The writing is A+—smooth, clever (in the good sense) and a pleasure to read."—Cozy Library "Death and the Lit Chick shows why classics never go out of style...Malliet belongs on your bookshelf."—Reviewing the Evidence "Malliet's old-fashioned style is reminiscent of the traditional whodunits of the past... but with a distinctly humorous flair. The book is a clever mystery as well as a witty satire." —Vickie Britton at Suite 101  
About the Author
G. M. Malliet's first St. Just mystery won the 2008 Agatha Award for Best First Novel, and was chosen by Kirkus Reviews as a best book of the year. It was nominated for several awards, including the Anthony, the Macavity and a Lefty Award for best police procedural. Her series from Minotaur featuring a former MI5 Agent turned vicar of a small English village debuted in Autumn of 2011. Of the fourth book in the series, Cleveland.com raved: "[Malliet] may be the best mystery author writing in English at the moment (along with Tana French). She's certainly the most entertaining." She attended graduate school in Cambridge and Oxford; she and her husband travel frequently to the UK, the setting for her books. Weycombe is her first book of dark suspense. You can visit her at www.GMMalliet.com.
Advertisement