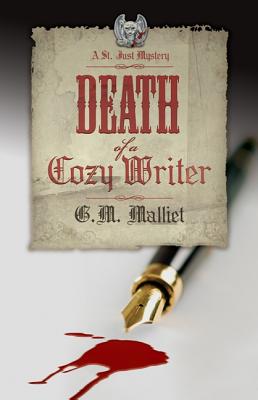 Death of a Cozy Writer (Paperback)
Midnight Ink, 9780738712482, 297pp.
Publication Date: July 8, 2008
Description
Winner of the 2008 Agatha Award for Best First Novel
From deep in the heart of his eighteenth century English manor, millionaire Sir Adrian Beauclerk-Fisk writes mystery novels and torments his four spoiled children with threats of disinheritance. Tiring of this device, the portly patriarch decides to weave a malicious twist into his well-worn plot. Gathering them all together for a family dinner, he announces his latest blow – a secret elopement with the beautiful Violet... who was once suspected of murdering her husband.

Within hours, eldest son and appointed heir Ruthven is found cleaved to death by a medieval mace. Since Ruthven is generally hated, no one seems too surprised or upset – least of all his cold-blooded wife Lillian. When Detective Chief Inspector St. Just is brought in to investigate, he meets with a deadly calm that goes beyond the usual English reserve. And soon Sir Adrian himself is found slumped over his writing desk – an ornate knife thrust into his heart. Trapped amid leering gargoyles and stone walls, every member of the family is a likely suspect. Using a little Cornish brusqueness and brawn, can St. Just find the killer before the next-in-line to the family fortune ends up dead?
Death of a Cozy Writer was chosen by Kirkus Reviews as a Best Book of 2008, nominated for a Left Coast Crime award (the Hawaii Five-O for best police procedural), short-listed for the Macavity Award for Best First Mystery, nominated for the Anthony Award for Best First Novel and was a finalist for the David G. Sasher, Sr. Award for Best Mystery Novel.
Praise:
A 2008 Agatha Award Winner for Best First Novel
An  IPPY Award Silver Medalist for Mystery/Suspense/Thriller
"Fans of English detective work will welcome Malliet's droll debut, the first in a new series."—Publishers Weekly
"Malliet's debut combines devices from Christie and Clue to keep you guessing until the dramatic denouement."—Kirkus Reviews
"Malliet's skillful debut demonstrates the sophistication one would expect of a much more established writer.  I'm looking forward to her next genre-bender, Death and the Lit Chick."—Mystery Scene
"Almost every sentence is a polished, malicious gem, reminiscent of Robert Barnard . . . the book is perfect for the lover of the classical detective story or the fan of great sentences."—Deadly Pleasures
"In her series debut, Malliet, who won a Malice Domestic Grant to write this novel, lays the foundation for an Agatha Christie–like murder mystery."—Library Journal
"An affectionate homage to the Golden Age of British crime fiction by a skilled writer rapidly attracting attention."—The Sherbrook Record 
"Readers who enjoy all things British, as well as a good whodunit, will find these novels just the ticket."—Free Lance-Star
"This tale cleverly adds modern touches to an Agatha Christie style classic house mystery."—Mystery Women Magazine
"Wicked, witty and full of treats, G.M. Malliet's debut novel has the sure touch of a classy crime writer. More, please "—Peter Lovesey, recipient of Lifetime Achievement Awards from the Crime Writer's Association and Malice Domestic
"The traditional British cozy is alive and well. Delicious. I was hooked from the first paragraph."—Rhys Bowen, award-winning author of Her Royal Spyness
"Death of a Cozy Writer, G.M. Malliet's hilarious first mystery, is a must-read for fans of Robert Barnard and P.G. Wodehouse. I'm looking forward eagerly to Inspector St. Just's next case "—Donna Andrews, award-winning author of The Penguin Who Knew Too Much
"A house party in a Cambridgeshire mansion with the usual suspects, er, guests--a sly patriarch, grasping relatives, a butler, and a victim named Ruthven (what else?)--I haven't had so much fun since Anderson's 'Affair of the Bloodstained Egg Cosy.' Pass the tea and scones, break out the sherry, settle down in the library by the fire and enjoy Malliet's delightful tribute to the time-honored tradition of the English country house mystery."—Marcia Talley, Agatha and Anthony award-winning author of Dead Man Dancing and six previous mysteries
"Death of a Cozy Writer is a romp, a classic tale of family dysfunction in a moody and often humourous English country house setting. A worthy addition to the classic mystery tradition and the perfect companion to a cup of tea and a roaring fire, or a sunny deck chair. Relax and let G.M. Malliet introduce you to the redoubtable Detective Chief Inspector St. Just of the Cambridgeshire Constabulary. I'm sure we'll be hearing much more from him "—Louise Penny, author of the award-winning Armand Gamache series of murder mysteries
"G.M. Malliet's Death of a Cozy Writer is a delightful homage to the great novels of Britian's Golden Age of Mysteries, which lasted from about 1913 to the beginning of World War II: a time when Agatha Christie, Margery Allingham, Dorothy Sayers, and Ngaio Marsh's writing careers were in full bloom."—Nancy Pearl, KUOW-FM
"The connections made by St. Just are nothing short of Sherlock Holmes at his most coherent. A most excellent first mystery "—Midwest Book Review
"Try Ms. Malliet's prize-winning debut for a classic cozy set in modern times."—Fresh Fiction
"This novel delivers exactly what you hoped it would: a new packaging of the old formula, and a very enjoyable read."—Gumshoe Review
About the Author
G. M. Malliet's first St. Just mystery won the 2008 Agatha Award for Best First Novel, and was chosen by Kirkus Reviews as a best book of the year. It was nominated for several awards, including the Anthony, the Macavity and a Lefty Award for best police procedural. Her series from Minotaur featuring a former MI5 Agent turned vicar of a small English village debuted in Autumn of 2011. Of the fourth book in the series, Cleveland.com raved: "[Malliet] may be the best mystery author writing in English at the moment (along with Tana French). She's certainly the most entertaining." She attended graduate school in Cambridge and Oxford; she and her husband travel frequently to the UK, the setting for her books. Weycombe is her first book of dark suspense. You can visit her at www.GMMalliet.com.
Advertisement